January 2018

What's The Best Way To Update Borrowers About Their Loans?
When it comes to the best way to contact a borrower, every borrower is different. First-time homebuyers may tell you they prefer phone calls; tech-savvy borrowers may ask for text communication. Some borrowers will want to be updated often with all the details, while others will prefer to be reached only when absolutely necessary. The first rule of thumb, then, is that the loan officer should set expectations early in the loan process and then stick closely to that plan.
 Why is this important?
That said, there seems to be a wide variation in borrower's likelihood to recommend a loan officer based on how the borrower receives updates. Encouraging your loan officers and processors to use the most effective update methods (which will produce the highest statisfaction levels) will ultimately produce more referrals and should be a matter of company policy. Exceptions can always be made, but the data we collected shows strong overall preferences.
The Diagnosis
MortgageSAT surveyed over 100,000 borrowers in 2017, asking them how they received updates about their loans. The top three answers (by volume) were: "Originator called me", "Email from lender", and a "Combination of text, email, phone." At first glance these three methods may appear to have no qualitative difference, but when we looked at the Net Promoter Score (NPS) for each update type, the data told a much different story. NPS, which answers the ultimate question, "How likely would you be to recommend us?" is a calculation of the percentage of borrowers who are highly likely to recommend (9 or 10 out of 10), minus the percentage who are very unlikely to recomment (6 or below).
According to the data: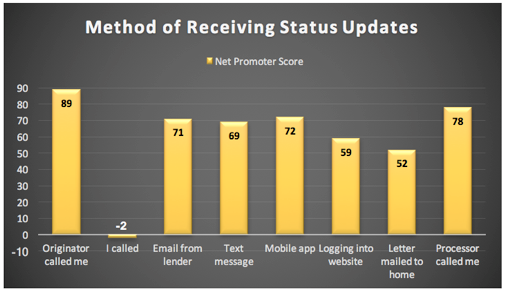 Borrowers who received a call from their LO or Processor as the main method of updates were much more likely to recommend than those receiving written communication (NPS scores of 89 and 78, respectively).
Borrowers who received snail mail were much less likely to recommend (NPS of 52) than those receiving electronic communications like emails (71) or texts (69).
Borrowers who had to proactively call the lender to receive updates were extremely dissatisfied and very unlikely to recommend, with an abysmal NPS score of negative two.
 The Prescription
If you want to increase your borrowers' likelihood to recommend, find the best way to update them about their loans:
1. Set expectations early. Find out their preferred method of contact for updates as well as their expectation for frequency of updates.
2. Stick to the plan. Much of your success in the loan process is dependent on how well you set and meet borrower expectations. Finding a rhythm for your updates, whether it's daily or weekly, will do wonders for putting the borrower's mind at ease.
3. Pick up the phone! Even if the borrower has told you that they prefer texts or emails for updates, go ahead and call once in a while, especially at key markers, like when the loan is approved and to discuss closing figures.
Learn More about MortgageSAT and how it can impact you.
Ready to learn more about STRATMOR's turnkey survey solution called MortgageSAT, and how rich, drill-down data can help your company? Contact MortgageSAT Director Mike Seminari at mike.seminari@stratmorgroup.com to learn more.
Get MortgageSAT Tips delivered to you.
Sign up here to get MortgageSAT Tips sent to your email every month.
Mike Seminari