Is This Simple Mistake Costing You $200,000 a Year?
By Mike Seminari December 2018
Suppose you were given a clear set of instructions to increase your revenue by $200,000 this coming year. You'd take a close look, wouldn't you?
According to STRATMOR's new MortgageSAT calculator, the average lender doing 5,000 loan units annually is losing $243,000 each year by failing to address a widely known issue plaguing borrower satisfaction: asking for the same document multiple times. The cost comes in lost referrals, repeat business and negative word of mouth. STRATMOR has seen very few lenders make serious strides in eradicating this problem, so consider this your call to action. A quarter of a million dollars (or more) is in the balance.
The process of gathering and assembling documents and other information required by the lender is often the most unpleasant part of the loan origination process for the borrower. Having to remember old passwords and search through financial files to find prior-year tax returns, bank and brokerage statements, life insurance policies and other financial records can be stressful. Adding to this stress is the fact that some of the required information is personal in nature, information which the borrower may be uneasy about sharing with mortgage people who are little more than strangers.
The document gathering process starts with an upfront information request, most often by the loan officer, who is keen on getting the borrower into the loan process as quickly and easily as possible. With this motivation, these LOs may limit their initial data request to just the essential information needed to start the process. This leads to additional information requests later in the process, and sometimes, more than one person from the processing team asking for the same documents.
How do additional information requests affect borrower satisfaction? And, what's the impact on satisfaction when the lender asks for a document already provided by the borrower?
What the Numbers Show
The answers to the following information-request questions are based on the Net Promoter Score (NPS) for the roughly 105 thousand borrowers who responded to the MortgageSAT post-closing survey from 4Q 2017 through 3Q 2018.  NPS is defined as the number of borrowers out of 100 who rate their borrowing experience a 9 or 10 on a 10-point scale (so-called "promoters") less the number of borrowers who rate their experience a 1 to 6 (so-called "detractors").
The NPS Impact of Asking for Additional Documents
Figure 1 below compares the NPS scores of those borrowers who were not asked for additional documents (NPS = 89) with those who were (NPS = 65). We see that for every 100 borrowers, there were 24 fewer endorsers or promoters of the lender. This means fewer referrals to friends and family; fewer kind words to real estate agents and, of course, a lower likelihood of the borrower doing business with you again. Lenders pay a pretty steep price for asking the borrower for additional information beyond the initial request.
Figure 1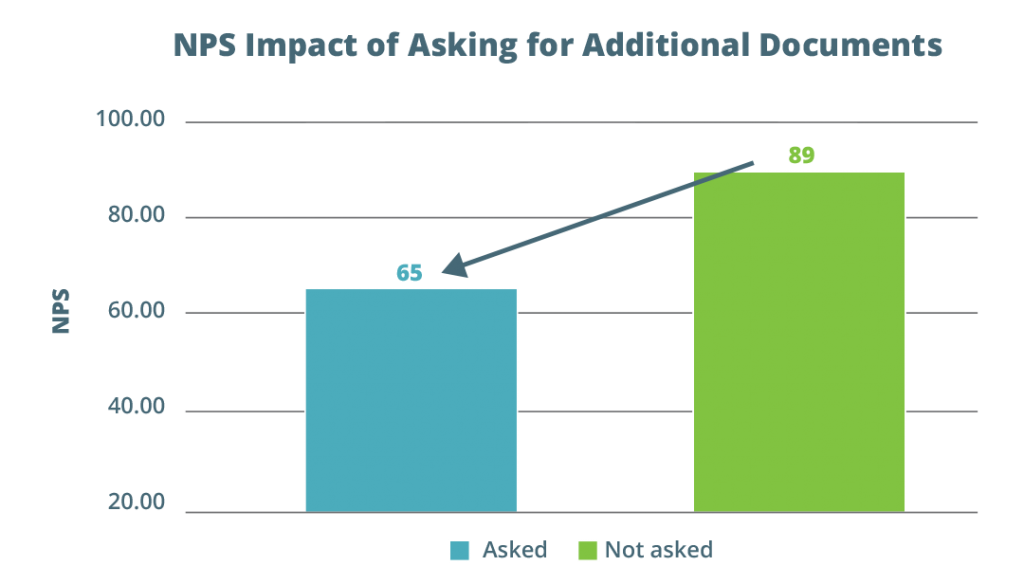 MortgageSAT Borrower Satisfaction Program 2018. © Copyright STRATMOR Group 2018.
This not a small, isolated issue. MortgageSAT data shows that about 50 percent of all borrowers are asked for additional documents. And while loading up the initial request with more documents can lower the number of additional requests, it may only serve to worsen the borrower's experience. To some degree, therefore, the lender is caught between a rock and a hard place.
Asking for the Same Document More Than Once
Asking a second or third time for the same document makes lenders look disorganized and unprofessional and leaves borrowers thinking, "I already gave you what you asked for. Why can't you keep track of things?" It's both annoying and frustrating. Figure 2 shows that asking again for a document sours the borrower experience substantially, lowering the NPS score by almost 50 points, from 88 (for borrowers who were only asked once) to 39 (for borrowers who were asked more than once).
Here too, the problem is not a small one, with almost one of every three borrowers being asked to provide the same document multiple times.
Asking for Additional Documents and Making Multiple Requests for the Same Document
The impact of document requests on NPS is even more adverse when the borrower is not only hit with additional document requests but also multiple requests for the same document (which may be part of an additional request).
When this occurs — and MortgageSAT data suggests it happens to one out of every five borrowers — NPS drops to 32 (see Figure 3), 60 points below the NPS of 92 for the 41 percent of borrowers who are neither asked for additional data nor a document previously provided.
  Figure 2                                                                                             Figure 3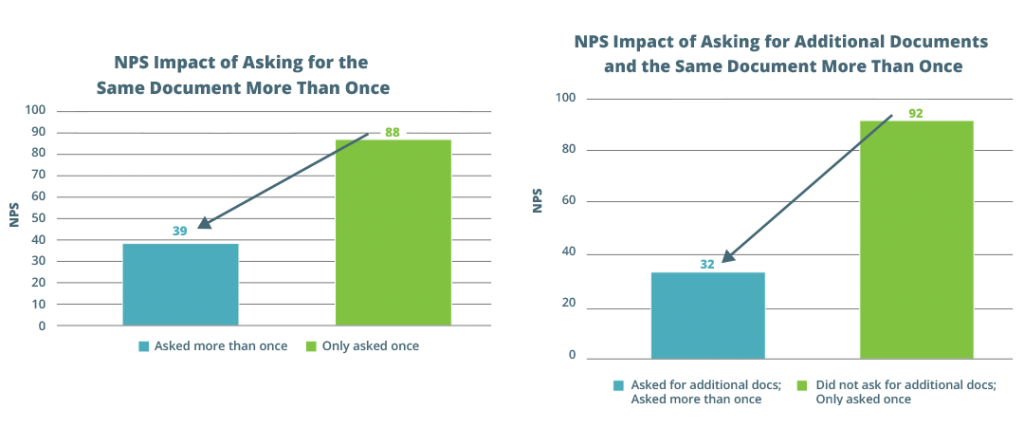 MortgageSAT Borrower Satisfaction Program 2018. © Copyright STRATMOR Group 2018.
What's a Lender to Do?
MortgageSAT results tell us that multiple requests for a document previously submitted is what puts a lender's NPS score at serious risk. Asking for additional documents does not, on its own, result in an especially big hit to NPS and may, in many instances, be unavoidable.
Nonetheless, additional data requests and multiple requests for the same document pose a problem that lenders must solve if they are to significantly improve their overall NPS scores.
Here are some of the steps that lenders should consider:
1.   Communicate with your borrower. Work hard at managing their expectations. When making the initial document request, explain to the borrower that additional information may be necessary, why and when. Let the borrower know that there is a possibility of needing updated documents like paystubs and bank statements. Doing so will mitigate the likelihood that your borrowers will be annoyed by subsequent requests for the same document. Where a request for a document previously submitted is the result of a lender misstep, have the LO or processor call the borrower, explain the situation and apologize for any inconvenience. Being accountable and transparent will sooth most borrowers.
2.   Leverage the capabilities of your LOS/POS systems. Make sure that your LOS or POS does not permit a document previously requested to be requested again without a review by the processor. More generally, your LOS system should track both the request and receipt of all documents and flag or possibly lock-out any requests for documents previously requested without a review.
3.   Communicate internally. Whenever and wherever a list of additional needed documents is created, make sure that, as part of the normal information flow, the origination team — the loan originator, originator assistant, processor, underwriter and closer — get a chance to review the list before contacting the borrower, with an eye towards ensuring that a document on the list isn't already in-house or on the way.
4.   Measure results and follow-up on all situations involving a request for a document previously submitted. At the end of the loan process, make sure your post-close survey asks questions such as: Were you asked for information multiple times? Were you asked for the same document(s) more than once? Were you called by your loan officer or processor in advance of additional document requests? Programs like MortgageSAT can make sure these questions are asked on every closed loan so that you can ultimately identify and remedy the causes of the repeat document requests.
Build Borrower Experience into the variable compensation of processors. While there are many ways to do this, one-way that STRATMOR supports is to have customer service, as measured by NPS, drive the size of an incentive compensation pool shared by processors and closers. Give these positions "skin in the game." Compensation incentives, however, should not be a substitute for follow-up of individual performance failures. Mike Seminari