Something's Got to Give: Lender Options for Navigating the Mortgage Industry Shakeout
By Jim Cameron December 2018
Unless you have been living under a rock, you know that this is a tough time in the mortgage business. There are too many lenders chasing too few borrowers, and because rates are not expected to decline any time soon, there won't be a refi rally to bail out lenders. Something has to give.
For those of us who have been in the industry for a while, we see many factors pointing to a period of industry consolidation — a down cycle. What are we seeing? Here are the vitals:
Rates — Interest rates are up with no indication that they will drop.
Margins — There is significant margin compression, and it's especially acute in third party channels as lenders attempt to manage capacity with price.
Volumes — Activity is flat or down, and true seasonality is kicking in as one would expect in a purchase-dominated market. Recent increases in rates appear to be dampening home purchase demand. Refinances are limited to cash-outs as rate term transactions have all but gone away.
Expenses — Cost per loan has been increasing as volume drops due to "sticky" fixed costs that are slow to change. And, we continue to face a challenge trying to control the high sales expenses that remain in the industry.
Profits — With revenues down and costs up, production profits are in serious decline. While some lenders have cash flow from servicing portfolios and gains due to write ups of their servicing asset, many lenders do not have that luxury.
Capital — Significant investments in technology are required just to stay in the game, so whether utilizing transactional pricing or building applications internally, the stakes are going up.
As is true of any down cycle, this market presents an opportunity for well-capitalized and well-run lenders to be "consolidators" while struggling lenders with less capital are facing the prospect of being at least a reluctant — if not involuntary — "consolidatee."
To what extent will the mortgage industry consolidate? As data-driven trusted advisors to the mortgage industry, STRATMOR decided to apply our well-developed analytical capabilities to this question. We started with the data, considering first the number of announced transactions involving residential mortgage origination companies in 2016, 2017 and YTD 2018. While many transactions are not announced publicly and would therefore not be included in our count, we believe that the number of announced transactions is clearly indicative of the pace of consolidation in the industry.
By our count, there were only eight announced deals in 2016. Large Independent lenders like Freedom, Home Point and Caliber gobbled up smaller lenders while HomeBridge acquired Prospect Mortgage in the largest announced deal of the year. Throw in a couple of ESOPs (Employee Stock Ownership Plans) and that was about it for 2016.
Throughout 2016, STRATMOR's M&A advisory team engaged in dozens of conversations with prospective sellers. Most prospective sellers told us to contact them "maybe next year when things slow down." Of course, our response was to remind them that it is always better to sell a company from a position of strength.
Things began to heat up in 2017 with 11 announced deals. Once again, the buyer population was dominated by large Independents like Freedom, Stearns, Guaranteed Rate and Home Point. However, three banks announced acquisitions that year, including WinTrust, TCF and Flagstar. Importantly, two of the banks (WinTrust and Flagstar) are very familiar with the Independent mortgage banking model and culture.
Through November 2018, there were 28 transactions with more expected to be announced by year's end. The data supports the obvious conclusion — we are clearly entering a period of accelerated consolidation.
Who is Buying?
Table 1 below summarizes buyers by category.

© Copyright STRATMOR Group 2018
Not surprisingly, Independent Mortgage Bankers (IMBs) dominate the buyer category, led by well-known large independents such as Caliber, Guild, Freedom, Guaranteed Rate, Home Point and Stearns. Most of the large Independents have institutional money behind them in some form or fashion (e.g. Blackstone, Stone Point, LoanStar). Banks are next at 23 percent of the buyer population. However, approximately half of the bank buyers have more of an independent mortgage banking model, such as WinTrust, Flagstar and HarborOne. The Institutional/Other category includes New Residential, Eli Global, Zillow, Celebrity and Ocwen. While there has been much discussion of ESOPs lately, the three ESOPs announced in the past three years comprise only six percent of total buy-side transactions.
Who is Selling?
Table 2 below summarizes sellers by category.
Table 2

© Copyright STRATMOR Group 2019
IMBs represent 83 percent of the seller population over the three-year period. While bank sellers are next at 13 percent, it is important to note the nature of the bank seller transactions. For example, in the case of Banc Home Loans and NYCB, the operations being sold off were more typical of an Independent mortgage banker. Adjusting for these two transactions would put the IMB percentage closer to 90 percent.
Table 3 below summarizes the number of announced deals per year along with the average production profits by year (excluding servicing) based on the MBA's Quarterly Performance Report.
Table 3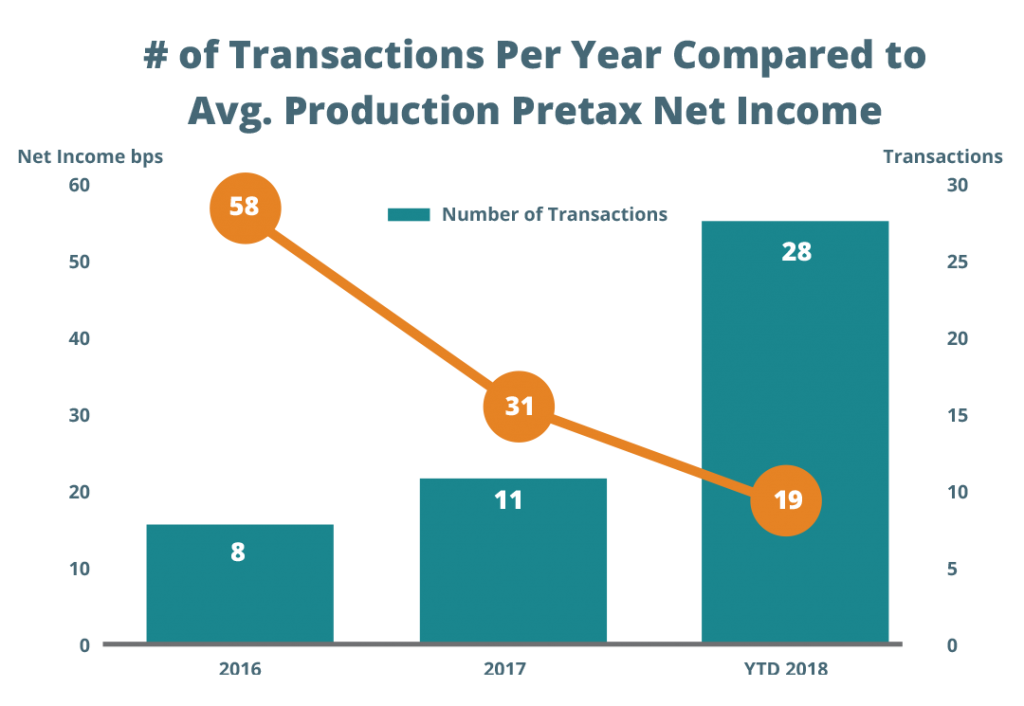 © Copyright STRATMOR Group 2018. Source: MBA Quarterly Performance Reports 2016-2018.
As one would expect in a mortgage industry down cycle, when profits decline, the pace of consolidation increases. When the MBA's fourth quarter results come in, we would expect the Pretax Net Income for full year 2018 to decline further from the 19 basis points level reported for Q3 YTD as the industry limps home in the fourth quarter.
Clearly, we are experiencing an intense period of industry consolidation which will extend well into 2019. The buyer population will be dominated by large well capitalized Independents, as well as hybrid banks that operate more of an Independent mortgage banking model. Sellers will continue to include IMBs struggling to maintain profitability while experiencing shrinking capital and liquidity.
When Will It End?
At STRATMOR, we are often asked to predict when margins will return to "normal." The answer? When excess capacity is removed from the industry. How long will it take for this to occur? One popular school of thought is that rapid consolidation will continue throughout Q1 and into Q2 2019 and that margins may normalize in the late spring and summer next year. While that would be nice for the lenders who survive this shakeout period, mortgage executives can't count on this happening. A lack of meaningful growth in the purchase market may delay the recovery period for the industry well beyond next summer. Lenders should continue to actively manage their business to survive this downturn.
What Options are Available to Lenders?
While today's market conditions are as challenging as they have been since the industry meltdown, there are several possible tactics and strategies that lenders can pursue. Here's the thing: Lenders had many more viable options during the past several years when times were good. Now that times are bad, there are fewer cards to play.
1.  Optimize Cash from Operations
As the saying goes, "Cash is king," and it is the lifeblood of any business. While there are a variety of strategic and tactical options for lenders to consider, none of the options can be executed if the lender does not have positive cash flow. If you are bleeding cash, good luck trying to raise debt or equity capital or sell your business for more than book value. But there are a multitude of strategies and tactics lenders might employ to optimize profits and cash flow. Here are the basics:
Revenue Optimization — review of secondary marketing pricing and practices, best execution strategy, leakage analysis.
Cost / Efficiency — benchmark with peers, operations and process reviews, effective deployment of technology, managing sales compensation by reducing layers where possible and adjusting originator compensation over time where possible.
For some lenders, these profit optimization efforts may be a case of too little too late, while other lenders may be counting on the fact that they have enough capital and liquidity reserves to weather the storm. Through STRATMOR's decades of helping lenders, we can safely say there are no silver bullets. We help our clients with both strategy (doing the right thing) and tactics (doing things right). It's all about execution, and our best clients have the management discipline, culture and attention to detail to "out execute" peers.
2.  Build Your Servicing Portfolio to a Critical Mass
Many larger Independents have steadily grown their servicing portfolio over the past decade. Some have increased servicing as part of a classic macro-hedge strategy where servicing values and profits go up as rates rise, which offsets decreased profits on the production side of the business. The key to this strategy is to keep the right balance between servicing portfolio levels and production volumes. Lenders who have adopted this strategy are benefiting from the servicing cash flows and MSR write-ups, which is helping to pay the bills and bolster capital levels during this production downturn. Lenders who have not already built up their servicing portfolio to a critical mass will not likely be able to do so in the short run.
3.  Generate Cash from Prudent Use of Debt
While obtaining lines of credit or negotiating better warehouse line terms is a classic way to manage cash flow, now is not the time to go hat in hand to your bank, particularly with operating cash flows and profits under pressure. Prudent lenders have smartly managed their relationships with warehouse lenders over a long period of time to negotiate for lower rates, increased advance rates and more favorable terms. While negotiating smartly is good, veteran lenders who have managed through market cycles fully understand the value of maintaining a good relationship with their bank and are careful not to push too hard for warehouse financing in a "buyers' market." In today's market, a good relationship with the warehouse bank is paramount as covenant waivers are more the rule than the exception.
Lenders who have retained servicing have the option of negotiating MSR lines of credit or even lines of credit collateralized by servicing advances. Once again, for lenders who do not already have such lines in place, it may be a tall order to negotiate new lines.
Lenders have market options to raise subordinated debt as well, but again, this may be difficult to do with profits under pressure. Even if a lender successfully raises the sub debt, the cost of such capital may be punitive.
4.  Raise Equity Capital
For many small to mid-size Independents, this starts with current shareholders, friends and family. Currently, many owner operators are contributing additional equity to maintain capital levels to meet bank, regulatory and investor requirements. There is nothing like having to write a big check to get an owner-operator to think about his or her strategic options.
Initial public offerings (IPOs) are very challenging even in the best of times and are a tall order for a traditional monoline mortgage banker given the volatility of the business. Stonegate Mortgage Corporation is the most recent example and that did not end well. Even a high-quality technology focused lender like loanDepot postponed their public offering a couple of years ago as the capital markets did not value the company at a level acceptable to the existing shareholders.
Some lenders have attempted to raise capital by selling a minority interest stake. While some large Independents have successfully raised minority interest equity capital, this option is simply not on the table for most mid-size mortgage bankers. Very few investors would want to invest in a mortgage banker without having a controlling interest, especially in today's market.
5. Form an ESOP
Employee Stock Ownership Plans (ESOPs) are an intriguing option for lenders and have been the topic of much discussion at industry conferences in the past few years. Churchill Mortgage, Axia Home Loans, USA Mortgage and Fairway Independent are recent examples of either full or partial ESOPs. In a leveraged ESOP, which is the most common structure, the go-forward entity must generate sufficient cash flows to pay down the debt over a defined period. While the debt can be paid down with pre-tax dollars, which is helpful, the entity must generate strong and sustainable cash flows for the numbers to work.
When an ESOP is formed, the trustee must have a valuation prepared by an independent appraiser to support/ establish the deal value. Importantly, the valuation calculation assumes that the company will continue to operate as a stand-alone entity. This is in contrast with a strategic buyer valuation which "bakes" synergies into the future cash flows (e.g. better execution, lower cost of funds, elimination of duplicate expenses) and is thus more likely to generate a higher valuation. In short, today's lower profits and cash flows make it harder to support an acceptable stand-alone valuation to owners, even considering the potential tax and other benefits of an ESOP.
6.   Shut Down
Shutting down would be extremely unattractive to most owner-operators. The negative psychological and emotional aspects of this scenario are distressing and heartbreaking (losing your life's work, public embarrassment, possible lifestyle changes, impact on co-workers, friends and family, etc.) From a financial perspective, the liquidation value of the entity is likely significantly lower than book value. It is not as simple as selling off assets and paying off liabilities.
There are other considerations such as:
Shut down costs — lease buyouts, severance, negotiating out of various contractual obligations.
Trailing liabilities — shareholders are still on the hook for these; they must either negotiate a buyout or keep the entity open with a certain amount of liquidity to meet obligations as they arise.
Since most creditors do not relish the thought of pursuing shareholders of defunct entities, they will typically attempt to negotiate a buyout arrangement. No matter how you slice it, shutting down is a worst-case scenario for most lenders.
7.  Become a Broker
This option is similar to the shutdown option in our view. In this scenario, a lender would have to downsize dramatically and eliminate all mortgage banking related functions from underwriting through the back office. Then there is the question of economics — after the painful cuts have been made, lease buyouts negotiated, etc., could the entity make a reasonable profit within the confines of allowable broker compensation? While this is possible, it would be a stretch, and we have not seen a significant trend in this direction.
8.  Sell Controlling Stake in the Company
As evidenced by the dramatic increase in announced transactions in 2018, this is an option that more and more lenders are executing in today's market. While deciding to sell the company is a gut-wrenching decision for shareholders, once that decision is made, we urge shareholders to retain an experienced advisory firm like STRATMOR that can help you through the entire process.
Where Are You in the M&A Process?
Lenders fall into one of three categories as depicted in Table 4 below.
Table 4

© Copyright STRATMOR Group 2018
No matter what category you're in (likely buyer, likely seller, or somewhere in between), we are in a very challenging and turbulent time in our industry. STRATMOR has battle-tested action plans for each of the above categories. Generally, however, our advice to all lenders:
If you must sell, take a deep breath, hire an advisor and do it correctly to achieve optimal results.
If you want to grow organically and through acquisition, there will be plenty of opportunities to do so in the next 6-12 months.
If you are somewhere in between, it is time to execute and execute well. The stakes are high.
Jim Cameron