Is There a 'Best' Way to Provide Loan Updates to Your Borrowers?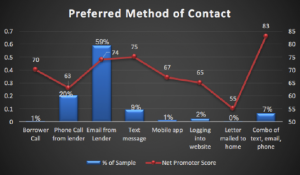 When STRATMOR group asked 66,000 borrowers their preferred method for receiving loan updates, a vast majority — nearly 60 percent — chose 'Email from Lender.' These same borrowers scored 74 on the Net Promoter Score (NPS) scale, which measures likelihood to recommend to friends and family. By contrast, those borrowers who said they preferred a phone call from the lender — 20 percent — scored just 63 on the NPS scale. The borrowers most likely to recommend (83 NPS) were the seven percent who said they preferred a combination of text, email and phone calls.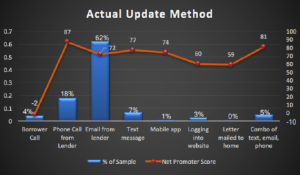 By contrast, when STRATMOR then tracked the actual update method for these borrowers, the borrowers' likelihood to recommend was very different, even though the distribution was quite similar. In particular, borrowers who received a phone call as the main source of loan updates — still about one in every five — were the most likely to recommend, with an NPS of 87. This represents a substantial 24-point difference compared to those who said they preferred a phone call. Why such a large difference?
The Diagnosis
One explanation for the difference may be that borrowers presume a more personal touch will be intrusive or annoying, but then are delighted when the real thing turns out to be friendly and informative. Another possible reason could be that borrowers underestimate just how thirsty they will be for information and updates during the loan process. Borrowers often have follow-up questions and concerns that automated emails — or even personal emails directly from the LO — are not able to immediately address. Whether or not they realize it, the data shows that the happiest borrowers, and more importantly, the ones who are highly likely to recommend, are those who receive phone call updates from the lender.
Notable is the fact that the category of "Combination of Text, Email, Phone" score highly in both the "Preferred" and "Actual" data sets (NPS of 83 and 81, respectively). While these scores do not represent the ideal method of contact, they do represent a quality alternative when time and resources do not permit phone calls for every update. We surmise that borrowers who answered this way assume the lender will choose judiciously and appropriately when to use each form of communication, as evidenced by their NPS of 83. The five percent of borrowers who received updates this way seem to approve of appropriate use, as indicated by their similarly high NPS of 81.
Why this is important for your company:
A borrower's journey through the loan process can move quickly from delightful to dismal based on how communications are handled. Knowing how borrowers expect and prefer to be updated, and even more importantly, how actual update methods correlate to delight, can mean the difference between borrowers who will recommend and those who will badmouth you.
The Prescription
Here are three steps you can take immediately to make sure you're communicating in ways that will delight your borrowers:
Ask Your Borrowers. The first step in good communication is to ask, then listen. Find out from borrowers at the beginning of the process how they would like to receive loan updates. Just keep in mind that those who say "Email" may be just as delighted (if not more) by the occasional phone call.
Set Expectations. After taking an application, borrowers will be anxious to know next steps. As you set expectations around a timeline of events, let them know when and how you will be touching base with them. Perhaps you will email them weekly with an update and call them with important news like the appraisal value and final approval. Then follow through!
Measure Results. Even LOs who do everything in their power to provide timely, informative updates don't get it perfect 100 percent of the time. When borrowers have a less-than-pleasing experience, it benefits the LO to know, and for that, you need a measurement tool like MortgageSAT, which delves deep into the borrower experience and shows where the delightful experience took a wrong turn. Identifying these moments is crucial to creating more delighted borrowers who will recommend friends and family.
Learn More about MortgageSAT and how it can impact you.
Ready to learn more about STRATMOR's turnkey survey solution called MortgageSAT, and how rich, drill-down data can help your company? Contact MortgageSAT Director Mike Seminari at mike.seminari@stratmorgroup.com to learn more.