Home Equity Lending: Opportunity, Necessity or Distraction?
By

Tom Finnegan
April 2023
Mortgage bankers are continuously focused on new products to gain a competitive edge. This is typically done to take advantage of the normal ebbs and flows of interest rates or housing activity. But the unprecedented increases in rates in 2022 and into 2023, coupled with housing price increases over the last few years, has placed a focus on home equity lending — lines of credit (HELOCs) and closed-end home equity loans — as needed products in an unusual, dramatic way.
There's no question that the most important activities for mortgage companies and banks right now are those which can enable a return to at least breakeven operations. But the environment also provides an opportunity to revisit long-term goals.
In this article, we'll explore industry perspectives on the home equity lending market and suggest possible strategies for mortgage lenders considering how to take advantage of today's unique market situation.
The Market
The amount of home equity available as collateral for home equity secured lending has increased at a rapid pace. Analysis by CoreLogic shows U.S. homeowners with mortgages (roughly 63% of all properties per the Census Bureau's 2016 American Community Survey) have seen their equity increase by a total of $1 trillion since the fourth quarter of 2021, a gain of 7.3% year-over-year. According to Black Knight, tappable home equity has increased by $3.4 trillion over the last three years.
This trend reversed to some extent in the final months of 2022. As home price growth showed a slow, steady decline in most markets, home equity trends naturally followed suit. In the fourth quarter of 2022, the average borrower gained about $14,300 in equity year-over-year, compared with the $63,100 increase seen in the first quarter of 2022. Still, the amount of lendable home equity remains very high.
The need for home equity loans and lines today is significant. Borrowers are effectively "frozen in place" with respect to their existing mortgages. According to Black Knight, approximately 80% of outstanding mortgages have a rate of 4.5% or less, as shown in Chart 1 below, using data as of January 2023:
Chart 1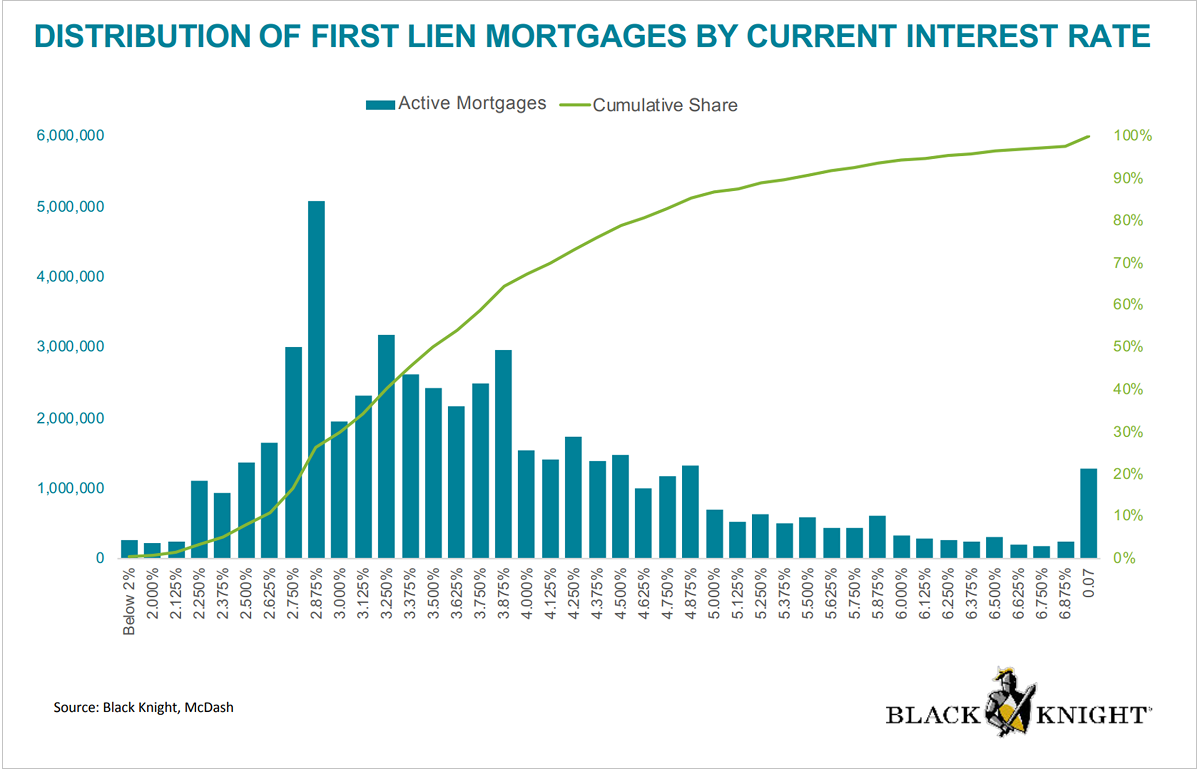 In this current environment, mortgage borrowers who wish to obtain cash using the equity from their appreciated properties are very likely to consider a home equity loan or line of credit rather than a cash-out refinance, especially for borrowers with rates less than three percent. For a borrower with an existing $300,000 loan at a rate of 3.0%, replacing that loan in today's market at 6.5% and adding $35,000 for cash out would result in a change in payment, assuming a 30-year amortization, from $1,265 to $2,117, or an $852 increase. That same $35,000 increase financed using a home equity line of credit, with a typical 10-year interest-only structure, would result in an additional payment of only $277/month at a rate of 9.5% (prime plus 1.5% today). Achieving the desired cash result using the home equity line is compelling.
Home Equity Loan Origination Trends
Volumes of home equity loans and lines of credit rose substantially in 2022 compared to 2021. According to Curinos, the increase in units was approximately 53% year-over-year. Given the large amount of available home equity, it would seem logical for that growth trend to have continued into 2023. Surprisingly, that is not the case. Chart 2 shows new loan booking growth in early 2023 compared to the same period in 2022 illustrating a decline in originations in the first three months of the year in Chart 3.
Chart 2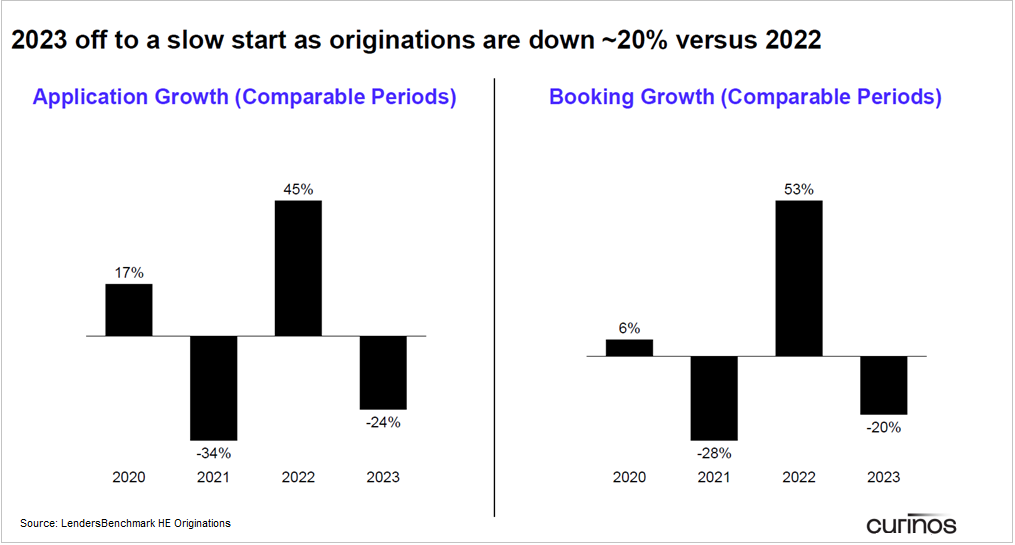 Chart 3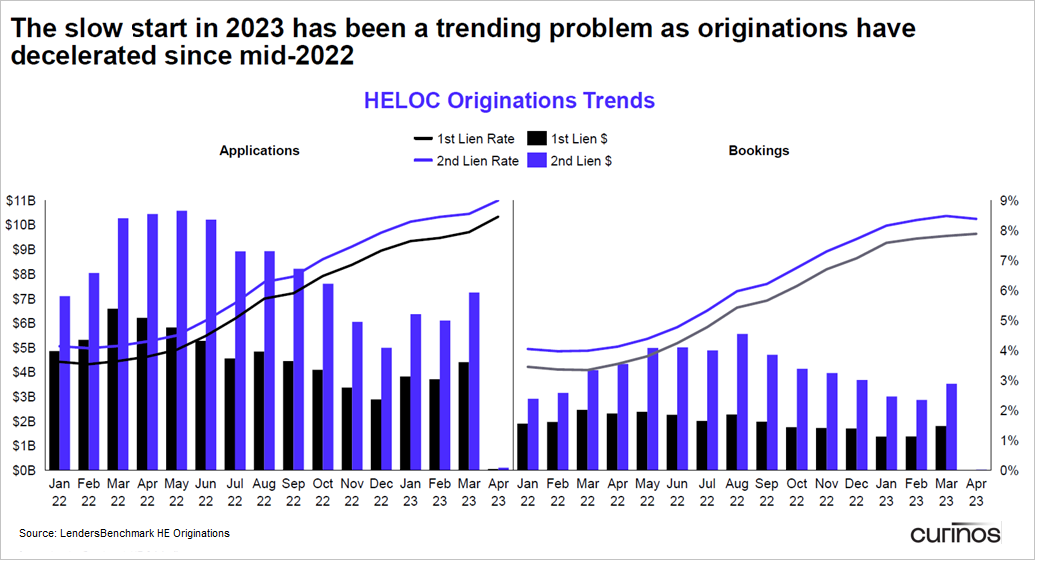 At the same time, credit card debt continues to accelerate. The personal finance website Wallet Hub reports that credit card debt increased by a record $180 billion in 2022 with average rates approaching 21%. Although the increases in credit card debt are highest in younger age groups, there have been increases across the demographic spectrum.
Home Equity Lending Research
Traditionally, independent mortgage bankers (IMBs) have not offered home equity loan or line products. The mortgage banking origination revenue model is not well suited to a line of credit lending in which financial institutions often offer loans with no closing costs and retain the loans in their asset portfolios.
STRATMOR Group conducted research in 2022 in collaboration with Intercontinental Exchange, Inc. (ICE) on the strategies being used by mortgage bankers and banks for home equity lending, the rationale for the strategies, the pain points being experienced, and the technologies and workflows being used. Let's take a look at the results of the study, which can be downloaded in its entirety here.
Lender Points of View
With respect to the motive for offering home equity products, the ability to serve this customer need is the clear motivation for most mortgage lenders. The following chart shows many of the reasons lenders cite for offering HELOC and HELOAN products.
Chart 4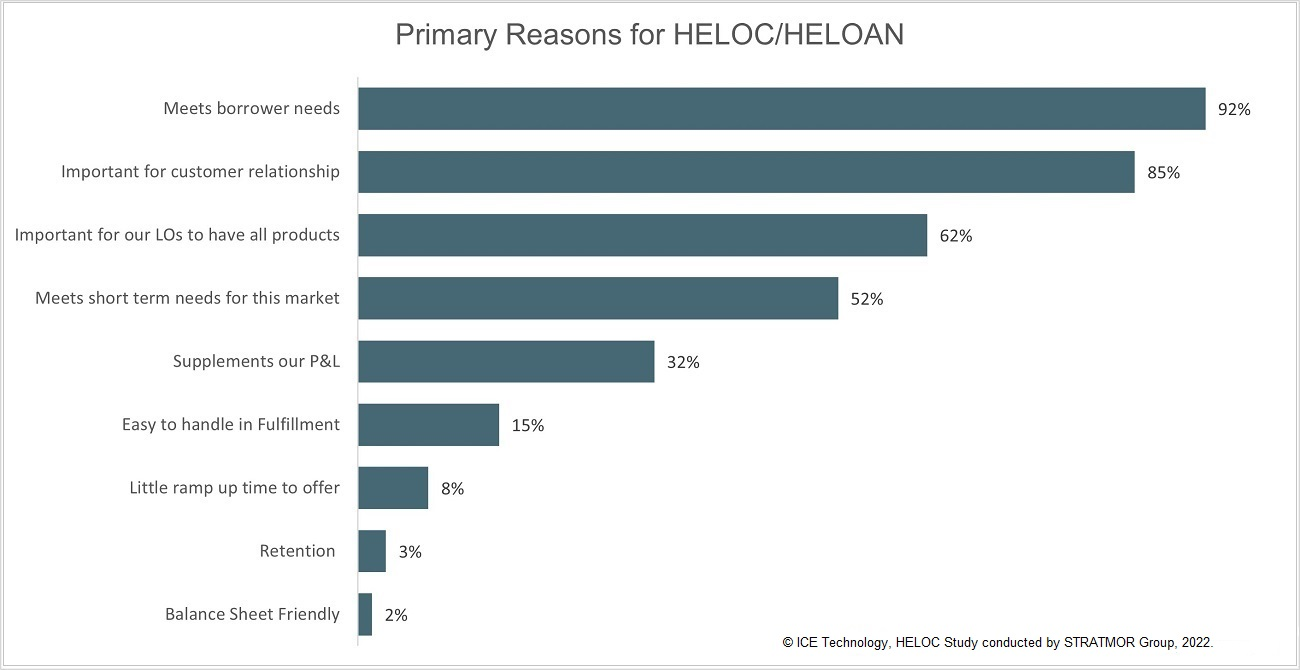 The implication is that mortgage bankers believe at least on the surface, that serving this customer need today demonstrates a customer-first orientation, and that serving this need may be important to the overall strategy of building repeat customer business.
Yet many institutions have not yet decided to proceed with offering a home equity product or to develop the capability to do so. The following chart shows the response to a survey question posed on this point.
Chart 5

In a recent forum with lenders at a trade organization event with mostly small-to medium-sized mortgage bankers and banks, Ken Flaherty, Home Equity Manager at Curinos, polled the attendees on whether they were either offering or considering offering home equity products. Only one lender was currently active in home equity lending, and most were less than committed to proceeding, citing barriers or difficulties in making the move.
Pain Points
What is causing lenders to be hesitant in the face of this opportunity? In the research for our work with ICE, STRATMOR asked about the most significant pain points with respect to offering home equity products. Chart 6 shows the top issues IMBs struggle with in offering these products.
Chart 6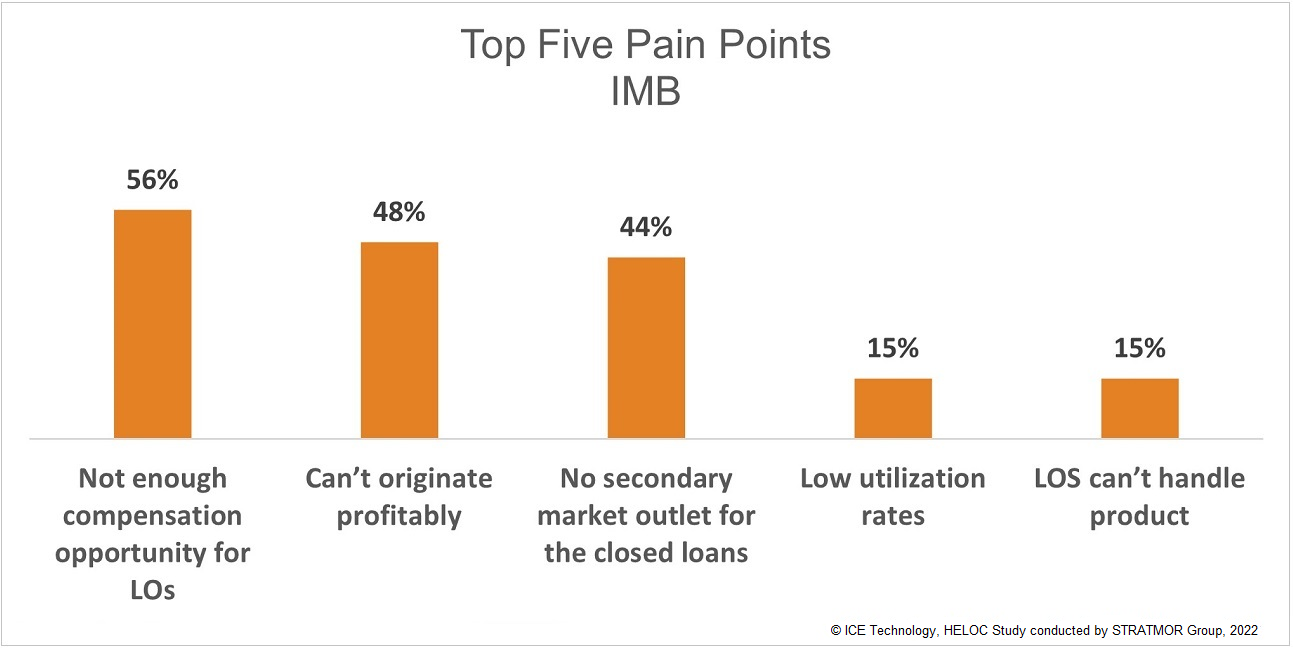 For IMBs, there is typically not enough revenue opportunity to compensate loan officers (LOs) and cover the costs of the transaction. And this is closely related to the fact that there are limited secondary outlets for the product.
Banks are also concerned about a lack of compensation opportunity for LOs. Turn times and utilization rates on HELOCs are key pain points as well. Banks are much less concerned about the secondary market for these loans and the ability to originate profitably compared to the transaction-focused IMBs as the majority are willing to place the loans in their portfolios. Training loan officers can be challenging because of their lack of experience with this type of product. Also, making the needed workflow and system changes to efficiently offer home equity products is viewed as a barrier because of resource constraints.
Chart 7
The lack of investors for home equity products is a particular problem for IMBs. For those IMBs that would like to be able to fund their own home equity products and sell them into the secondary market, the possibilities have been very limited.
Technology
While not among the most significant issues, some mortgage lenders cite technology as a pain point with respect to moving forward with offering a home equity product. For the most part, lenders engaged in home equity lending have adapted their current POS and LOS systems to facilitate the activity. For IMBs, which often offer home equity products via a broker relationship with a wholesale lender, the wholesaler's system is typically used. For banks, the system choice has often been driven by the philosophy of how home equity products are delivered. If the bank views home equity lending as a separate consumer product, then the consumer lending system is used; but if the bank views first mortgage and home equity under a single "real estate" umbrella, then the bank is more interested in using the same systems for both.
Is There Value in Overcoming the Barriers?
Most mortgage lenders believe that serving customer needs is the reason to offer home equity products to foster ongoing customer goodwill and relationships. But are mortgage bankers actually embracing the "customer for life" strategies that would lead to increasing the focus on home equity lending today, despite these constraints? Dave Savage, founder of Mortgage Coach and Chief Innovation Officer at TrustEngine, discusses opportunities and current strategies with his lender customers every day. He believes that despite the goal of maintaining customers for life often expressed by mortgage banking companies and bank leadership, and that are emphasized by TrustEngine, that loan officers are not truly taking that message to heart and view the interaction with the customer as being successful only if a first mortgage loan leading to a full commission is the outcome. So, for those LOs, home equity lending is viewed as a distraction from that goal.
Banks may experience the same issue in terms of LO behavior, though to a lesser extent in banks where home equity lending is well-integrated into the overall real estate lending strategy.
In this difficult period for profitability, it can be tough to stick with any strategy that focuses on a longer term, customer-relationship-based approach. But those who can continue to carve out a business strategy based on providing sound advice to customers can use the current environment to build a customer base that will almost certainly lead to increased market share in the future.
Turn the Distraction into a Business Building Opportunity
Is the capability to offer home equity lending a necessity in today's environment? Perhaps not. However, STRATMOR believes that refocusing on strategies which move beyond a purely transactional approach to the business and into developing "customer for life" advisory strategies will pay dividends for both LOs and for owners in building franchise value. And this is a great time to evaluate the go-forward business strategies which will be important in all rate environments. Some of those possible strategies include:
Develop an approach to offering HELOCs and HELOANs that makes sense for your firm. For independents, this may mean establishing a partnership or broker arrangement with either a local financial institution or a national home equity provider. The emphasis should be on providing the client with a solution, even if the immediate revenue opportunity to the firm and the LO is minimal.
As part of your client-for-life strategies, incorporate outreach on home equity capabilities into the interaction with clients. Let them know you can potentially help them even in this higher rate environment. Many of the larger players in the mortgage space have sustained their marketing during this recent period by emphasizing home equity lending. You can bet that these organizations will be active in soliciting your customers for rate reduction refinances once market rates improve.
For banks, establish a tighter partnership with the retail associates offering home equity loans — make sure those customers are in the mortgage database for future refinance or other first mortgage opportunities.
For IMBs without the capability to hold any home equity loans on their balance sheets, reach out to local or regional banks as potential home equity lending partners.
For banks involved in construction lending, explore the opportunity to use construction loan draw management capabilities to offer more complex renovation or home addition loans as a second lien equity product.
Review the customer experience around home equity lending. Curinos reports that over 50% of home equity loans and lines were handled "digitally" in 2022. Is it easy for the consumer to understand what your firm offers with respect to home equity loans and lines on your website?
Train your staff on the basics of home equity lending and how to counsel customers to make the best economic decision for their needs today. Are customers overlooking the possibility of using home equity instead of credit card debt for larger purchases?
Take stock of how your technology is positioned. Would it benefit your future operations to integrate home equity lending more tightly into the first mortgage tech stack, so that customer needs can be served more efficiently? As the market continues to develop, consider the enhanced home equity automation tools which are becoming available.
 Final Thoughts
Lenders should consider the strategic value of offering home equity lending products. The ability to say "yes" offers an opportunity to make the borrower happy and increase the company's market share and profitability over time. Mortgage lenders considering adding home equity lending would do well to consider where there are opportunities in their process to eliminate or streamline steps, leverage automation and shorten expected timelines. If you need assistance with the home equity lending process, STRATMOR is ready to help you evaluate the strategic, operational and compensation aspects of a move into home equity lending.
How Can We Help?
STRATMOR works with bank-owned, independent and credit union mortgage lenders, and their industry vendors, on strategies to solve complex challenges, streamline operations, improve profitability and accelerate growth. To discuss your mortgage business needs, please Contact Us.