How Mortgage Lenders Can Make Economics, Operations and Technology Actionable
By

Lisa Springer, Sr. Partner, CEO
May 2021
As we approach the halfway mark for 2021, now is a good time to level-set, to take a moment to get our bearings and consider where we're headed in the second half of the year. With our country coming out from under the shadow of the coronavirus and millions of homeowners prepare to exit forbearance, it is important to understand where this pandemic-powered momentum is likely to drive us.
To truly comprehend where we are today, we need to look at our current situation from three angles: economics, operations, and technology. A view from any single perspective will only provide part of the story and won't give us an accurate idea of where we are headed.
As always, STRATMOR will recommend some practical steps lenders should take now to help better manage the inevitable market turn we are about to experience.
Macroeconomics in the Current Environment
While there are many sources of macroeconomic data available today, the mortgage industry has the advantage of our experienced economists at the Mortgage Bankers Association (MBA), who delivered insightful economic trends and forecasts during their most recent economic update. These perspectives were very interesting.
For one, consumers are saving more money. A lot more.
According to data from the Bureau of Economic Analysis, consumer savings shot up like a rocket soon after the pandemic struck. Consumers were facing great uncertainty, and it made sense to stockpile resources. But a year after the virus struck, and in the face of what appears to be a successful national vaccine rollout, consumers are still holding nearly three times as much in savings as they did pre-pandemic. Historically, according to MarketWatch, Americans have been noted as "some of the worst savers in the developed world." As a point of reference, in 2016, the U.S. GDP was $56,300 per capita with a household savings rate of only 4.9 percent — this mentality was fueled by our government encouraging consumer spending; not saving. The pandemic changed that way of thinking for many Americans.
Chart 1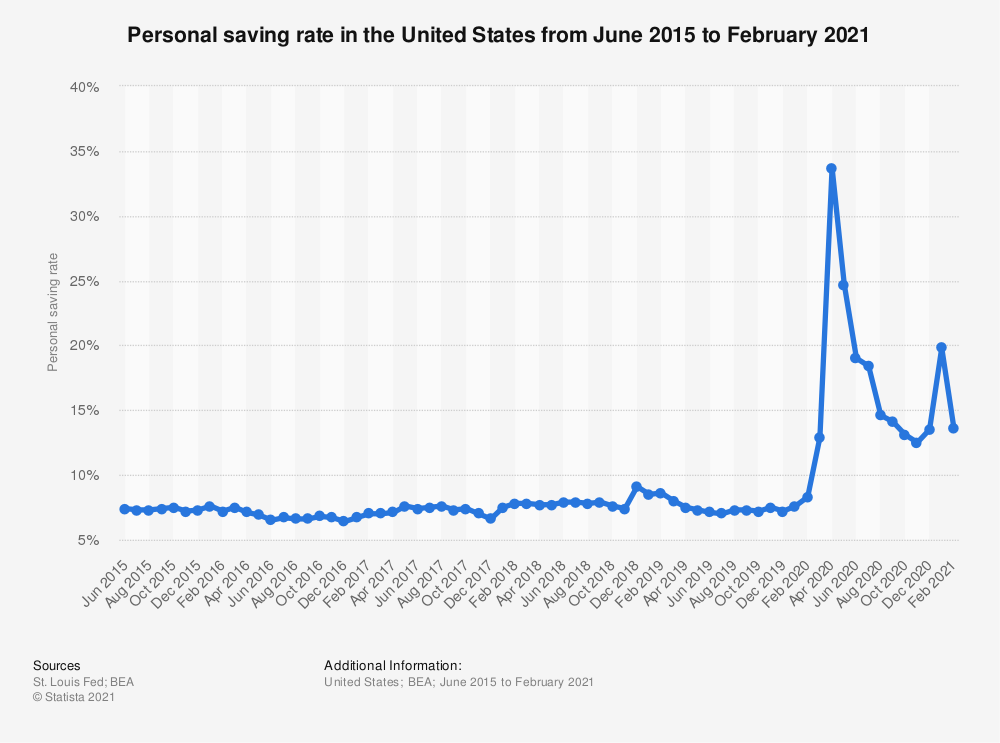 Source: © Statista, 2021.
It's not that they fear a lack of jobs. So far in 2021, the job market's recovery has been very strong, with unemployment falling from a COVID-crisis high of 8.1 to 6 percent in March, according to the Bureau of Labor Statistics. It never got as bad as it was during the 2009 financial crash when unemployment rose to 9.6 percent. Jobs are coming back, with the expectation that unemployment in 2021 will approach 5.3 percent by year's end.
If you ask the business community, they'll tell you that they are having trouble finding people to fill the jobs they have. Some are blaming the massive financial support the federal government and the Fed have been pumping into the economy since the crisis began. Much of this has come from the Fed, which has been buying mortgage-backed securities (MBS) since the financial crisis. Current data from the Fed suggests that it now holds more than $7 trillion in securities, with $2.2 trillion in MBS as of May 12, 2021.
And the government hasn't been holding its purse strings too tightly either. Government spending, in general, has tracked closely to receipts since 1982 with receipts outpacing spending only once during that time, in 2000. But COVID changed all of that, sending government spending to more than twice what it was receiving — much of that on economic stimulus. Traditionally we have only seen government spending this much higher than revenue during wartime.
The result has been an economy that didn't stall out as expected, but is growing, perhaps out of control.
While the Fed has been working hard to keep inflation down, there is now evidence that inflation is rising, with an expected increase of 2.2 percent this year. One indicator that validates this prediction is the fact that the keyword "inflation" has been mentioned on earnings calls for S&P 500 companies three times as often this quarter as any other since 2003.
Another indicator is a predicted 6.5 percent increase in the GDP. To put it into perspective, our Gross Domestic Product grew just 2.2 percent in 2019 and then fell 3.5 in 2020, according to Statista. When the GDP rises, people spend more money. This causes further increases in the GDP, which increases prices.
The last time the GDP grew as fast as it is predicted to rise this year was 1984, when we saw a 7.2 percent increase. That compares to the fastest it ever grew, which was in 1942, when a war-time economy saw the U.S. GDP skyrocket to 18.9 percent. This was corrected in 1946, when the U.S. saw the GPD shrink by 11.6 percent. Generally, we like to see GDP growth between 2 and 3 percent.
The Economy's Impact on the Housing Industry
When we look to find the impact of the broader economy on the mortgage industry, we need only to look at mortgage interest rates. Interest rate manipulation has been a favored tool used by the Fed as a lever to keep the economy moving forward. When the Fed changes its rates, it signals a desire to impact some other part of the economy.
As the industry has worked to recover from the Great Recession and more recently from the COVID crisis, the Fed has kept rates tied firmly to the floor. But that is expected to change.
Interest rates, which at the time of this writing are still hovering around 2.94 percent, according to Freddie Mac's latest survey, are expected to rise to 3.7 percent by year's end, according to the MBA's most recent forecast.
The MBA is further predicting that new home sales will increase this year to 929,000, up from 813,000 in 2020. Sales would likely rise further if builders were building the kinds of homes that would satisfy first-time homebuyers. As many lenders are aware, the millennial age group is our biggest up and coming "first home" buying market. According to NewHomeSource, this group of active buyers want "responsive houses," meaning they want the ability to use their home and the rooms in it in multiple ways.  Smart technology, incorporated throughout the home is important, and these environmentally conscious buyers want a high level of energy efficiencies. Meeting these criteria is a must to generate new home sales to Millennials.
The MBA predicts that existing home sales will increase to 6,353,000 this year, up from 5,678,000 in 2020. What impact will all of this have on loan originations in 2021? The MBA is now predicting that the industry will see purchase originations at about $1.668 billion this year, a 14 percent increase from 2020. Much of this will be led by the large millennial cohort that is now entering prime home buying age.
When you add in refinances, which will not all go away this year, the industry will be looking at $3.284 trillion in new mortgage business, down from $3.828 trillion in 2020, but still one the best years in history.
The real question now: Is the industry is in any condition to close that much business? The 2020 refinance boom still isn't over, and the industry is showing signs of burnout, evidenced primarily by elongated turn-times and a dramatic reduction in borrower satisfaction.
And that leads us to our view through the mortgage operations lens.
Mortgage Operations in the Age of Endless Business
During a recent STRATMOR Operations Workshop, our advisors sat down with industry leaders to discuss benchmarking and key metrics in an effort to find out how lenders were coping with this wave of business, which began over a year ago and hasn't let up.
When lenders were asked to discuss their most significant pain points, many reported sales growing faster than operations, making it difficult to find and hire qualified people. Capacity management was the most significant pain point lenders said they face.
Unfortunately, the tactic that 27 percent of lenders admitted to using was expecting their staff to work harder, as evidenced by increased overtime.
Chart 2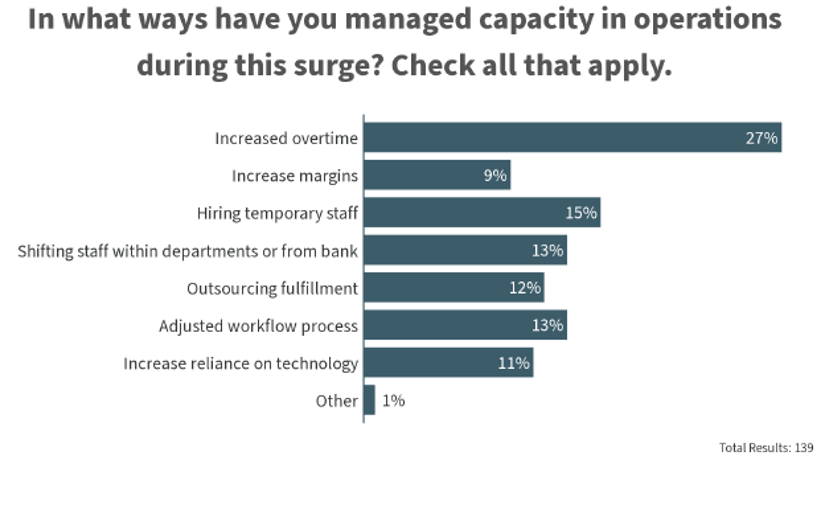 Source: © STRATMOR Group, 2021.
When the wave didn't let up, many went back to the marketplace and hired inexperienced workers to fill seats. Since most workers were still working from home, lenders were forced to train new workers remotely, increasing the complexity of training and reducing the effectiveness of the new workers.
At the same time lenders were struggling to bring new employees with limited experience up to speed, they were also under constant pressure to refocus their front-line sales teams on a new target: the purchase money loan. After years of talk about a comeback, it seems clear to most experts that the purchase money market is finally doing so.
Harder to originate due to complexity and underwriting requirements, these loans have been eclipsed by refinance business for so long that fewer professional loan officers now have the skills to source, sell and close new purchase money loan applications.
One key to simplifying the purchase money loan origination process is to take the paper out of it and allow consumers to interact with lenders on any device the consumer owns. And that brings us to technology.
Technology: Crossing the Digital Divide
If lenders hope to get top performance out of staff with limited experience and training, keep their best people from burning out completely and improve the customer experience before word spreads that they can't meet consumer expectations, technology must become a priority. The answer to these problems lies in the digital mortgage.
The problem, of course, is that these words don't mean the same thing to everyone in the industry. At STRATMOR, digital mortgage means the lender can interact with the consumer across all potential interaction methods (web, text, email, mobile, chat and voice) in the way the consumer wants to interact. In addition, the lender can generate data to support the loan file rather than documents. Both elements are critical.
This has been a challenge for some lenders because borrower and lender communication preferences differ. According to a recent ICE Mortgage Technology lender survey, 65 percent of lenders prefer to communicate with borrowers via email, while borrowers are split between their preferences for email (41%) and phone (40%). So far, despite the hype, only 17 percent of borrowers say they prefer to communicate by text.
This problem aside, lenders seem dedicated to completing the journey to digital lending. When capacity is the problem, digital lending provides tangible benefits. Lenders surveyed said technology can simplify the entire process (73%), accelerate time to close (70%), and reduce data entry (67%). The latter is a critical component when lenders are short staffed and dealing with high loan volume. The other elements speak to customer satisfaction.
Lenders have acted on this knowledge and increased their technology budgets. Smaller shops spent, on average, $5 to $6 million on technology in 2020. The large IMBs spent $30 to $40 million and the largest banks went all in, some spending as much as $200 million on new tools last year, according to data from the PGR: MBA and STRATMOR Peer Group Roundtables Program.
Chart 3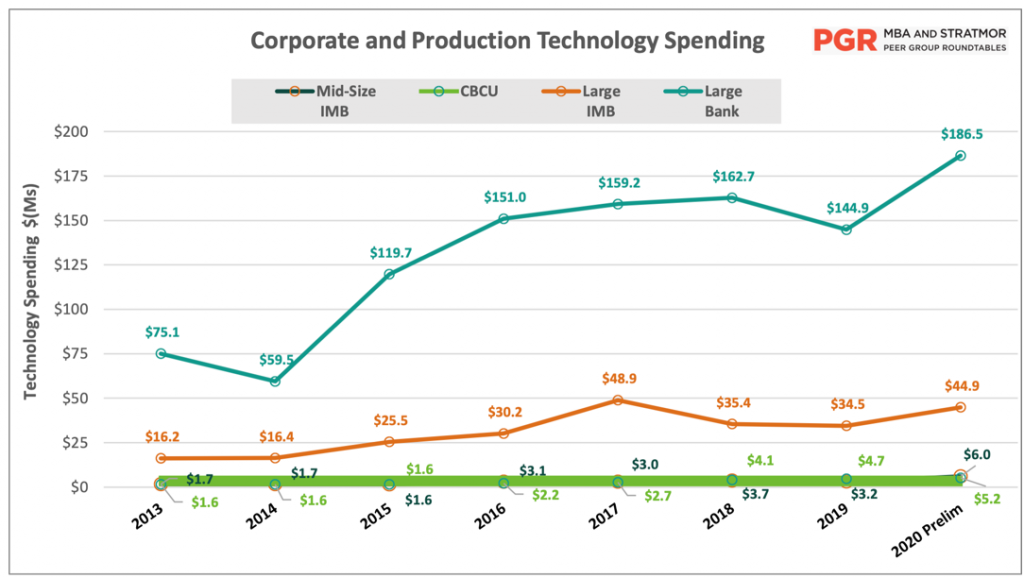 Source: © PGR: MBA and STRATMOR Peer Group Roundtables, 2021.
Even so, lenders' technology costs remain a "small" percentage of overall company costs, with most firms spending less than 10 percent of total company costs on these tools.
Chart 4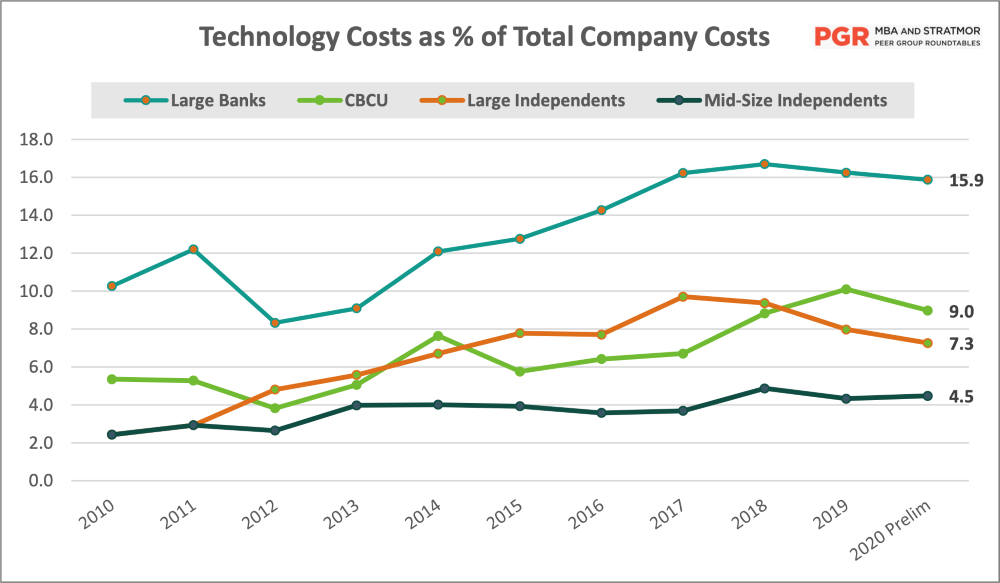 Source: © PGR: MBA and STRATMOR Peer Group Roundtables, 2021.
But any expenditure on technology will be wasted if the lender is not successful at getting its staff to adopt it. According to STRATMOR's 2020 Technology Insight® Study, one of the major barriers to the digital mortgage was getting LOs to change their process and behavior. If the LO doesn't use it, the lender gets no benefit for investing in the technology.
The purchase-focused consumer centric journey has already been mapped out. This journey is very different from the refinance path as the borrower has different motivations. The technology exists to make this journey a smooth one for the borrower. The lender that does not deploy it effectively will pay a heavy price.
Chart 5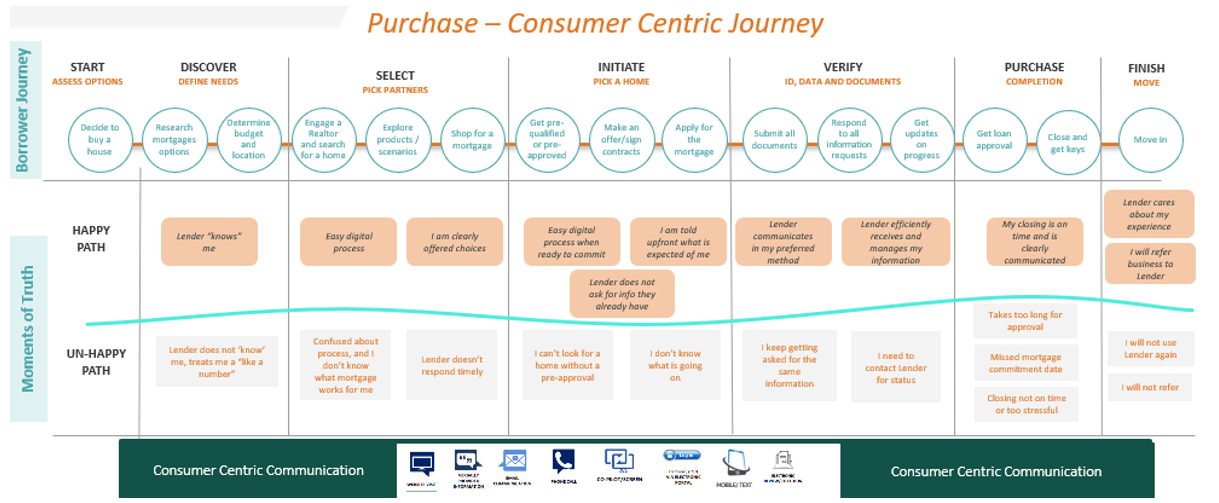 Source: © STRATMOR Group, 2020.
Lenders are getting the most out of the new tools they implement when they leverage technologies that can integrate easily to best-of-breed solutions, especially those they already have in production. Simple metrics such as "human work hours saved per month" are great tools to measure technology performance. See Pulte Mortgage's simple project scorecard below as an example.
Chart 6

Source: Pulte Mortgage, 2021.
Make it Actionable
Given everything we now know about where we are today in terms of the economy, lender operations and technology, what should lenders be focusing on now?
Economics
Consumers are saving more than ever before. To connect with borrowers, consider products that require less cash up front, in other words,  help your borrowers maintain their savings.
Herald loan products that complement this new mentality to be more financially responsible. I recently purchased a home and my loan officer introduced me to a "recast mortgage." I can make lump sum payments toward my principal balance any time I want, and my loan is subsequently re-amortized at the new principal balance. I love it!
Builders, design new home options that connect with the growing market surge of millennial new home buyers. Remember that they want flexibility, smart technology, and environmentally friendly choices as you design your features.
Operations
Don't burn out your people. Give them the support they need. While the initial increase in productivity and customer satisfaction due to processors working from home was promising, it was short-lived. Those gains were ultimately buried by problems with overwhelming volume. Create better training programs to enable new hires to get up to speed quickly, develop simple automation via Robotic Process Automation (RPA) technology, or simply provide the right incentives to motivate your team to execute accordingly.
Do not lose the personal connection with the borrower. Borrowers have a clear preference for proactive lender communication and customer satisfaction falls dramatically when the lender fails to provide it. Most borrowers are satisfied with an email from their lender that provides a status update.
Realize that winning new business in the future will largely be a factor of the lender's existing relationships. STRATMOR's customer experience data shows that 27 percent of borrowers chose their lender based on an existing relationship with the originator. Another 21 percent cited their relationship with the lender and 18 percent said they made the choice based on a friend or family member's referral. Compare that to only 22 percent that said the real estate agent drove them to the financing. Lenders have the power to win more business if they focus on these relationships.
Technology
Create a technology roadmap and follow it: avoid the shiny new thing syndrome. Gary Ives, Senior Vice President and CIO of Pulte Mortgage and Brian Kukwa, VP of Technology at Pentagon Federal Credit Union joined me in presenting during the MBA's Spring Conference. Our big takeaways included:
Ensure that you have a well-rounded leadership team who are committed and aligned to supporting your vision and strategic roadmap.
Purposefully design a compelling customer and employee experience.
Focus on the business benefits, measure them, and create the appropriate transparency to ensure alignment across your organization.
Push adoption both internally and externally.
2021 is a year in transition for the mortgage industry, from record high volume to whatever the lifting of pandemic restrictions brings. It hasn't been easy, and we can expect more of the same for the rest of the year. If your business is struggling to embrace this uncertainty, call upon the experts at STRATMOR Group to help you make better decisions for a more successful future. Lisa Springer
How Can We Help?
STRATMOR works with bank-owned, independent and credit union mortgage lenders, and their industry vendors, on strategies to solve complex challenges, streamline operations, improve profitability and accelerate growth. To discuss your mortgage business needs, please Contact Us.