Efficiency and Happy Borrowers: Digital Tools Bring Both
By Mike Seminari September 2020
It's certainly a good time to be in the mortgage business, at least financially speaking. The biggest concern that we keep hearing at our STRATMOR workshops is, "I just don't know how we're going to close all of these loans!" If there's such a thing as a good problem, I think this qualifies. And yet, the adrenaline that fueled service excellence in the early months of the pandemic is finally starting to wear off, and many lenders are now struggling to maintain high service levels. With capacity issues squeezing every drop out of existing resources, originators and fulfillment staff have less time for personal, proactive loan updates for borrowers.
What's a lender to do? Digital tools like text messaging, mobile apps and borrower-facing web portals offer a potential solution for bridging the gap between originator efficiency and borrower delight.
Can digital tools help lenders achieve both efficiency and borrower delight?
We've known for some time that borrowers have a strong preference for proactive communication (the lender reached out with loan updates) as opposed to reactive communication ("I had to call for updates"). The Net Promoter Score (NPS) difference between these two approaches ranges greatly. According to data from MortgageSAT, with a sample size of more than 160,000 year-to-date, the most pleased customers are those who received updates from their lender via outbound phone call (NPS 88), while the most dissatisfied customers had to pick up the phone and call their lender for updates (NPS 6) — an 82-point swing. Still, these two groups account for less than 20 percent of all borrowers, which means most updates are happening by other methods.
The lion's share of borrowers — two of every three — are receiving updates via email. Compare the NPS for these borrowers (79) with those getting calls from their lenders (88) and you can see a sizable missed opportunity for creating customer delight and earning repeat and referral business. Yet, with bursting pipelines and little time to spare for personal phone call updates to each and every client at each and every milestone, more and more lenders are looking to digital tools for some help.
At STRATMOR's recent Customer Experience Workshop, we asked attendees if they are currently using an enterprise texting solution for status updates with their borrowers. A combined 50 percent of them said they have either already employed the capability or are in the process of developing it. If you're not already thinking along these lines, you are actively falling behind your competition.
Chart 1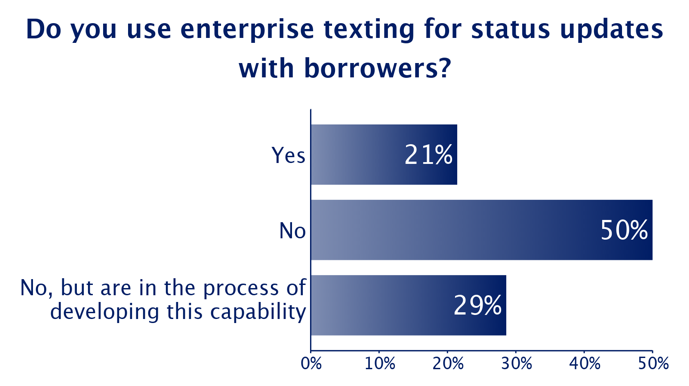 Source:© STRATMOR Group, Customer Experience Workshop, August 2020.
Digital updates — loan updates via text, mobile app, or lender website —have surged in the past four years. In 2017, just three percent of borrowers said the primary way they received updates was by text, by mobile app, or by logging into their lender's website. Fast forward to 2020, and that number has grown to 19 percent.
Chart 2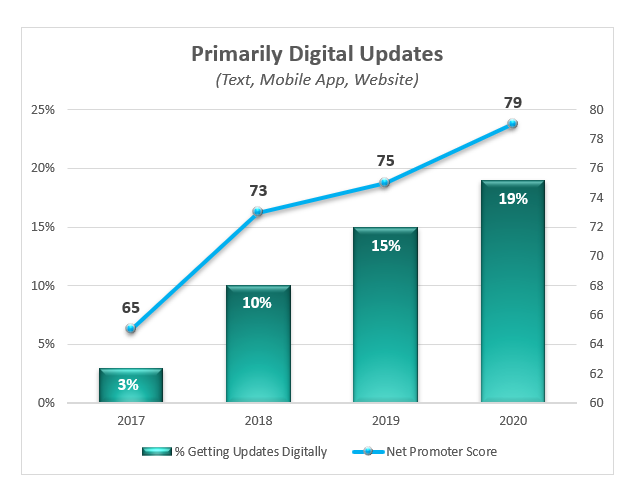 Source: © MortgageSAT Borrower Satisfaction Program, 2020. MortgageSAT® is a service of STRATMOR Group and CFI Group.
What's even more interesting is that borrowers are proving to be more and more delighted with these new forms of digital updates with each passing year. From 2017 to 2020, the NPS for borrowers receiving primarily digital updates rose steadily from 65 to 79, a substantial 14-point lift.
Texting as a means up providing loan updates has seen the biggest gains in both prevalence and NPS, climbing from two percent to nine percent of the sample, and from 69 to 82 on the NPS scale.
Chart 3
Source: © MortgageSAT Borrower Satisfaction Program, 2020. MortgageSAT® is a service of STRATMOR Group and CFI Group.
As previously mentioned, borrowers show a decided preference for proactive versus reactive updates. The same holds true for digital communication methods. Year to date, the NPS for borrowers who received text updates is 13 points higher than those who had to log onto their lender's website for updates (83 vs. 70).
Chart 4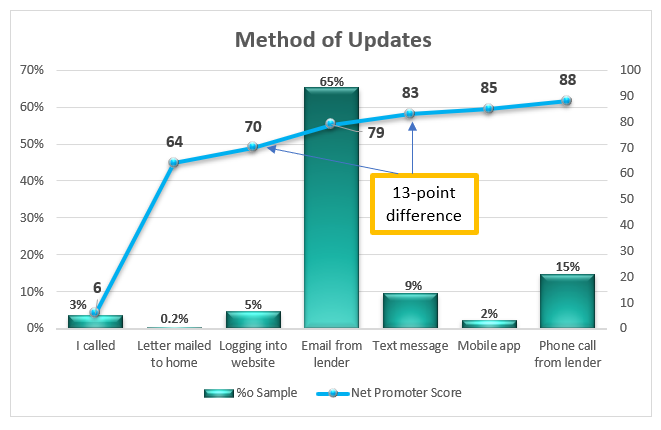 Source: © MortgageSAT Borrower Satisfaction Program, 2020. MortgageSAT® is a service of STRATMOR Group and CFI Group.
For busy lenders and loan officers alike, the key to bridging that gap between efficiency and borrower delight just might be proactive digital updates.
What's a Lender to Do?
Here are three ways you can employ digital update tools to achieve both efficiency and borrower delight:
 Find the Right Tool: Find a solution that speaks to your needs and pull the trigger. Half of lenders have already started down this path — don't be left in the dust. And let us know if you need help wading through the options.
Listen to Your Customers: Make sure your post-close survey asks borrowers their preferred method of updates. MortgageSAT tracks this in our survey and helps lenders strategize about which digital tools will have the greatest and most positive impact on borrower delight.
Make it Personal (when possible): Digital tools are great, but remember that the highest NPS is achieved through personal outreach, whether it be personal calls, texts or emails — or a combination of the three. Always consider automation a back-up plan as opposed to your main method of providing updates. The personal touch always wins the most repeat business and referrals!
To find out more about the MortgageSAT Borrower Satisfaction Program, a service of STRATMOR Group and CFI Group, and about how transparency into the loan process can help your company, contact MortgageSAT Director Mike Seminari at mike.seminari@stratmorgroup.com.