Which Came First, the Testimonial or the Sale?
By Mike Seminari August 2019
One of my colleagues is in the market for a new car. How do I know? She asked me not only about the car I drive ("Would you buy another?") but also about what I'd heard about the two car models she's considering. When I asked, "Have you checked reviews online?" she regaled me with the highs and lows of the car review world, including what she'd found on the manufacturers' websites and half a dozen other websites posting car reviews.
It made me glad that my wife and I aren't looking to replace our car anytime soon.
Over the past two decades, with the rise of Amazon, Yelp, Google and other star-rating services, consumers have come to rely heavily on peer feedback when making decisions about the products and services they buy. The mortgage industry has seen the same heightened emphasis placed on borrower feedback, much of it driven by complaints registered with the CFPB by unhappy borrowers (as of August 1, 2019, more than 1.3 million complaints have been filed with the CFPB since its inception). Our industry has seen a rise in the number of companies offering to collect and share testimonials across a growing number of websites, all under the assumption that increased online exposure correlates with higher sales revenue.
This assumption begs the question: Did the online testimonial produce the sale, or did the sale produce the online testimonial?
Nailing down the intricacies of buyer psychology and the sequential nature of the buying process is no easy task. And determining predictive markers of buying behavior is as difficult as it is intriguing. In fact, this quest to better understand buying behaviors has given rise to a whole new era in customer satisfaction around NPS (Net Promoter Score) and the idea of Promoters and Detractors.
What makes this chicken-or-the-egg question so important is that many a lender's whole social media strategy is informed by how they answer it. Add to that the fact that misunderstanding buyer behavior can undermine their effectiveness at filling the top of the sales funnel, and the question becomes a very valuable one to answer.
The Buying Experience
Think about the most recent thing you bought. When we think about our own buying behaviors, it's easiest to remember our last purchase or two. For many of us, that happened on a site like Amazon.com. For commoditized products like books, shoes or electronics, searching and reading reviews is a natural first step in the buying process. In fact, nearly 95 percent of people shopping for products like these say they read one or more reviews before making a purchase (Source: Spiegel Resource Center).
Whether it's a direct search on Amazon or a review search on Google, the search often starts the process. For instance, just this past week, I typed into Google, "wine fridge reviews" to start my search for a new wine fridge. It's a relatively low-priced and commoditized product, the purchase timeframe was short but unrushed, and the stress level was low as the item could easily be returned if I wasn't happy.
As products and services get more complex, the buying experience changes. Take the home-buying process for example — you can't just type in "mortgage lender reviews" or "low mortgage rates" and expect to get a nicely-narrowed field of lenders from which to choose. (Try it if you don't believe me.) Many factors can contribute to what type of loan you get, what rate you qualify for, what documentation you will need to provide and what your ultimate costs and fees will be. The purchase timeframe is often long and rushed at the end, which adds to the stress. And, you can't exactly return a house or a mortgage if you don't like it after a couple weeks.
The complex nature of securing a mortgage loan makes it an entirely different experience than buying a pair of shoes on Amazon and testimonials and reviews play a slightly different role. So, let's get down to it — which comes first, the testimonial or the sale?
Testimonial First?
Let's consider the possibility that a testimonial creates a new loan sale. According to MortgageSAT data over the past 18 months (comprising responses from more than 150,000 borrowers), 83 percent of respondents identified as "Promoters" on the Net Promoter Score (NPS) scale, meaning they answered "9" or "10" (on a 10-point scale) for their likelihood to recommend (see Chart 1). At the other end of the spectrum, just nine percent of respondents identified themselves as "Detractors," meaning they answered "6" or less for their likelihood to recommend.
Chart 1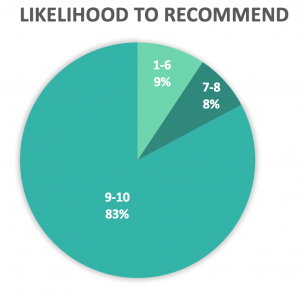 Source: MortgageSAT Borrower Satisfaction Program, 2019.
You might expect borrowers who are upset about their experience, i.e. Detractors, would be more likely to vent about their experience on social media than happy borrowers — Promoters — are to rave about theirs. In fact, we can see from Tables 1 and 2 the opposite is true.
When Promoters were asked if they planned to leave a comment on social media about their experience, roughly 70 percent gave the same "9" or "10."
Table 1

Source: MortgageSAT Borrower Satisfaction Program, 2019.
For Detractors, the likelihood that they will comment on social media is just 10.5 percent.
Table 2

Source: MortgageSAT Borrower Satisfaction Program, 2019.
So, if 83 percent of borrowers identify as Promoters and 70 percent of these borrowers are "highly likely to comment" on social media," lenders should expect to see nearly 60 percent of their borrowers leaving positive testimonials online. And if online testimonials have a direct correlation to referrals, then more than one of every two loans should be producing a referral. So where are all these referrals?
It's seems clear there is not a one-to-one relationship between collecting an online testimonial and receiving a referral. In fact, there may be little to no correlation at all.
As the data shows,  just because someone says they'll recommend you doesn't mean they'll be proactive about it. Further, there is a big difference between a borrower who likes you and one who will not stop talking about how much they like you. The first one may provide a referral when someone directly asks for one. The second, what you might call a "raving fan," cannot help but sing your praises to anyone who will listen. Companies are built and revenues are grown upon the second one, the raving fan.

Do Testimonials Drive New Sales?
It turns out there is no evidence that online testimonials, positive comments on social media, feed the top of the sales funnel. In fact, according to MortgageSAT data as shown in Chart 2, less than two percent of borrowers say they discovered their lender (or loan officer) by means of an online search. Instead, 95 percent of borrowers who searched for testimonials online already knew who they were searching for, whether because of a referral or an existing relationship with the lender or loan officer.
Chart 2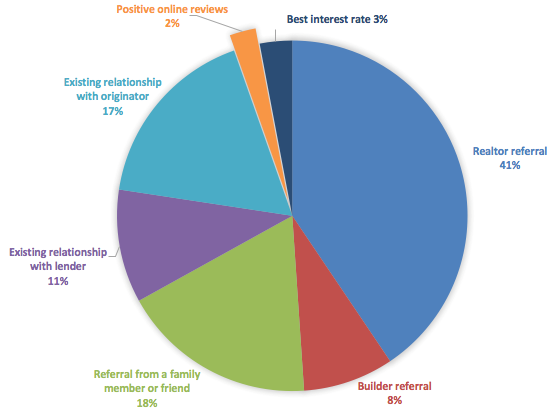 Source: MortgageSAT Borrower Satisfaction Program, 2019.
A referral can come from a variety of sources: real estate agent, financial planner, friend, relative, co-worker, builder, etc. The common thread in these sources is that they are all, on at least some level, trusted advisors. The home-buying process is a substantial financial event, and because most borrowers are confused about the ins and outs of the process, it's natural for them to lean on the wisdom of others. And with so many lender and product choices and no easy way to sift through them, tapping a trusted friend, colleague or professional advisor can help to quickly narrow the field and make the decision more manageable.
What Is the Role of a Testimonial?
According to MortgageSAT data, 32 percent of borrowers said they read one or more testimonials before making their final lender decision (11 percent don't recall if they read a testimonial before choosing their lender).
Chart 3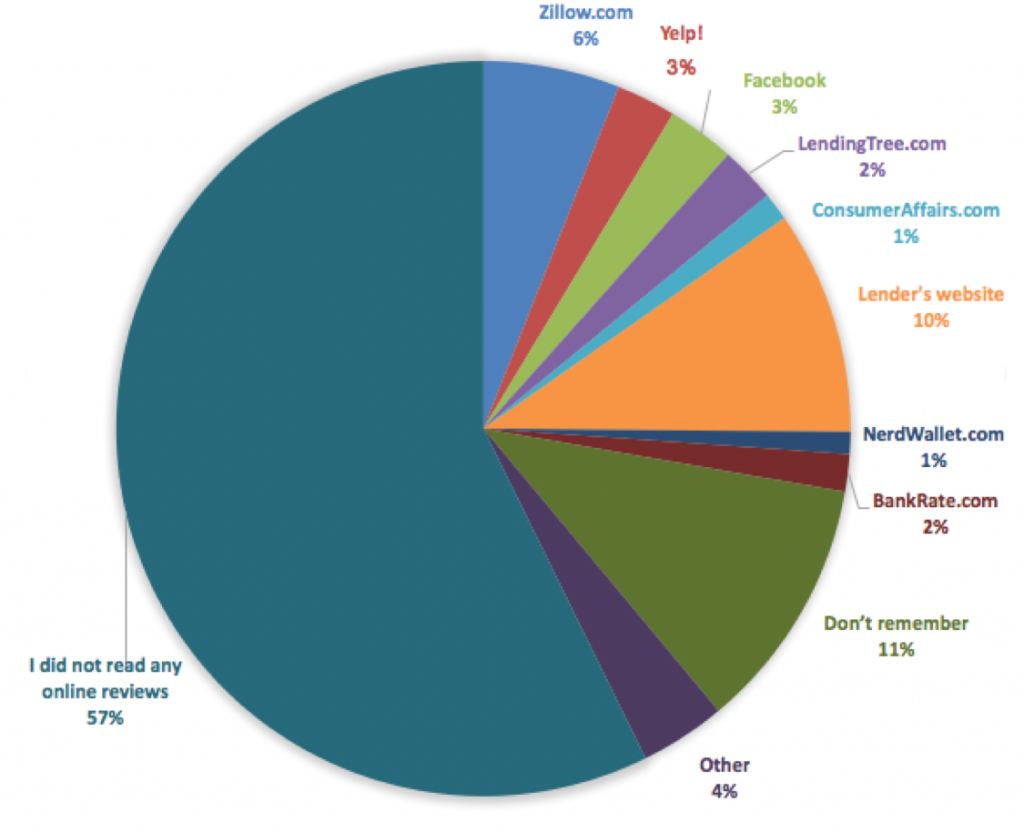 Source: MortgageSAT Borrower Satisfaction Program, 2019.
Of that group, 67 percent said they were first referred to that lender or originator by friends, family, co-workers, or real estate professionals. In other words, they knew exactly who to type into the search box to get very specific reviews. They used the testimonials to decide between pre-selected options from an already-narrowed field. That sounds a lot more like the middle of the sales funnel than the top.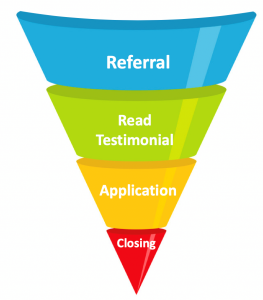 The sheer quantity and searchability of your reviews (at the company or originator level) is less important than the fact that you have something for borrowers to read. When borrowers search a company or loan officer by name, first page results get the lion's share of clicks. Therefore, having a handful of reviews on the top-performing SEO sites (e.g. Zillow, Facebook, and your company site) has more impact than having copious reviews spread across 20 different websites.
So, Which Came First, the Testimonial or the Sale?
With all the evidence before us, the sale precedes the testimonial. That said, there is a borrower action that precedes the sale — a word-of-mouth referral. Word-of-mouth referrals are most often made by "raving fans" — the ones who won't stop talking about their great experience. This suggests that the raving fan is the true impetus to the loan process and sits at the top of the sales funnel.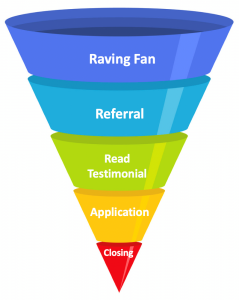 How Do You Create a Raving Fan?
You need to delight the borrower from A to Z … from start to finish. This is easier said than done, but the best way is to begin to monitor NPS changes for process mishaps. As you can see in Chart 4, it doesn't take much for the scores to plummet, sometimes with a 100+ point delta, when a single thing goes wrong. When missteps happen, the borrower may still be willing to give their loan officer a high "recommend" rating, but the overall process has already lost its luster, as did their excitement to share with everyone they know.
Chart 4

Source: MortgageSAT Borrower Satisfaction Program, 2019.
For more on the commandments of borrower satisfaction, read "The Seven Commandments for Achieving Borrower Satisfaction" written by STRATMOR Senior Partner Garth Graham.
If "Raving Fans" Are the Goal, How Do Lenders Monitor Process Missteps?
Survey solutions like STRATMOR's MortgageSAT Borrower Satisfaction Program give lenders everything needed to monitor the various aspects of the process and more on every loan, which lets lenders take a hands-on approach in creating raving fans.
Here are the four ways you can orient your customer feedback collection around creating raving fans:
Monitor the Seven Commandments: These are the most sensitive aspects of the loan process that will make or break the customer's "raving fan" status. Learn them, train your staff and leadership on their importance, and consider tying them to performance evaluations and even compensation. Sharing this kind of visibility with originators empowers them to take ownership of their business and their ability to generate referrals.
 Employ Automatic Email Alerts: You need to know, in real-time, when something goes awry. Use a survey tool that alerts you every time a process misstep costs you a raving fan. Make sure senior leadership is calling upset customers to smooth things over. Nearly 70 percent of upset borrowers say they are "likely to use again" following a short call from management that allows them to vent their frustrations.
 Create A Culture that Celebrates Satisfaction: Positive culture is something every lender wants, yet few are adept at creating. MortgageSAT's highest-performing customers (you might recognize them as the top lenders in J.D. Power's Annual Satisfaction Rankings) focus equally on the good feedback as they do on areas needing improvement. Consider creating a weekly internal newsletter that highlights the top testimonials of the week. Give quarterly awards for top performers and most-improved. Recognize exceptional performance versus the National Average and Best-in-Class. There are so many positive things you can do with the data.
Make Testimonial-Sharing Easy: When you have a raving fan, provide an easy way for them to share the testimonials in locations that are most likely to be found when the next borrower searches for that loan officer or lender.
Testimonials are important for moving loans through the sales funnel but feeding the top of the funnel requires building a base of satisfied customers who sing your praises to their family and friends and who come back to you for their next loan. To create this base of raving fans, lenders need a process to systematically gather, respond and capitalize on borrower feedback.
The MortgageSAT Borrower Satisfaction Program has helped many lenders raise their satisfaction and NPS scores significantly by taking immediate action on borrower comments. And, STRATMOR offers a MortgageSAT Operations Review for lenders interested in evaluating their origination process, from application through closing, to pinpoint specific areas for improvement that can have a significant impact on borrower satisfaction.
For help with creating raving fans for your company, get in touch with me at mike.seminari@stratmorgroup.com.