What a Doll and Her Dream House Teach Us About the Mortgage Ecosystem
By

Garth Graham
April 2022
We're living in a mad world. I don't just say that because I'm writing this as we come out of March Madness, when literally anything can happen and often does. I say it because if you are a lender or, for that matter, a real estate agent, you've been working in a frenzied and chaotic business for at least the last two years.
Traditionally, we could predict how our business might change, or could see the changes coming. Sometimes, we were surprised when we were forced to change by regulators. In the last two years, we have experienced huge change, driven by a (hopefully) once in a lifetime pandemic. But today, the big change is coming from the consumer. Lenders who realize this, focus on what is really changing and why, and then take action that will set themselves up to grow during a trending cycle where most lenders will not.
Part of this story is about the opportunity to redefine the balance of power between lenders and real estate agents when it comes to influencing a borrower's lending choice. Maybe, instead of exerting copious amounts of effort trying to resurrect waning real estate partner relationships (when they have not heard from a loan officer for the better part of the last two years), it's time for a new strategy.
Lenders have an opportunity, thanks to the changes we are seeing in consumer behavior, to engage in the borrower relationship from the very beginning of the process. Now is the time for lenders to incorporate real estate search, real estate research, real estate referral partners and the lender's financing offers into a single online ecosystem for the convenience of the buyer.
And we have borrower Barbie® trying to buy her dream home in this competitive market to show us how this could work.
The Top of the Funnel
Conventional wisdom has long asserted that the first originator to speak with the borrower has the greatest chance of winning the deal. That is because they are the most likely to build a relationship with the borrower (i.e., the borrower has a limited capacity for sharing deeply with multiple people and is most open on the first call). Based on STRATMOR's data, 89 percent of borrowers in Q1 made a relationship-driven choice of lender. Whether it was based on a referral from friends (14 percent), a real estate agent (20 percent), an existing relationship with a lender (34 percent) or individual loan officer (18 percent), relationships dominate borrowers' selection behavior.
Chart 1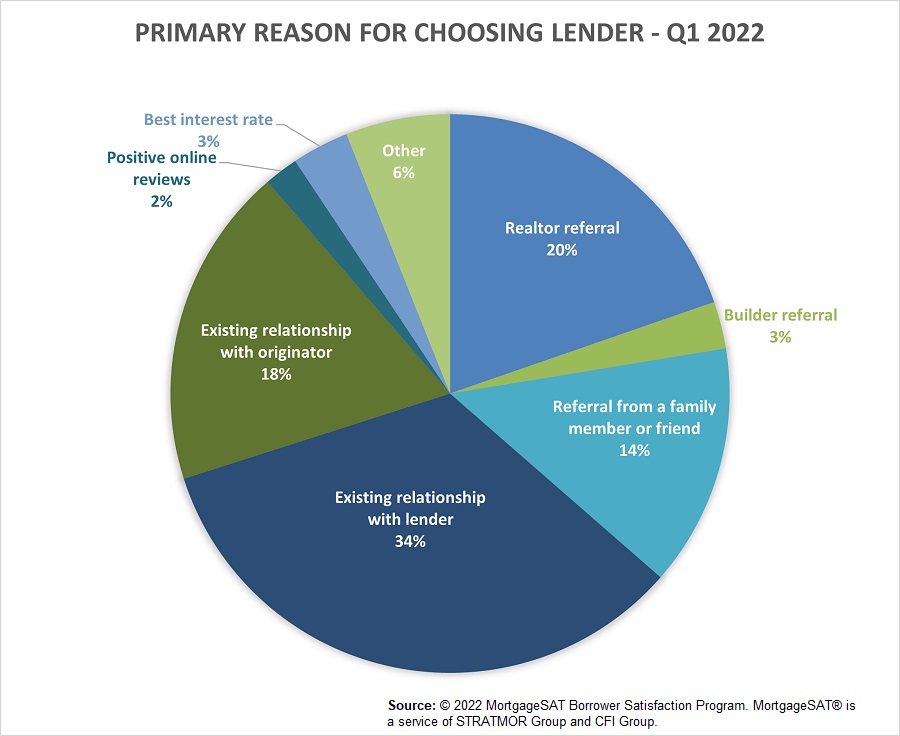 Lenders have been spending lots of money at what they "think" is the beginning of the process (POS tools), but it isn't, not by a long shot. And POS investment does not fill the top of the sales funnel. By inserting themselves in the "home search" phase, lenders can gain control over the top of funnel. One in five borrowers (18 percent) in Q1 chose their lender based on a real estate agent's recommendation. But given the changing tech landscape, it may not be that way for long.
The real opportunity is to become part of the new way consumers search for, select and buy real estate. We are witnessing the confluence of online real estate and mortgage experiences. That is the real play for lenders who will lead in the purchase money market. Let's talk about why this is true.
Consumers Grow into Online Real Estate
The Internet has made it possible for consumers to find virtually anything online. Real estate is no exception, and people have been searching online long enough to turn companies like Zillow® into industry giants. But the key factor in the growing number of consumers using the Internet to find their next home is demographics.
According to the National Association of Realtors® (NAR) 2021 Home Buyer and Seller Generational Trends Report, buyers between the ages of 66 to 95 (yes, people in their 90s are still buying real estate) contacted a real estate agent as a first step. Millennials, who now make up most of all first-time buyers, do not.
Overall, NAR found that 97 percent of all home buyers used the internet to search for new homes. Then it really gets crazy. After finding a home, they walked through the property virtually (56%) and then drove by to view the home's exterior (37%).
Chart 2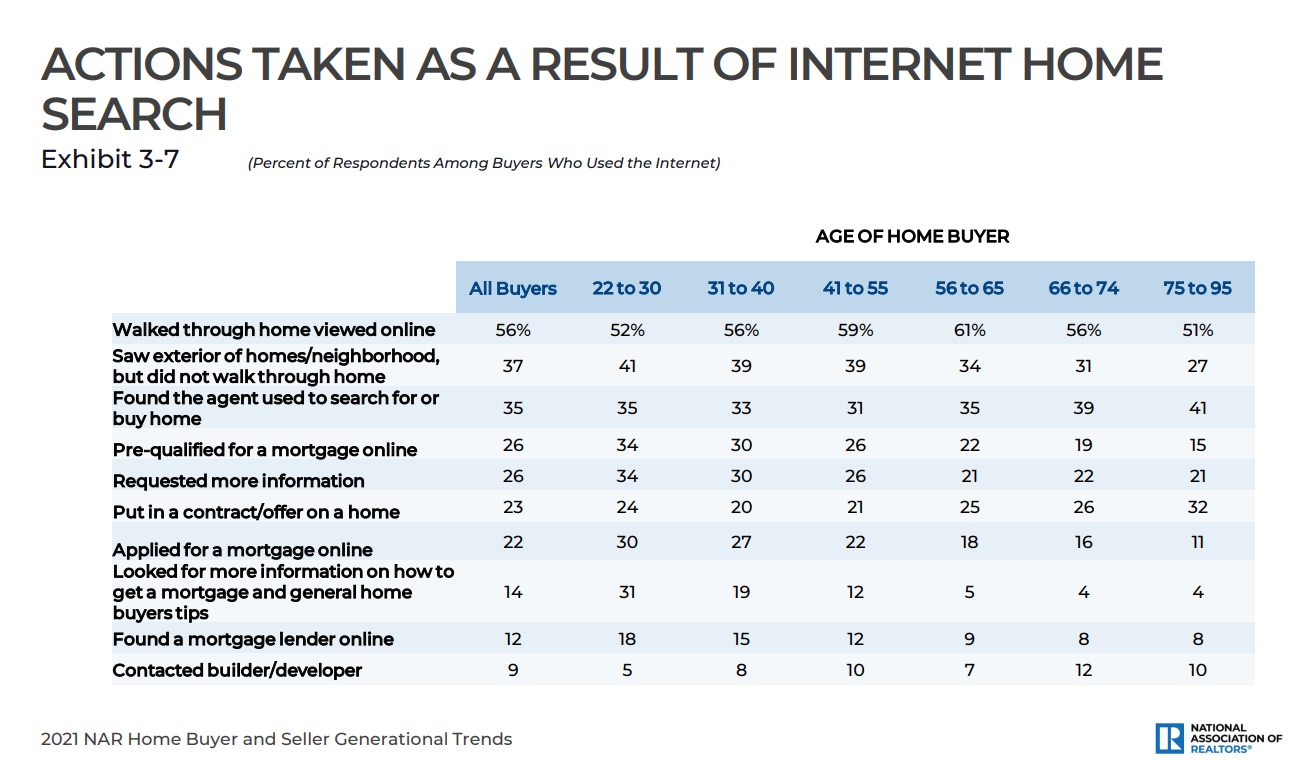 Source: © 2021 National Association of Realtors. 2021 NAR Home Buyer and Seller Generational Trends Report. All rights reserved. Used with permission. 2021 NAR Home Buyer and Seller Generational Trends Report.
But wait, there's more.
According to a Redfin® survey of more than 1,900 homebuyers across 32 major markets, two thirds (63 percent) of homebuyers in 2020 made an offer on a property that they had not ever seen in person. That was up dramatically from 32 percent in 2019. In the same study, 71 percent said they would be willing to purchase a house sight unseen, and 69 percent said that 3D tours are now an absolute necessity in any listing. Note, that study was done in late 2020 – we've only moved further down the path in 2022.
When Zillow® surveyed buyers late in 2021, 59 percent of buyers said they would be "somewhat" all the way to "very/extremely" confident making an offer after seeing a 360-degree/virtual tour but not viewing the home in person, an increase of about four percent from 2020.
The other reality in our current climate is knowing you can qualify for a loan is not the only step necessary before writing a contract. You must prove it with a nearly iron clad Preapproval. In some hot markets, you must show a Preapproval with no contingencies, and buyer assurances that they will close even if the appraisal comes in low.
The days of the consumer finding a home online, contacting an agent to walk through it, carefully considering an offer and then working with a lender to finance the deal are over. There simply is not enough time available in the process anymore. And the buyer's financing is such a key part of a seller's consideration in a multiple offer scenario. If the borrower is not prepared to make an offer immediately, and present iron clad financing, someone else will buy it first.
What does this suggest about where lenders should be in this process?
Moving to the Front of the Home Buying Process
As NAR reports in its Generational Trends report, most buyers (87%) are still financing their new home purchase. The lender needs to be part of this process, but why wait until the consumer decides which real estate agent they will work with? Lenders can do better than that.
Chart 3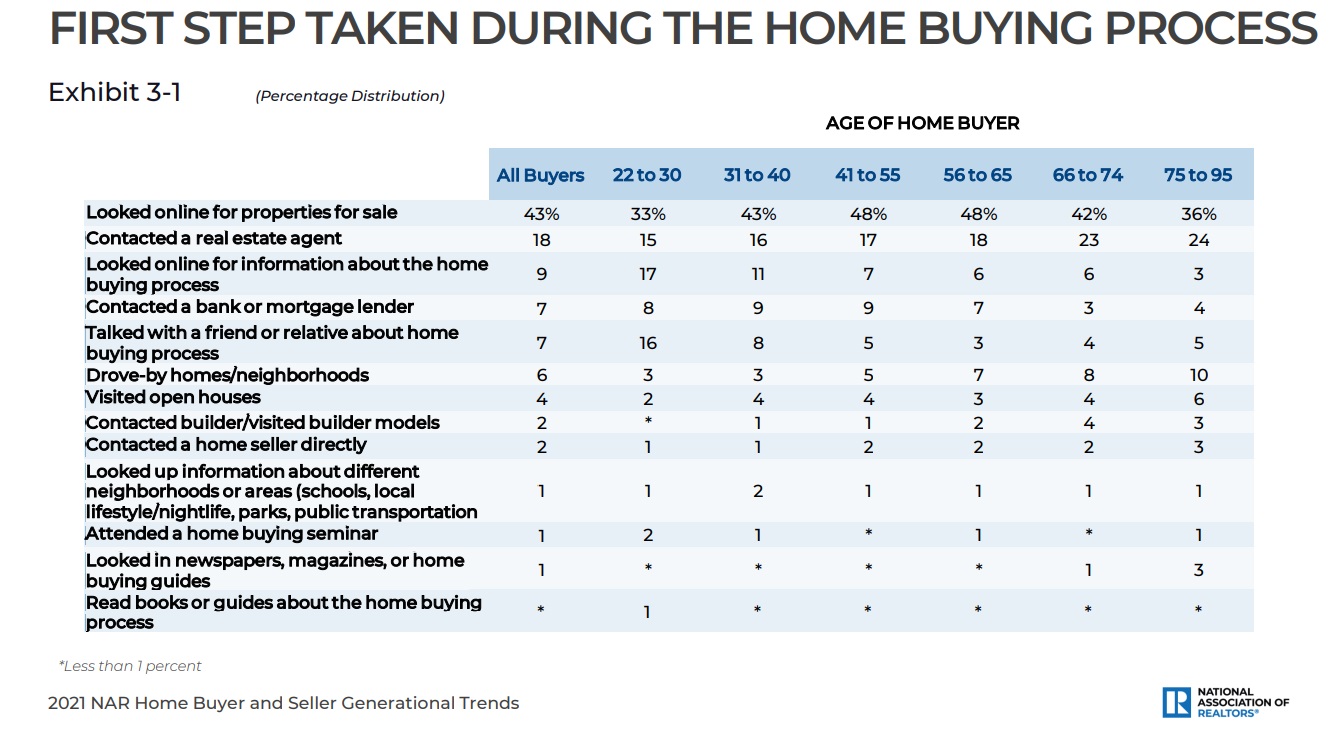 Source: © 2021 National Association of Realtors. 2021 NAR Home Buyer and Seller Generational Trends Report. All rights reserved. Used with permission. 2021 NAR Home Buyer and Seller Generational Trends Report.
If you look at NAR's data on the first steps taken during the home buying process, you can see that lenders are almost never the first party the buyer contacts, it's in single digits for all age groups. But then neither are real estate agents, especially for younger buyers. Buyers are going to the Internet and that's where lenders need to be.
You know who gets this? Rocket.
Using Barbie dolls in its ad for the big football game this year caused some media critics to scratch their heads, but if you were paying attention, you noticed that Rocket Mortgage® was not the sole focus of the ad. It was Rocket Homes® and Rocket Mortgage. In a competitive home buying market, Barbie was able to find and finance her dream house with some help from Rocket Homes® and Rocket Mortgage.
Why is it noteworthy that this giant online lender started providing online home searches and alerts to its prospect database? I do not speak for the company, but I can guess the answer in three words: purchase money market. Lenders need a way to make their phones ring (or vibrate!) in a rising rate environment.
The Perfect Opportunity to Connect with Borrowers
Every lender reading this is already feeling the effects of the falloff in refinance activity. Borrowers no longer have a pressing need to call on their lender for a better rate on an existing mortgage. Now, the business is focused on financing new home purchases.
This is a significantly different proposition. In comparison to the purchase transaction, refinances are "unbelievably simple," especially from a demand perspective. Purchase mortgages are more episodic and/or contingent on circumstances, meaning, "I might need a loan, but I'm not sure. I need to think about it, need to find a home, need to figure out if the home is for me, need to convince my spouse…."
That means the lender needs to understand the borrower's journey and offer consumers what they want when they want it. That is why the best companies are now beginning to pursue strategies where the mortgage is included in the borrower's goals and objectives as part of a broader ecosystem. This involves putting their brand in front of the consumer when they are searching for information the lender can provide.
Smaller Independent Mortgage Banks (IMB) are already doing this, although on a small scale. Loan officers, for instance, send emails each month to the consumers in their database to give them indications of what is happening in their neighborhoods. It does not necessarily have to be through an app on the consumer's phone. In many cases, the consumer connection is the result of a co-marketing effort the loan officer has made with a real estate agent.
Larger lenders may take a different and more scalable approach and are looking to acquire very well-designed, integrated processes that allow them to leverage vendor relationships for the benefit of the buyer, such as purchasing and integrating a real estate search product.
But whatever they do, the goal is to provide a better experience for the buyer earlier in the process by providing the kinds of experiences consumers have already told us they want. The Rocket Homes commercial captured the angst that many home buyers are dealing with. Does the company actually have technology that will provide an automated solution to that problem? Does it matter?
The premise, clearly communicated, was that home buyers who have been frustrated by their inability to purchase the homes of their dreams now have a way to effectively compete for homes. In a market where the borrower needs to be very well prepared financially before they write their first offer, it makes sense for the lender to be involved earlier in the process. Now, pop culture observers or mortgage meme authors can decide if the Barbie metaphor, where a toy doll represents today's borrowers, is the right way to deliver the message, but we can't argue that the message was much more about the doll house than the doll's 30-year mortgage commitment.
The result is that borrowers may be more effective in getting their offers accepted, and perhaps have a better experience with less anxiety.
What's in it for lenders? Customer acquisition at a price they can afford and in a way that allows lenders to compete with real estate firms for the customer's attention. Last year, the average marketing cost to acquire a customer was less than $500, driven down by the refinance borrowers who inquired about low rates without a lot of marketing at all. This year it will likely be three times that amount. The episodic nature of the loans that lenders are making today means that fewer will convert and the cost per closed loan will increase.
And there will be more competition this year. With fewer loans to acquire, lenders will spend more to get them, increasing the overall costs for everyone. You can be sure Rocket and other independent mortgage bankers like them will be spending more to acquire leads this year. That is already evident.
Creating Your Online Environment for Borrowers
Borrowers want an integrated real estate buying experience that offers them everything they want in one place. Lenders that give this to them are going to pull in and keep more borrowers.
But are mortgage lenders really ready and able to compete with the likes of Zillow in the online real estate search business? They can be. And why wouldn't they compete with the likes of Zillow? Zillow is competing with them, as are most of the big real estate companies.
There are three reasons we see that lenders aren't already competing in this space.
They've already invested elsewhere. Lenders have invested a lot of money over the past three years, much of it at the point of sale. Those investments may have streamlined and improved the experience for refinance borrowers who sought out the lenders, but they are not effective at attracting new purchase money borrowers.
They aren't watching consumer behavior. A second reason lenders are not already offering the integrated, online experience that consumers crave is because they have been too busy dealing with internal priorities to notice that borrower behavior has changed and that a new opportunity is presenting itself.
They aren't aware of this new competitive mandate. Lenders are in the business of financing homes, not selling them. So, it's not exactly intuitive that they should provide a way for consumers to shop for new homes. But because this is the key to acquiring low-cost leads and providing superior customer experience, lenders that realize this will grow and lenders that do not will be left behind.
But how will lenders accomplish this?
There are technology firms that lenders can partner with to provide the search functionality buyers want. Lenders already have good point of sale tools to serve buyers who enter their portals in search of a new home and plenty of calculators exist to help buyers determine how much home they can buy. One interesting play might be to incorporate the calculators into a progression, where the borrower first calculates the amount they can afford, then they hit "next," and it takes them to a map that shows them a filtered look at all the homes in their area that they can afford.
Lenders, get into the space by creating and optimizing a new tech stack for purchase money borrowers. STRATMOR Group is already working with lenders to realize this goal. Reach out to us today to find out how we can help you provide an integrated online environment to attract new borrowers. Garth Graham
How Can We Help?
STRATMOR works with bank-owned, independent and credit union mortgage lenders, and their industry vendors, on strategies to solve complex challenges, streamline operations, improve profitability and accelerate growth. To discuss your mortgage business needs, please Contact Us.