Can CX Help Banks Win Back Market Share?
By

Mike Seminari
October 2021
Is it just me, or does 2010 not seem like that long ago? We had the iPhone 4 in our pockets, Toy Story 3 in our movie theaters, and the average cost of a home was just over $232,000. Yet, the mortgage lending landscape was more like a scene out of Back to the Future — both bizarre and archaic — where banks were originating 76 percent of all mortgage volume, with independents making up just 24 percent.
Since then, bank market share has fallen dramatically to the point that independents have now taken over most of the origination volume (see below). One of the biggest reasons for this shift has been an inability by banks to provide an exceptional customer experience to their existing customers, and independents have been picking up the slack. Are banks "out of time," being erased from the picture like Michael J. Fox? So we ask: what can banks do to win back market share and thrive in the future of mortgage lending?
Chart 1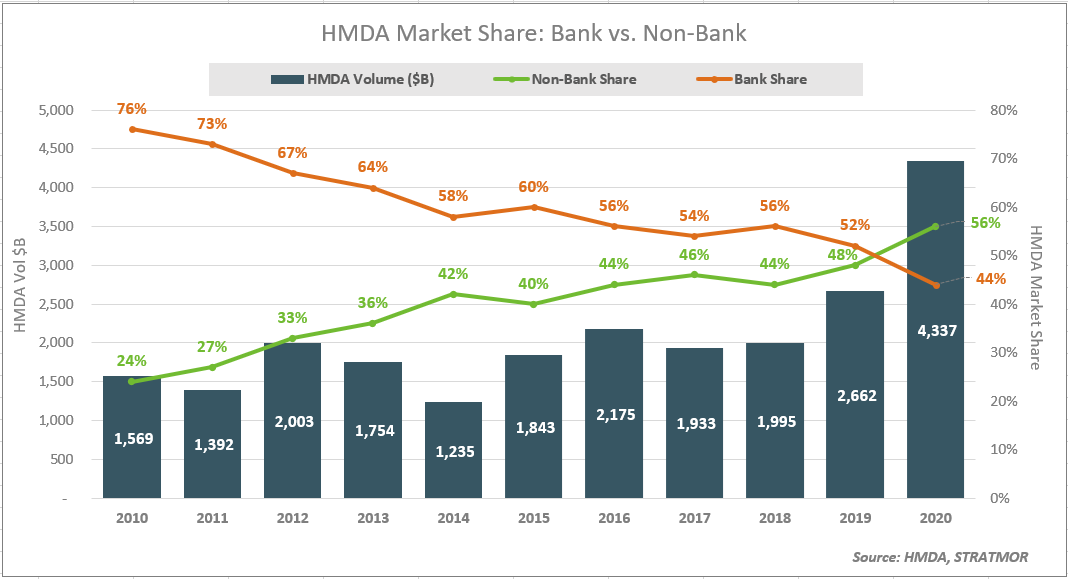 The Trend in Originations
A lot can happen in 10 years. While banks have been giving up market share, Independent Mortgage Bankers (IMBs) have been filling the void, gaining major ground in every product type. According to a presentation by the MBA at the 2021 Annual Conference in San Diego this week, IMBs are now doing 8 out of every 10 government loans and 6 in every 10 conventional loans.
Chart 2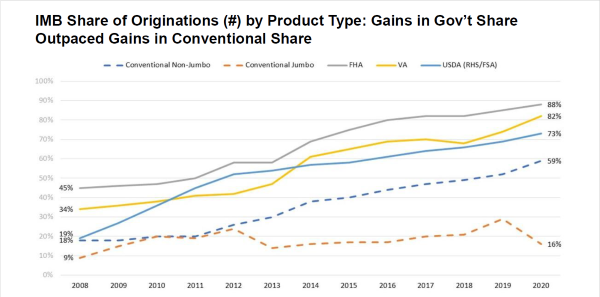 Source: MBA Analysis, Home Mortgage Disclosure Act (HMDA) data.
In the same period, we've seen many IMB lenders become household names. Take Quicken for example (now Rocket Mortgage), who in 2010, started their wholesale division (now Rocket Pro TPO) and received their very first J.D. Power award for satisfaction in origination. Now they're the largest home mortgage company in the U.S. with 19 J.D. Power trophies. Not a bad decade. It's no surprise that the way they got there was an intense focus on the customer experience. Where banks were neglecting their depository customers, Quicken swooped in and provided ease and convenience — and often delight.
The ability to delight customers is more directly tied to revenue than many lenders think. When you cannot compete on service, you are forced to compete on price, which quickly cuts into profit margins. An inability to compete on service also means you gain fewer referrals and end up having to spend more on marketing to drive leads. I'm not sure the last time you checked, but Rocket is not known for their rock-bottom pricing.
Banks and the Customer Experience
First, the hard truth: When it comes to mortgage origination, banks have not traditionally been known for their stellar customer service. In fact, if you look at the results of the J.D. Power Mortgage Origination Satisfaction Study over that past five years, particularly before continuing market segmentation started pushing top independents out of the results (i.e., Guild, PrimeLending, Fairway, etc.), independents held the top spots — the top four in 2018 and the top seven in 2017. And, according to MortgageSAT data, many of the smaller IMBs are in step with the larger IMBs, with satisfaction scores that would earn similar top-tier national rankings. Why is this?
The biggest reason is that most banks source close to 60 percent of their mortgage loans from existing customers — meaning people who have some existing relationship with the bank, mortgage or otherwise — and they are notoriously challenged when it comes to transitioning those customers to a delightful mortgage loan experience. You might hear a customer say, "Why do I need to give you bank statements? You HAVE them already!" Or, "I gave you all of this last month when I got my car loan." And these are only some of the challenges that banks face.
I'm sure you've heard the saying, "There's nothing lonelier than being in a loveless relationship." The same is true for bank customers. If there is no personal connection, no deep relationship with a trusted advisor, you may be worse off than having no relationship at all, with no expectations and no disappointment. Herein lies the challenge for banks. How do you nurture and deepen existing customer relationships, when they are thin to begin with (i.e., an online checking account)?
The first step is listening.
Queue the adage, "You have to find the holes before you can fix the leaks." Find out from dissatisfied customers not only what went right or wrong during their loan process, but also what you could have done better beforehand to connect with them, educate them and provide them a smooth path.
Gathering rich data and getting the most out of it means knowing the right questions to ask, having a methodology to analyze the feedback, and being able to compare results against peers. If this seems like a lot to bite off all at once, don't be afraid to embrace third-party help. STRATMOR specializes in these kinds of advisory services.
What's a Lender to Do?
Here are three ways that banks can adapt and compete with independents in providing an exceptional customer experience:
Mortgage is different — treat it that way. Enterprise-wide survey tools are usually appropriate for simple bank transactions like the opening of a checking account or an auto loan. However, they are wholly inadequate to measure the complexity of a mortgage transaction, which typically involves a much longer timeline and many more employee interactions. The inability of these multi-business line survey solutions to "go deep" with the customer means the bank must forfeit valuable actionable feedback that could otherwise have helped them improve their service. Independents on the other hand, are "all in" on mortgage — it's their only channel, which makes them more flexible in terms of the vendor choices they make for their survey solution. Make your case to executive leadership.
Circumvent red tape. Because of their size, banks have a lot more to lose in the compliance and data security game, so it makes sense that they would have more stringent policies and red tape to get through when trying to implement a new survey solution. Sometimes the vetting is ridiculously drawn out, as was the case of one of our large bank clients who needed more than a year to complete vendor vetting. This inability to move quickly keeps powerful CX tools at an arms-length, leaving the bank in the dark about how they might improve their customer's experience. Independents are extremely nimble, often with one or two decision-makers able to drive the project forward and sign off on risk concerns. Once a vendor decision is made, they are typically seeing actionable survey results within 45-60 days. Find a high-level executive who can convince compliance curmudgeons that the risk of losing more customers and revenue is reason enough to expedite the vetting process.
Get in the testimonial-sharing game. The bigger you are, the bigger target you have on your back, which makes big banks skittish about using social media to market themselves. Allow a single non-compliant comment from a customer or loose-cannon loan officer to slip through the cracks and you can find yourself in a world of trouble. This apprehension, though perhaps justified, is the reason big banks struggle much more than independents to build a positive online reputation. According to our data, 42 percent of borrowers are reading one or more online testimonials before making their final lender decision, so testimonial promotion is not a dance you want to sit out. Join the independents, who have roundly embraced social media sharing to the point where many feel they can't live without it.
Would you like to learn more about creating a better customer experience?
Contact Mike Seminari at mike.seminari@stratmorgroup.com to learn about STRATMOR Group's CX services and how transparency into the loan process can help your company.
How Can We Help?
STRATMOR works with bank-owned, independent and credit union mortgage lenders, and their industry vendors, on strategies to solve complex challenges, streamline operations, improve profitability and accelerate growth. To discuss your mortgage business needs, please Contact Us.