Digital Transformation: The World According to Garth
By

Garth Graham
February 2020
People who know me know I'm into music. I was a DJ in college, which got me into parties for free, so I generally know song lyrics and music trivia.  If I were on "Jeopardy!" I could get at least four of the five questions right in a category called "Music of the 80s and 90s." "Yes, Alex, I will bet it all on that Double Jeopardy category!"
It was the great 80s mullet music that inspired a recent "Ah ha" moment for me about our industry — a moment not to be confused with the Norwegian pretty boy band Ah Ha who themselves sported mullets while singing "Take On Me" and now have over 1 billion views on YouTube. For those who don't remember the mullet era, it was a time when men wore their hair styled in this odd combination referred to as "Business in the Front, Party in the Back."
I recently gave a speech at a conference (which is a frequent event for me) and what I noticed was the assortment of attendees and the variety of

their fashions. There were the long-time mortgage bankers with their sometimes old thinking and classic conference apparel mingled with the new entry fintechs who have a very different view of the industry and a very different style of dress.  And then there were the combo styles of those who were both "Business" and "Techie," wearing blazers and crisp business dress shirts paired with casual jeans and hip shoes. In fact, the predominant look was the blue blazer, skinny jeans and Allbird shoes. Half business, half techie.
It struck me that this merged style is a perfect representation of where we are as an industry: half button-downed, follow the regulations, be careful about spending and wish things would stop changing so fast. Half hip, cool companies using technology to re-engineer and create a more automated and dynamic mortgage process but often failing to grasp how hard it is to change things in our industry.
Mortgage Banker on top and fintech on the bottom. A mortgage mullet!
The mullet concept describes several aspects of the current mortgage industry, including where we are in the digital transformation — what we see on top doesn't always match with what's going on below. While progress is being made, there are roadblocks — some of them self-imposed — preventing lenders from getting the most out of their digital mortgage investments.  In this article, I'll tease out the specifics of this mortgage mullet and we'll see where we are on the digital transformation spectrum.
Let's Talk About Who is Spending Money on Tech
Since 2014, STRATMOR has used its Technology Insight® Study to survey lenders about how they use technology in the loan manufacturing process. Over the past five years, there is zero doubt that lenders are implementing digital technologies at a rapid pace. More are purchasing wizard-styled, online point-of-sale loan application technologies. More lenders are using text messaging to communicate with borrowers. And more are using Fannie Mae's Day One Certainty tools. Each of these technologies are designed to give borrowers a faster, better mortgage loan experience.
These investments are driving up costs, but are they driving up 'benefits?' Technology investments are certainly going up, in fact Retail lenders spent over $800 per loan on technology, up from less than $400 per loan. However, the total cost of origination has risen from less than $8,000 to over $10,000 on total cost per loan.
Chart 1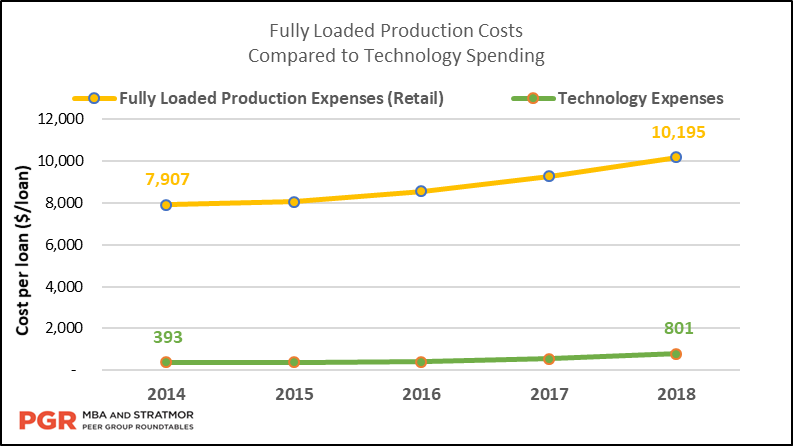 As you can see from the chart above, both numbers are up, with tech cost per unit doubling since 2014, and total costs going up over 25 percent. Yet, total tech costs remain a small percent of overall costs. Large banks have significantly increased their tech expenditures but are still at just 16 percent of the total spend, while larger IMBs and midsize banks spend approximately nine percent of their budget on tech. Midsize IMBs put roughly five to ten percent of their spend to tech (about $4 million annually).
Chart 2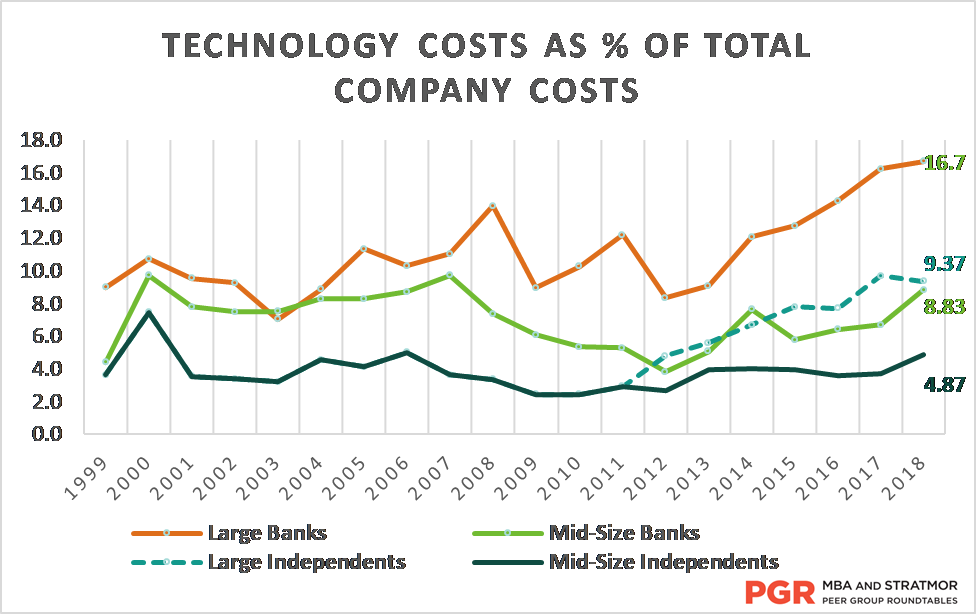 So, here is a mullet moment: There's a lot of talk about how much money is being invested in digital mortgage technology. Is it making mortgage bankers more productive?
In the chart below, you can once again see the rising cost per unit for technology, but here I have overlaid on a second axis the impact on retail fulfillment productivity. It went down!  (By the way, the use of a double axis spreadsheet is like being a college DJ with two turntables… yet another mullet moment!)
Chart 3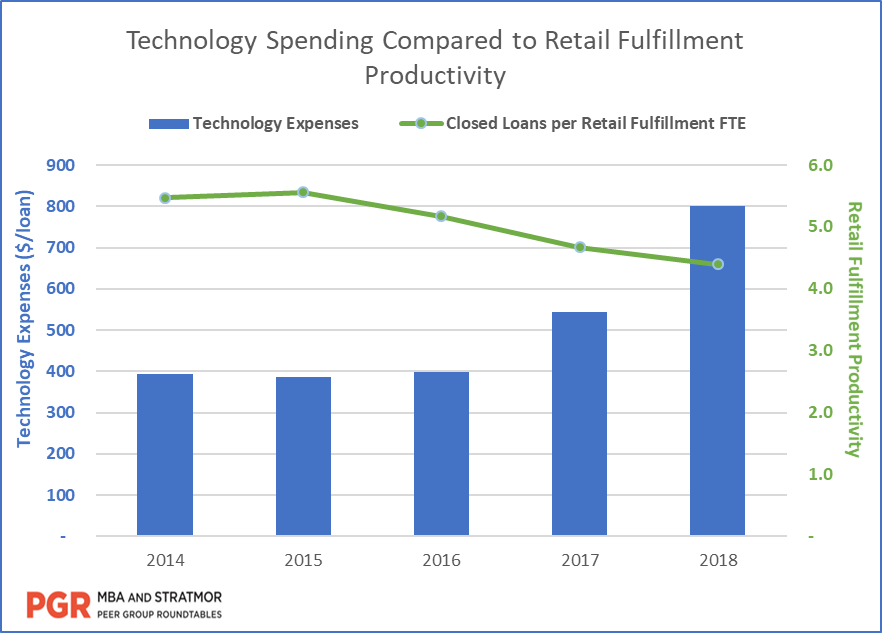 How Happy Are We with What We've Bought?
In our 2019 Technology Insight® Study we tracked more than 200 top lenders on how satisfied they were with the technology they use in 12 categories. We then analyzed their information to determine the Lender Loyalty Score® for each vendor's technology — all the players. Lenders and vendors alike can learn a great deal from looking at their individual scores, and we as an industry can see how well the categories of technology are faring.
Chart 4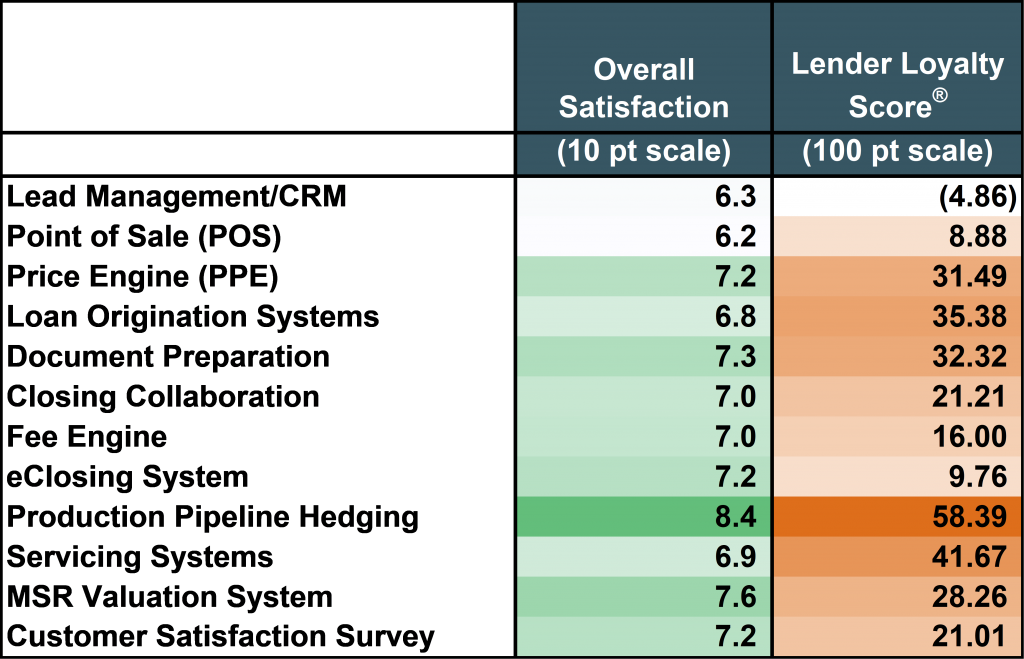 © STRATMOR Group, 2019 Technology Insight® Study.
The results are a mixed bag indicating lenders aren't particularly satisfied with their systems. Lenders are getting systems that are just "okay." In the Lead Management/CRM and Point of Sale (POS) technology categories — the two at the top of the sales funnel and where most of the technology action around digital has been in the last three years — both the Overall Satisfaction and Lender Loyalty Scores® are weak. In other words, in both categories, lenders are more likely to ditch the technology than keep it. Lender Loyalty Scores® are like Net Promoter Scores (NPS) where a score lower than 60 percent indicates your product doesn't resonate with the market, which is pretty much everything in the mortgage industry except pipeline hedging systems. The illustration below from the January 2020 In-Focus article "The Seven Commandments for Optimizing the Customer Experience" explains how NPS works.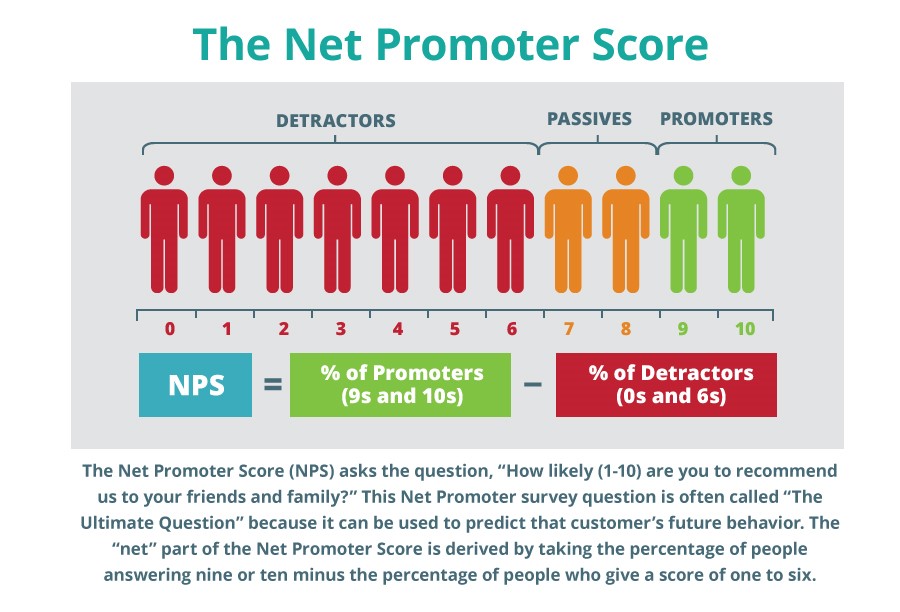 Which brings us to another mullet moment: We're spending more money on technology (we are spending more, even if we aren't keeping pace with growth), and overall we're not that satisfied with the vendors and the systems. What we bought, and are using, doesn't match our needs or our expectations. So, let's spend some time discussing why this is the case.
What Technology Are We Looking For, Really?
My definition of digital mortgages is really a two-part definition. First, digital mortgages describe the ability to interact with the consumer across all potential methods, including web, text, email, mobile, chat, and voice in the way the consumer wants to interact. Second, digital mortgage describes the ability to generate data to support the loan files rather than documents, so there's less staring and comparing of documents.
I see digital mortgages as a marriage between what the mortgage investor wants, which is the data that enables them to lower costs, and what the consumer wants, which is communicating in the way they want (and not making the process too difficult). The goal of the mortgage banker should be to engage with a fairly simple process and build trust with the consumer.
We see lenders' desires to do this in the Technology Insight® Study where we asked lenders to list the reasons for their investments in digital technology. The number one answer was to increase borrower satisfaction, followed by creating faster cycle times — which also has the benefit of improving the borrower experience and should translate to lower costs. In third place was the need to provide increased transparency for the borrower, which is likewise an aspect of customer satisfaction.
Chart 5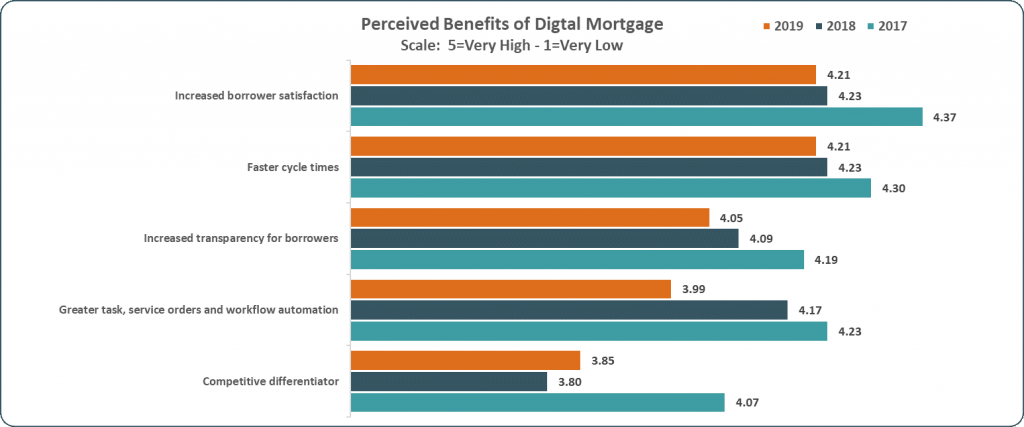 © STRATMOR Group, 2019 Technology Insight® Study.
What are the barriers to digital mortgage?
Chart 6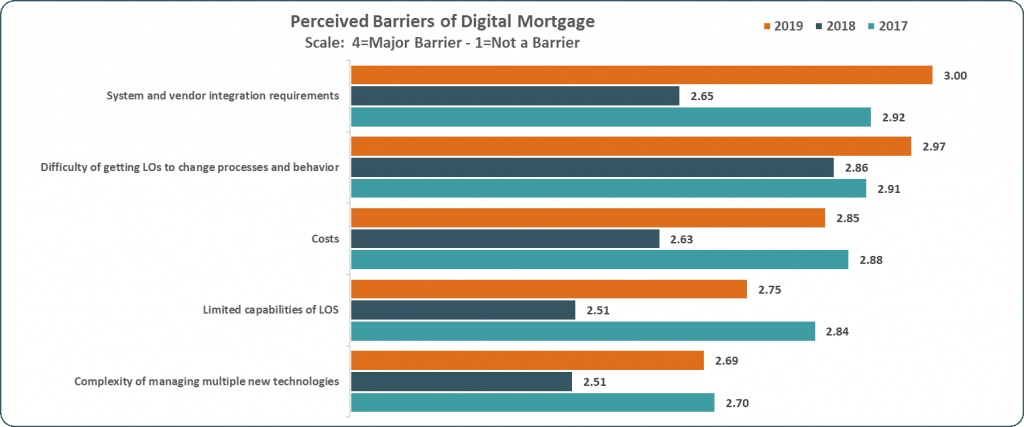 © STRATMOR Group, 2019 Technology Insight® Study.
The biggest obstacles lenders say they face when it comes to their pursuit of digital technologies are system and vendor integration requirements. In a very close second is the difficulty lenders face getting loan officers to change processes and behaviors. And that's really the problem.
Mortgage lenders pay their loan originators a considerable sum of money to bring in business and keep pipelines full. They also increasingly invest in technology to make the process better and improve the borrower experience. And yet, if lenders cannot get their loan officers to change, digital mortgage adoption lags, along with technology ROI.
When we looked more closely at what specific digital mortgage capabilities lenders are looking for and how they were leveraging these technologies, we gained some real insights.
The Technology Insight® Study shows, year over year over year the gains in lender digital implementation. In the study, STRATMOR groups the digital capabilities into seven categories, shown in Chart 7 below, and then measures the lender adoption (installs) and user (borrower) adoption (how much business is done leveraging that capability). From 2016 to 2019, the application process saw the greatest lender adoption rate, rising from 30 to 56 percent. At the other end of the spectrum, lender adoption of closing capabilities lagged at just 21 percent in 2019.
Chart 7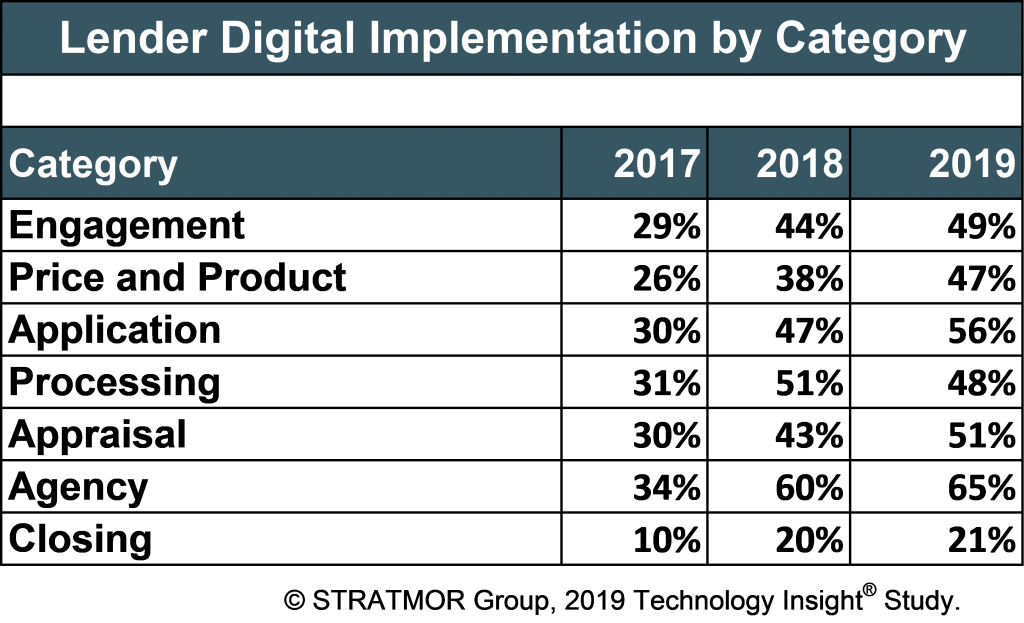 The mullet moment here? If you are a lender and you think digital mortgages are simply about picking the right technologies, you are mistaken. It is one thing to buy and implement technology; it's quite another to get people to use it — user adoption is the key to your success. Similarly, if you're a technology vendor and you think your job is over when a sales contract is signed, or you finish the install, you are also mistaken. Vendors, you need to work side by side with lenders, reinforcing the benefits of the system, to help gain adoption. Otherwise, you might have the sale, but if you ask lenders (as STRATMOR does) about your system, they'll say "eh, it's okay. It works, I just can't get anyone to use it." Your Lender Loyalty Score® will be low, and the technology on top won't keep the sales party in the back going for you with those lenders.
Where is Digital Headed Next?
The next big game changer in digital is going to be in closings. This is where STRATMOR believes there is opportunity. In Chart 7 above, closings are the last category listed and where we see the lowest lender implementation adoption numbers. Implementation has doubled in three years, but the percentage implemented went from 10 to 21 percent.
My colleague Nicole Yung said it well: "If lenders think in terms of big touch points, after the application the next is the closing. Closing is about the customer experience, and we're at the point now that borrowers are going to say, 'I did everything else electronic, why do I have to do all of this on paper?' And they're right. Barriers are coming down. There are tools available to lenders to use to make sure closings go smoothly and correctly and in a way that optimizes the closing experience for the borrower. There's a big opportunity in the closing area for lenders to use technology to have a big impact."
Municipalities are getting caught up and are now accepting electronic submissions. According to Simplifile, two thirds of counties, which represents 87 percent of the U.S. population, allow e-recording. Still, e-notary services are offered in only about 40 percent of the counties, and in practice, Simplifile finds that less than 25 percent of counties have eNotaries ready to go. What this means is lenders will need to take into consideration their geographic footprint and figure out where there is overlap with these "ready" counties. The good news is that most lenders' products are eligible for hybrid 90+%. So, if you embrace hybrid, you win 90-100 percent of the time. If you go "all or nothing," you win 20 percent of the time.
I'd be remiss if I didn't mention robotic process automation and AI. Some lenders are in process with one or the other and some lenders are folding their arms across their chests and waiting to see what happens. If you want some good information on the topic, read this article by my colleague Michael Grad and then give him a call. He can help you figure out what you need to do next. AI, especially, is going to make more and more sense to the industry in the years ahead.
Even if you invest in the latest and greatest digital technology, you won't be successful unless you also make sure that your people are well-equipped to work with the new technology and you set up a well-designed process so users adopt it. This involves the three P's – People, Process, and Product (or technology) – and are what drive change. These must be managed together or your investment in digital technology won't pan out. To realize true ROI with our technology, we're going to have to concentrate on gaining greater adoption of the technology we implement by end users (loan officers, processors, underwriters et al) as well as the borrowers.
Ensure that you are driving high borrower satisfaction and an enhanced borrower experience before you pick your technology tools. Ask these six questions:
Do we have a business case for investing in this new technology?
What's our end game, our Target Operating Model (TOM)?
How does the tool we're considering fit into our technology roadmap?
Do we understand the flexibility of the tools the vendors are offering and how these tools integrate with what we now have or will have?
Will this tool help us drive high levels of borrower satisfaction?
Are we prepared to invest, to ensure our People, Processes and Products will work well together and really make a difference to our bottom line?
Conclusion
Like the haircut of the 80s, the mortgage mullet will define mortgage bankers for a time and then a new look will come along. In the meantime, this half banker — half fintech lender will continue to plod along with its "Business on the Top, Techie on the Bottom" double persona. The question is how, will this era in the mortgage industry be notable?  Will it be the era of the Digital Mortgage with a lot of fintech, or will it be "Business as Usual" with a heavy dose of high labor and lack of true digital adoption? Garth Graham
How Can We Help?
STRATMOR works with bank-owned, independent and credit union mortgage lenders, and their industry vendors, on strategies to solve complex challenges, streamline operations, improve profitability and accelerate growth. To discuss your mortgage business needs, please Contact Us.