How to Become the Mortgage Lending Choice of Millennials
By

Mike Seminari
November 2020
Early forecasts pegged Millennials — those born between 1981 and 1996 (ages 24-39 this year) — as the "Peter Pan Generation," never wanting to grow up and therefore, less likely to settle down and buy a home.
As it turns out, those predictions completely missed the mark. So far this year, Millennials have comprised 52 percent of purchases and 42 percent of all mortgage loans. That's a huge market segment, with Gen X and Baby Boomers both far behind at 26 percent each. Yet, Millennials have lower satisfaction scores (as measure by NPS) than all generations but Gen Z , who are actually younger than Millennials.
Chart 1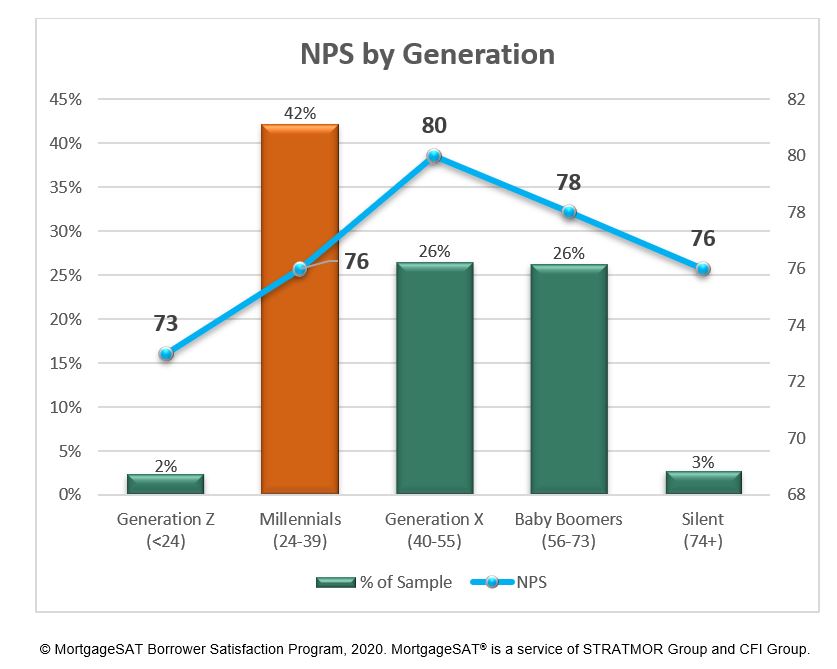 Any buying block that makes up 52 percent of your purchase business ought to command your attention. Early assessments of Millennials are outdated — in many cases, just plain wrong — now that the generation has matured and started settling down. New strategies are needed for capturing Millennial interest and loyalty. Also, apart from Gen Z, which comprises only two percent of loans year-to-date, Millennials have the most longevity (i.e. potential for repeat business) of any age group, making them the most valuable in terms of future business potential.
What is the secret to becoming the mortgage lending choice of Millennials? Here are three things we know from the early studies of the Millennial psychological profile that seem to have withstood the test of time. Consider how you can leverage this information to adjust your processes and marketing strategies to reach this group.
Millennials are tech-savvy. "Tech-savvy" used to just mean knowing how to navigate email and the internet. Then came mobile phones. Today, it means having a high comfort level with a seamless, end-to-end, digitally-enriched customer experience. While a consumer's lender search may start with a referral or an existing relationship — 87 percent do — the next step is typically an online confirmation of that choice through online reviews. Nearly half of Millennials (49 percent) say they are reading one or more reviews before deciding on a lender. Having an online presence that displays testimonials, especially on your own corporate website, is key to capturing the attention of these consumers. According to MortgageSAT data, representing more than 200,000 borrowers this year, the lender website is not only the number one place borrowers read reviews, but also the review source that generates the happiest customers.
Chart 2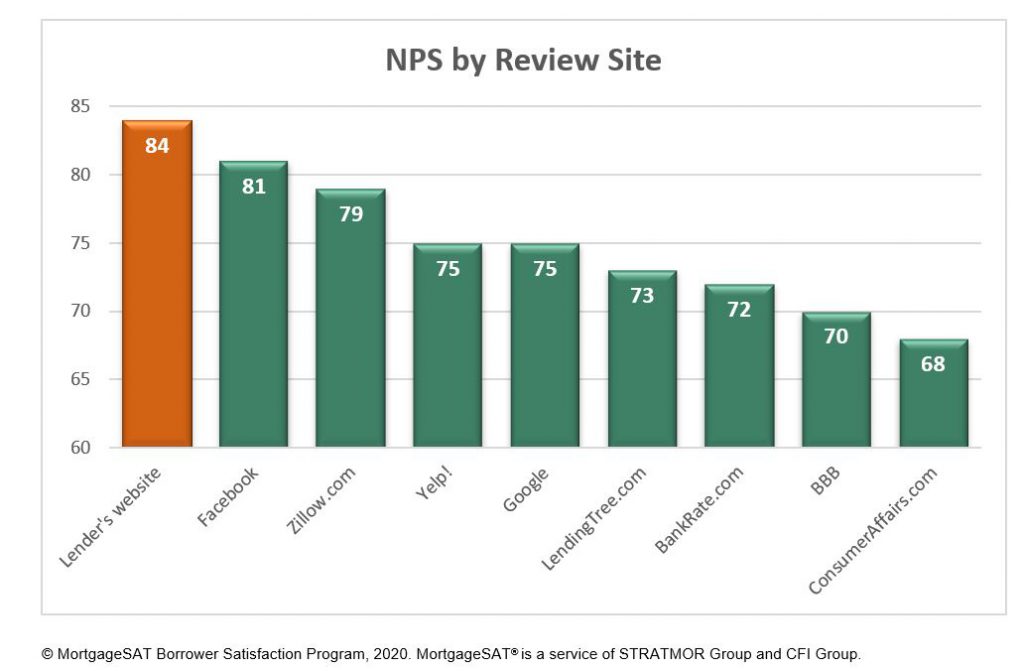 Millennials are also keenly aware of the convenience that digital tools present, to the point that they have begun to expect these tools and are disappointed when a lender fails to offer them. Online applications should be quick and easy, document portals intuitive, remote digital closings convenient and painless.
Millennials are connected. In addition to being connected to their phone screens for many hours a day, Millennials are also highly connected to one another. They thrive on collaboration, building friendships and creating a sense of team. Lenders can capitalize on this by encouraging their originators to pursue deeper professional connections with their borrowers.
Originators should invite their borrowers into a collaborative effort to bring the loan the finish line. When the relationship is framed as a team effort, Millennials tend to respond by jumping in with both feet. Millennials want to feel like what they're doing is important and appreciate knowing that they're staying on the right track. For lenders, this means creating expanded communication and transparency, sharing both the good and the bad.
Millennials are multi-taskers. They may find texting and social media hard to resist, but it doesn't mean those activities are necessarily distractions. Millennials' tech-savviness allows them to be excellent multi-taskers. Moving from app to app on their phones while simultaneously attending a conference call and checking emails is no small feat for most, but it's almost as natural as breathing for Millennials.
So, when it comes to receiving updates on their loan-in-progress, they prefer quick checks on their mobile phones. They seem to be most comfortable — and most delighted — when updates are sent via a text (NPS 82) or a pushed mobile app notification (84). Granted, a personal phone call from the lender reigns supreme (NPS 88), but each of these options far surpass the NPS of email updates (78). A word of caution: keep the updates proactive. Making the Millennial log into your website to get updates drops their NPS to 69.
Chart 3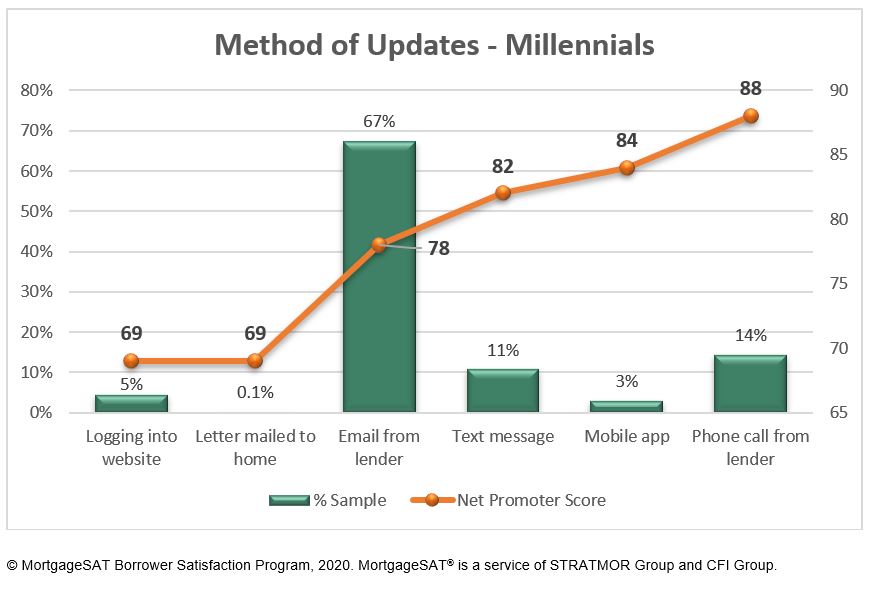 What's a Lender to Do?
Here are three strategies you can implement today to better appeal to the Millennial generation:
Create Transparency: Before originators can provide transparency to the borrower, they must be provided transparency themselves. Giving originators access to each stage of the loan process allows them to be candid with borrowers and include them in the 'team effort' of getting the loan closed.
Create Visibility: Borrowers are looking for reviews first on your website. How about that for a captive audience! If there's nothing for them to see, you're missing a major opportunity. Talk to STRATMOR about how we can help you leverage your testimonials on your corporate site, as well as on individual originator pages.
Connect on Their Terms: Texting and Mobile push notifications are the name of the game. If you don't have a mobile app or a formal vendor relationship that provides these kinds of services, you can still encourage originators to call or text instead of relying on email updates. Two-thirds of updates are currently being done via email, so this presents a substantial opportunity for increasing borrower delight.
How can you learn more about creating a better customer experience and about how the customer experience impacts your company?
Find out more about STRATMOR Group's CX services and how transparency into the loan process can help your company. Contact Mike Seminari at mike.seminari@stratmorgroup.com.
How Can We Help?
STRATMOR works with bank-owned, independent and credit union mortgage lenders, and their industry vendors, on strategies to solve complex challenges, streamline operations, improve profitability and accelerate growth. To discuss your mortgage business needs, please Contact Us.