Are You Using Digital Technology to Empower Your Borrowers?
STRATMOR has just completed the Digital Innovations section of the 2019 Technology Insight Study and for the third year in a row, lenders perceive "increased borrower satisfaction" as the top benefit of pursuing digital advancement with their loan processes. It's good news for the industry that most lenders understand that the primary focus of digital technology is to provide a truly delightful borrower experience, but most lenders are still slow to invest real dollars in technology advancements. Our question this month: How are you using digital technology to empower your borrowers?
Digital Technology Empowers Borrowers
STRATMOR Senior Partner Nicole Yung is a Starbucks fan. "Ten years ago, if you wanted a cup of coffee at Starbucks you drove to one of their cafés and either went in and ordered or went through the drive-through lane," says Yung. "Their digital innovation — a phone app — has changed this customer's behavior. While I can still walk in or drive into a café, I now order my drink on the app, just the way I want it, trusting that the order I place will be correct and ready when I go to pick it up. The technology gives me more control of the process and Starbucks has adapted their process to create a satisfied customer who returns to them regularly."
In recent years, the mortgage industry has been taking steps in this same direction, not only modernizing technology offerings, but doing so in a way that empowers borrowers. Take a look at these results from STRATMOR's Technology Insight Study, which show lenders' digital capabilities in use from 2017 to present: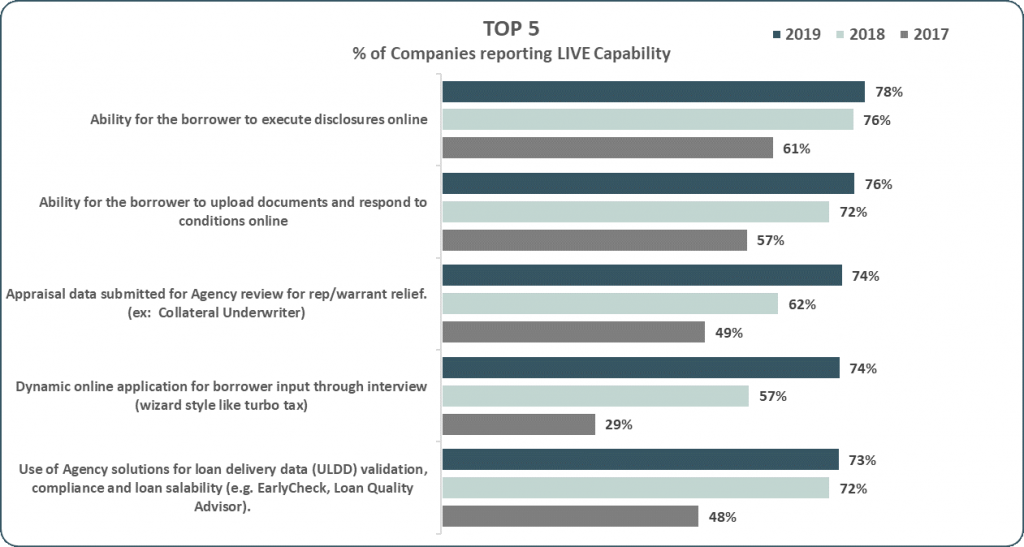 Source: MortgageSAT Borrower Satisfaction Program, 2019.
Note that borrower-centric offerings — online disclosures, online upload of documents and response to conditions, offering a dynamic online application — are in the Top 5 capabilities. Additionally, more than 70 percent of lenders report some level of live digital capabilities.
The shift to borrower-centric automation has been perhaps the most visible (not to mention the most pronounced) with the capability of dynamic online application — in 2017 less than 30 percent of lenders offered it. Today, 74 percent do — this is a capability that lenders adopt because the borrower wants and expects it. What a leap in just two years!
The Diagnosis
The move to offering an online application is paying off for lenders, who are seeing improved borrower behavior scores on post-close surveys. One MortgageSAT client who implemented a dynamic online application in late 2018 saw the following score increases in a before-and-after analysis:

Source: MortgageSAT Borrower Satisfaction Program, 2019.
Wow! This is a big jump in the Net Promoter Score and a great way to justify additional technology spend toward improving the borrower experience. The uptick in NPS means that more borrowers are now willing to recommend based on their experience. Also, noteworthy, these digital capabilities are activities that require the borrower to do work vs. the lender's staff, activities like borrowers executing online disclosures instead of the lender opening mail packages and entering info into the system. Or, having the borrower upload documents instead of sending in the documents to a processor to organize and upload. While these are time and cost savings steps for the lender, these capabilities benefit the borrower, too, by providing an empowering experience that puts greater control of the loan process into the borrower's hands – and the borrower likes and wants this.
The Prescription
Digital technology has changed the mortgage business for lenders and borrowers alike. Here are three suggestions for putting digital capabilities to work for you and your customers:
Gather Data. Use a survey tool like MortgageSAT to get deep insights about the entire loan process, from application, to online tools, to document collection, through to closing and even servicing. Compare these numbers with a National Benchmark to see where you are excelling and where you have the most room for improvement.
Identify the Areas Eligible for Automation. You may not be able to automate a call before closing to discuss final numbers, but you could certainly automate a reminder to the Loan Officer or Processor to make the call. Find the areas where errors could be lessened with a little help from technology, then find out which tools provide those solutions.
Create a Game Plan. Moving towards an end-to-end digital loan experience requires substantial time and financial resources. List the places in the loan process where you have potential to automate, then prioritize them based on the data you gathered with your survey tool. Create a roadmap that includes budget, IT resources, and an adoption plan.
Learn more about MortgageSAT and how it can impact your company.
Find out more about STRATMOR's turnkey survey solution called MortgageSAT, and how rich, drill-down data can help your company. Contact MortgageSAT Director Mike Seminari at mike.seminari@stratmorgroup.com.
To see how improving your NPS score translates into real revenue dollars, try our new MortgageSAT calculator.
To find more MSAT Monthly Tips, click here.