Asking Multiple Times for the Same Document: How Much is This Mistake Costing You?
Suppose you were given a clear set of instructions to increase your revenue by $200,000 this coming year. You'd take a close look, wouldn't you?
According to STRATMOR's new MortgageSAT calculator, the average lender doing 5,000 loan units annually is losing $243,000 each year by failing to address a widely known issue plaguing borrower satisfaction: asking for the same document multiple times. The cost comes in lost referrals, repeat business and negative word of mouth. STRATMOR has seen very few lenders make serious strides in eradicating this problem, so consider this your call to action. A quarter of a million dollars (or more) is in the balance.
For many borrowers, the most unpleasant part of the loan process is the assembly of documents and other information required by the lender — tax returns, bank statements, etc. Not only is it burdensome to dig up old statements and remember old passwords, but it can also be stressful to share sensitive financial materials with people who are little more than strangers. It's no wonder that the borrower experience can take a turn for the worst when lenders have missteps in document collection.
Why is this important for your company?
Asking a second or third time for the same document makes lenders look disorganized and unprofessional and leaves borrowers thinking, "I already gave you what you asked for. Why can't you keep track of things?" It's both annoying and frustrating, and it often sours the borrower experience substantially. With nearly one in three borrowers experiencing this problem, it is far and away the most highly occurring breach of the Seven Commandments, the seven most impactful aspects of the borrower journey on satisfaction. It also makes it the greatest opportunity for improvement.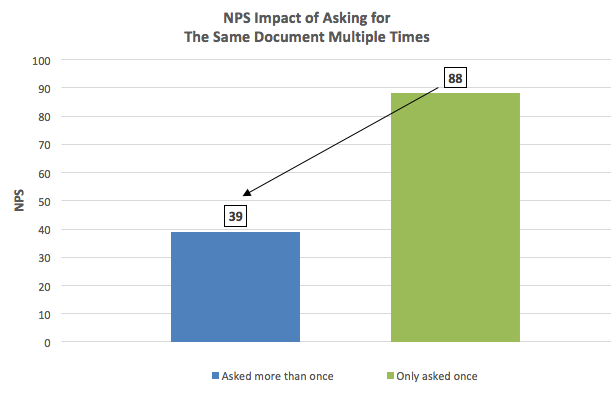 According to data from STRATMOR's MortgageSAT Program, the Net Promoter Score (NPS), which measures a borrower's likelihood to recommend, is just 39 when multiple asks are made for the same document. When only one request is made, however, NPS soars to 88. A 49-point swing in NPS can end up making or costing lenders hundreds of thousands of dollars in referral revenue, so it's certainly deserving of lenders' attention.
The Diagnosis
The issue of multiple asks for the same document is not a hard one to measure — simply ask the borrower a yes or no question on their post-close survey. The trickier part is knowing how to solve the problem, as fault may lie with a number of different team members. Was it the underwriter who made the multiple asks? Or was it the loan officer? Maybe it was the processor. Or maybe it was a combination of two or more team members. You'll be hard-pressed to find anyone volunteering to take the blame, so unless you have a survey tool like MortgageSAT that scores each team member separately, you'll have a tough time identifying the root of the problem.
The Prescription
Here are five things you can do to make document collection as painless as possible:
Communicate internally.  Here's a 'Best Practice" example of how the document request flow is handled by one of our MortgageSAT clients: "First, our loan officer assistant reviews all the documents and identifies anything missing before the file goes to processing. I then review and make any necessary updates before asking the borrower. Once our processor has the file and reviews the documents, they provide a needs list and reviews with our team to ensure a document isn't already in-house or on the way. We keep in constant communication with processing during document collection to eliminate multiple requests. It comes down to having a defined process, great communication between the team, and utilizing our technology to ensure a good flow of information." 
Leverage the capabilities of your LOS/POS systems. Make sure that your LOS or POS does not permit a document previously requested to be requested again without a review by the processor. More generally, your LOS system should track both the request and receipt of all documents and flag or possibly lock-out any requests for documents previously requested without a review.
Communicate With Your borrower. Let the borrower know well in advance if there is a possibility of needing updated documents like paystubs and bank statements. It is common for borrowers to see this as an annoying request for the same document if not communicated properly. We see this especially in builder deals where the loan cycle is inherently extended.
Measure Results. At the end of the loan process, make sure your post-close survey is asking the question, "Were you asked multiple times for the same document?" Programs like MortgageSAT can make sure this question is asked on every closed loan so that you can ultimately identify and eradicate the problem.
Build Borrower Experience into the variable compensation of processors. While there are many ways to do this, one-way that STRATMOR supports is to have customer service, as measured by NPS, drive the size of an incentive compensation pool shared by processors and closers. Give these positions "skin in the game." Compensation incentives, however, should not be a substitute for follow-up of individual performance failures.
Learn More about MortgageSAT and how it can impact you.
Ready to learn more about STRATMOR's turnkey survey solution called MortgageSAT, and how rich, drill-down data can help your company? Contact MortgageSAT Director Mike Seminari at mike.seminari@stratmorgroup.com to learn more.