When It Comes to Borrower Satisfaction, Why Is Peer Comparison So Important?
For twenty years, the Mortgage Bankers Association (MBA) and STRATMOR Group have jointly conducted the PGR: MBA and STRATMOR Peer Group Roundtables Program. In addition to capturing the industry's most comprehensive financial and operations performance data, PGR facilitates peer-to-peer discussions on the mortgage industry's latest trends and forthcoming challenges. Executives get a lot out of it, because it enables them to clearly see how they are performing in the origination of mortgage loans — are they more efficient, less efficient, making more or less money?  That is a valuable part of the story, but equally important is measuring how your process is perceived by the customer — and how satisfied they are when the loan closes.  Our question this month: When it comes to borrower satisfaction, why is it so important to know how your company compares with your peers?
Why is Peer Comparison So Important?
In the world of borrower satisfaction, there is no such thing as perfection. Even the Best-in-Class have room for improvement in multiple areas, so the question lenders must ask themselves is not simply, "Where should we focus our efforts?" but rather, "Where should we focus our efforts FIRST?" As my grandfather used to tell me on our apple-picking outings, "You can't pick 'em all in one day…go for the low hanging ones f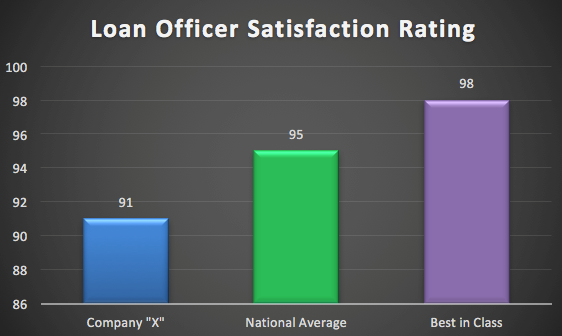 irst." Finding the low-hanging fruit in terms of borrower satisfaction requires monitoring the most sensitive parts of the loan process and knowing how far ahead or behind the curve you happen to be.
I recently spoke with a lender who had been asking borrowers to rate their experience with their loan officer from 1-10. Converted to a 100-point scale, scores for the past three quarters were 90, 92 and 91. They were quite pleased with these high scores until I informed them that the National Average for this metric is 95. And who wants to be 'average' anyway? Best-in-Class is 98. For them, peer comparison quickly changed the conversation and stoked a fire for change.
Another lender recently told me they were planning a major project centered around reducing turn times to 15 days or less. When we looked at National Benchmark data to see how they might expect it to affect borrower satisfaction, it turned out there is a law of diminishing returns related to cycle time — getting below 15 is not nearly as valuable as getting below 30, and you definitely don't want to consistently be above 30 days.  (see graph below, based on 100K+ borrower responses). We then sliced the data to separate Purchase vs. Refi and found similar results. Then we filtered to view only lenders in their same loan volume segment. In the end, this lender decided to rethink the huge expenditure and consider other places where the money might have a greater impact.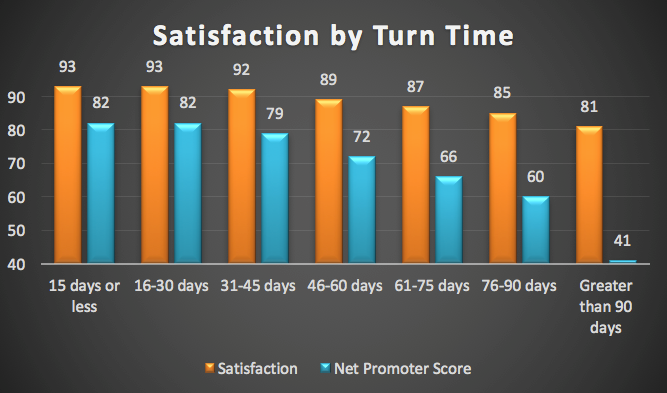 Being able to answer the question, "Are we ahead or behind the curve?" gives you the ability to allocate time and financial resources to fixing the most pressing issues and those that have the greatest potential for immediate financial impact. It's the difference between throwing darts at a map and having a GPS. Similarly, it makes no sense to spend resources chasing a quarter of a percent if you're already Best-in-Class in a given category.
The Diagnosis
Because the voice of the customer is so important, the task of sifting through all of the customer sentiments should be taken seriously. However, deciding which issues need immediate attention, which ones can wait and which ones are simply anomalies can be very difficult. It's not uncommon for lenders to find themselves buried beneath a huge pile of comments with no way to organize or prioritize them. Overwhelmed, these lenders often take no action at all.
Context is key. MortgageSAT shows lenders proximity to the National Average, which clearly shows potential improvement areas with the lowest-hanging fruit. Many of our clients have chosen to focus on one or two problem areas each quarter, with impressive cumulative year-end results. One client gained 40 NPS points using this method.
The Prescription
Here are three things you can do to begin seeing your performance in context:
Gain Access to National Benchmark Data. An investment in peer-to-peer comparison data pays great dividends in providing you a compass and a roadmap for your Borrower Satisfaction efforts. There are two options on the market when it comes to getting National Benchmark data: J.D. Power and MortgageSAT, the latter of which is 20x larger, provides real-time data, and is a nicer fit with most lender budgets
Identify Low Hanging Fruit. Once you have the Benchmark data, begin to monitor key areas where loans take a wrong turn. Specifically, refer to STRATMOR's Seven Commandments of Borrower Satisfaction. These are the seven most sensitive aspects of the loan process that can make the difference between someone who sings your praises and someone who badmouths you
Measure Yourself Against the  National Average and Best in Class. As you monitor your performance in these areas of opportunity, you will begin to see places where you are ahead of or behind the National Average. If being 'above average' isn't enough of a challenge, call me and find out the Best-in-Class number for that metric. As I said before, there's always room for improvement.
Learn More about MortgageSAT and how it can impact you.
Ready to learn more about STRATMOR's turnkey survey solution called MortgageSAT, and how rich, drill-down data can help your company? Contact MortgageSAT Director Mike Seminari at mike.seminari@stratmorgroup.com.