How Are Borrowers Using Online Reviews?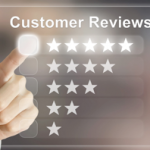 According to a recent research panel conducted by STRATMOR Group, 64 percent of borrowers are reading online reviews before making a financing decision. This would seem to justify the 'mad dash for online testimonials' that we discussed last month. Interestingly though, only 16 percent of those borrowers said that online reviews were a main factor in their lender decision. If we do the math, 16 percent of the 64 percent gives us just 10 percent of all borrowers that are influenced by online reviews.

How are the other 90 percent of borrowers choosing their lender? According to MortgageSAT's National Benchmark, with over 90,000 borrower surveys done year-to-date, borrowers continue to connect with realtors, friends, family, and co-workers as their primary way to find a lender.
Borrowers were allowed to choose up to three answers from a predefined list.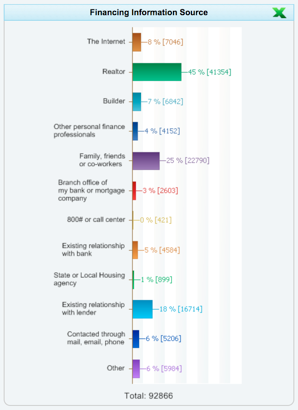 Realtors are the primary source of financing information at 45 percent
Friends/Family/Co-Workers are next with 25 percent
Existing relationship with the lender is third with 18 percent
The Internet is a distant fourth place with just 8 percent
 
Why is this important?
Most borrowers are going online to confirm referrals that have already been made, not to search organically for a lender. If you focus all of your time, money and energy on promoting testimonials from happy customers, you misunderstand how online reviews are being used and run a serious risk of wasting time and resources.
It is important to have the right kind of online presence. Because LO-specific referrals are the main mode of recommendation, LO-specific review sites are the best place to collect reviews. Working to boost company ratings and Search Engine Marketing will not likely have a positive effect. It's simply aiming at the wrong target.
The Diagnosis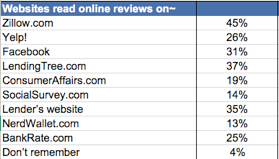 STRATMOR recommends maintaining an LO-specific online presence (e.g. Zillow, Facebook Professional). The mortgage industry has yet to become commoditized (i.e. loans are still seen as services, not just products). While you might choose an item on Amazon.com based on sheer number of reviews, mortgage customers will almost always speak to multiple loan officers before choosing the one with whom they feel the most comfortable. Therefore, while having an online presence is important, collecting a large number of reviews is not.
Also, our data shows that when borrowers read reviews, the greatest percentage of them (45 percent) are going to Zillow, with Lending Tree and the lender's website coming in second and third. Zillow is unique in that it ties the LO review to the company page, so you get a two-for-one benefit. None of the other sites have company and LO pages that talk to each other.
The Prescription
 1. Be careful not to aim at the wrong target. If you focus all of your time, money and energy on promoting customer testimonials at the company level, you misunderstand how online reviews are being used.
2. Caution: Be wary of companies who promise that boosting your online reviews and ratings are a magic bullet to grow your revenue. Oneline reviews do not appear to be driving much organic growth. For the most part, they are simply helping borrowers confirm referrals that have already been made.
3. Recommendation: Focus on creating 'raving fans'. Instead of chasing the 8 percent who search organically or the 10 percent that make decisions based on reviews, focus your attention on transforming your company into a machine that creates more highly satisfied customers.
Learn More about MortgageSAT and how it can impact you.
Ready to learn more about STRATMOR's turnkey survey solution called MortgageSAT, and how rich, drill-down data can help your company? Contact MortgageSAT Director Mike Seminari at mike.seminari@stratmorgroup.com to learn more.