Retain Your Servicing Customers and Gain Their Referrals
By

Mike Seminari
March 2019
What are you doing to make sure your current customers come back to you for their next loan? For many lenders, there is a focus on surveying closed loan borrowers. In fact, our 2018 Tech Survey showed that 77 percent of lenders do in fact have a survey process at the end of closing. However, when these lenders retain servicing, the survey process often is discontinued because lenders fail to see the value in collecting ongoing feedback. After all, customers are rarely 'delighted' by efforts to collect their money, and those who call in to their servicer seldom do so to tell them what a great job they're doing.
Like them, you might be thinking, "Let's just let sleeping bears lie." And yet, customer retention can be very lucrative if you do it right, and if you're patient enough to see it through, the repeat business and referrals tend to build over time. How do you make sure your current customers stick with you for their next loan? Better yet, can your servicing customers become an extension of your brand by referring others to do loans with you?
Retain Your Servicing Customers and Gain Their Referrals
To develop a successful strategy around customer retention, it's helpful to first understand that servicing surveys are an entirely different animal than the post-close surveys used by most lenders. Whereas the main focus of a post-close surveys is to improve the experience for the next borrower, servicing surveys focus on tangible things that can be done right now to improve the experience for the current borrower.
So, if you plan to survey your servicing portfolio, in addition to finding coaching moments and process insights to share with your staff, you can also expect to share targeted lists of borrowers to call to get very practical things fixed. This is the best type of feedback for those who like to see quick results. There's no waiting around to see if a borrower really was happy enough to refer their friend, and you avoid the 'too-little-too-late' mentality that upset borrowers often have on their post-close surveys. Servicing portfolio borrowers can be flipped from upset or annoyed to very pleased with a simple five-minute phone call. The borrower presents an item that requires fixing and you fix it. Simple as that. It does however raise the stakes, as taking no action can hurt you. The only thing worse than an unspoken problem is a problem that gets pointed out but never addressed, especially as not addressing problems can lead to a customer complaint to the CFPB or other regulators.
In 2018, a combined 28 percent of borrowers made their lender choice based on having an existing relationship with the company or the LO, or both. In many of those cases, the relationship existed because the borrowers dealt with the same people on their last loan. If nearly one in three borrowers is staying (or jumping ship) because of an existing relationship, then investing some extra care and attention in your servicing portfolio should pay high dividends.  In fact, STRATMOR data shows that the ability to "get the next loan" has been decreasing each of the last three years, driven mostly by the decrease in refinance opportunities. It's harder for servicers to retain the relationship when their customers purchase their next home, so as the market pivots to more than 75 percent purchase, it's more important than ever to give GREAT service to servicing customers and earn the chance to get that next loan.
Bring the Borrower Back
The best way to make sure your customers come back is to make sure their current loan isn't giving them headaches. This means you should be monitoring the accuracy of their billing and escrow statements, their interest rate, their balance, even their personal information — you'd be surprised how many typos there are in names and addresses.
Here's an example of the data you might see when surveying your servicing portfolio with MortgageSAT: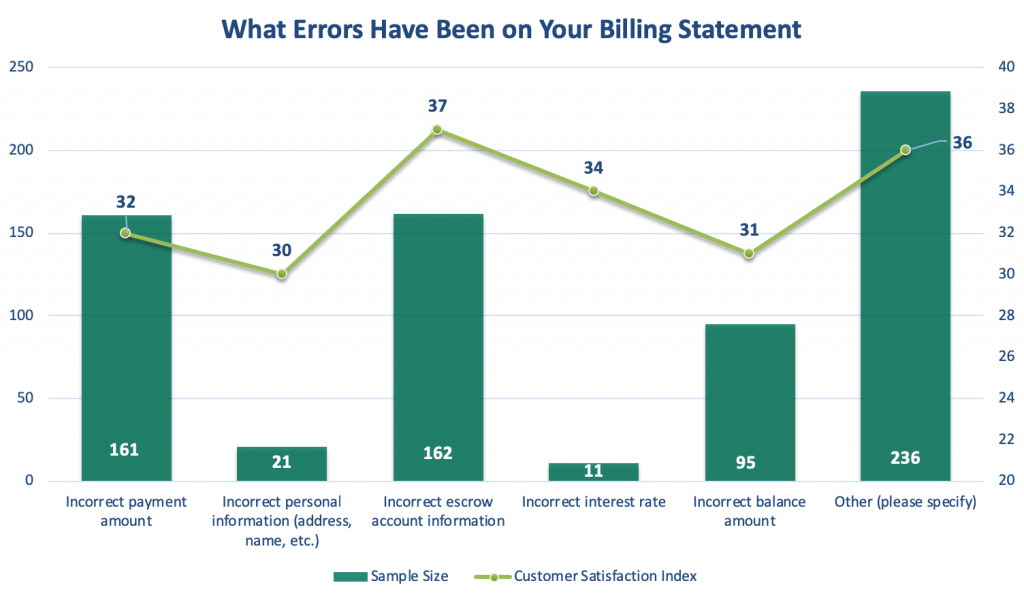 Source: MortgageSAT Borrower Satisfaction Program, 2019.
The numbers show clearly that errors are being made in a variety of areas. The next step is to pinpoint the exact borrowers that gave these answers and give them a personal call them to get things resolved. In the example above, there are 21 borrowers with typos on their name or address, which is driving satisfaction down to 30. Someone should be on the phone with these borrowers and fixing that problem the same day the survey comes back.
In addition to problem-solving, there are also cases where servicing feedback allows you to identify positive opportunities. One client recently decided to make a bigger push for adoption of their paperless statements. When borrowers who didn't use paperless were asked, "Why not?" 58 of them said it was because they were unclear how to get signed up. The client's team made quick calls to all of those borrowers and got them on track — effectively creating satisfied customers and higher adoption of the paperless process.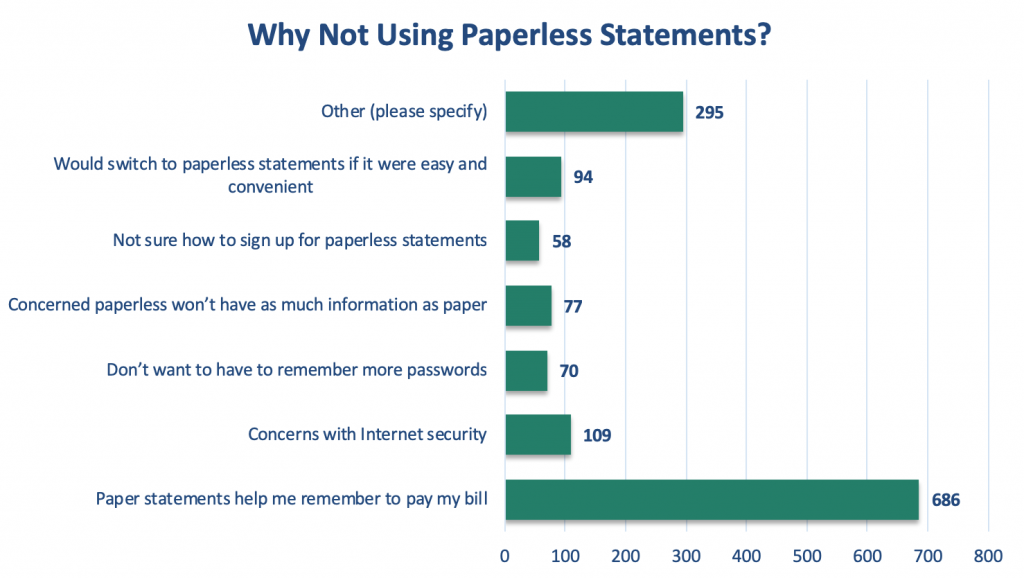 Source: MortgageSAT Borrower Satisfaction Program, 2019.
Another client found that 125 of their customers had called in to talk about their interest rate. These are most likely customers who were shopping around for the best deal and fortunately had enough loyalty to call their current servicer as part of the process. STRATMOR recommended that the lender call each and every one of those potential repeat borrowers, and quickly, to make sure they had the best rate and terms available. Small gestures like this go a long way in making a customer feel cared for and valued.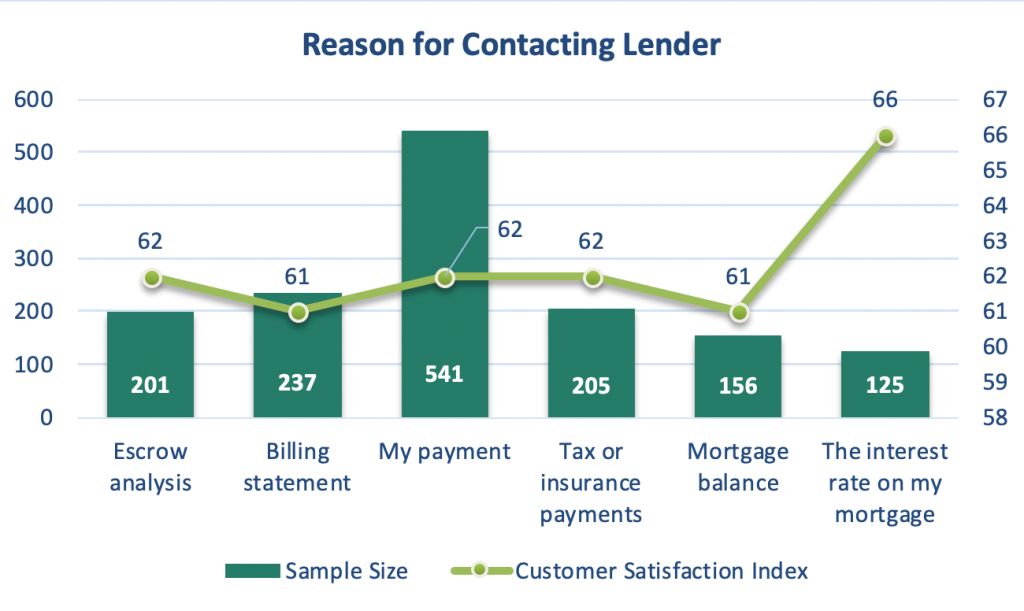 Source: MortgageSAT Borrower Satisfaction Program, 2019.
What's a Lender to Do?
Here are three things you can do to bring your customers back to you for their next loan:
Find the Problems. Use a survey tool like MortgageSAT for Servicing to gather deep insights about the servicing experience. Make sure it includes questions around billing statements, the annual escrow analysis, on-boarding (when applicable), and anytime the borrower reached out for assistance.
Identify the Borrowers. Drill into the raw data to find the specific borrowers in question. Who had an error on their billing statement? Who said their escrow payment was made too late or in the incorrect amount? Who would do paperless billing if they could just figure out how to sign up?
Make the Phone Call. Print the list of borrowers and hand it to someone to make the phone call and fix the issue. Most of the problems people run into in their servicing experience are easily fixable. Errors around billing statements and escrows are the most common. If you're an LO, consider calling your past clients on an annual basis just to check in and make sure they're happy with their service. Just be ready to follow through!
How can you learn more about creating a better customer experience and about how the customer experience impacts your company?
Find out more about STRATMOR Group's CX services and how transparency into the loan process can help your company. Contact Mike Seminari at mike.seminari@stratmorgroup.com.
How Can We Help?
STRATMOR works with bank-owned, independent and credit union mortgage lenders, and their industry vendors, on strategies to solve complex challenges, streamline operations, improve profitability and accelerate growth. To discuss your mortgage business needs, please Contact Us.