The Seven Commandments for Optimizing the Customer Experience
By

Mike Seminari
January 2020
Lenders often ask me if there is a "secret sauce" for driving more referral business. Interestingly, the question came up more often in 2019 — a year when the industry posted record loan volumes — than ever before. In fact, there almost seemed to be an underlying frustration with the inquiry "We're doing so much business. Why aren't we getting more referrals?"
When I pressed one individual for more context, he said, "Our customers seem to love us. They rate our loan officers 95 out of 100, yet we're not seeing that goodwill result in more referral business."
The root of the frustration seems to be an assumption that goodwill toward loan originators (especially testimonials about a loan originator) will translate into referrals, when in fact, referrals and repeat business are driven by creating a delightful experience for the borrower from start to finish. For many borrowers, the loan process is like being asked to walk barefoot across a lawn that is spotted with prickly weeds. If the borrower steps on a thistle, it can ruin their experience, or at least their enthusiasm for the overall process. It doesn't matter how quickly the loan originator comes to help the borrower hobble the rest of the way across, or even if the loan originator has a good explanation for why the thistle was there in the first place.  This borrower's experience is still tainted, and they are not delighted.
This is not a borrower who will recommend you to friends and family.
According to data from STRATMOR Group's MortgageSAT Borrower Satisfaction Program, which measures the loan experience for more than 130,000 borrowers annually, monitoring and improving key areas of the loan process can turn upset customers (who are highly likely to badmouth you) into promoters (who are highly likely to recommend you) at an impressive rate. "This goodwill translates to actual loans," says STRATMOR Senior Partner Garth Graham. "MortgageSAT clients' loan originators produce an average of one extra loan per month versus peers (5.4 loans vs. 4.4 loans), an increase of more than 20 percent."
By helping loan originators measure and improve the end-to-end customer experience, MortgageSAT lenders have become best-in-class in Net Promoter Scores (NPS) nationally. The chart below illustrates how the NPS process works.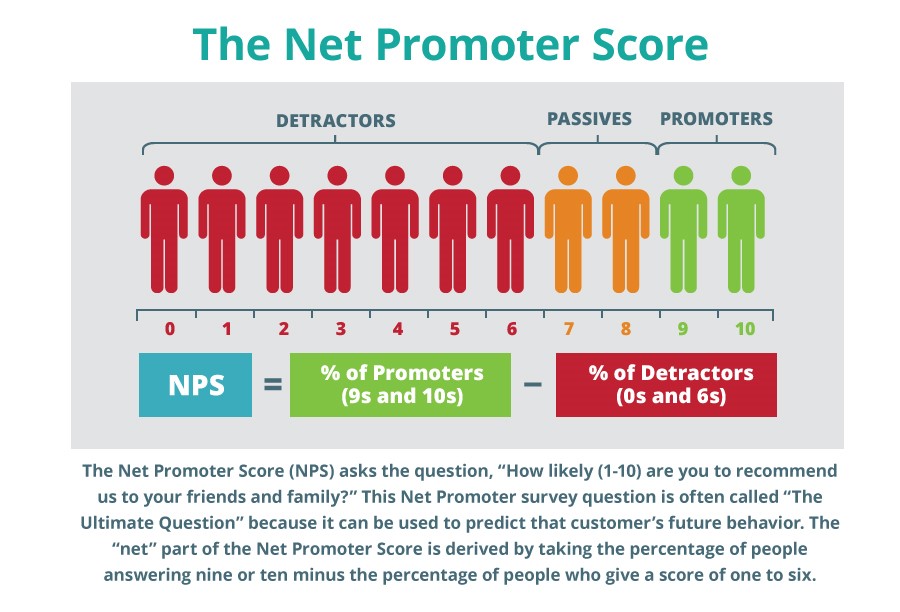 Using STRATMOR's MortgageSAT Borrower Satisfaction Program data, we've pinpointed some relatively easy tactics — what I call the Seven Satisfaction Commandments — that provide substantial improvements in overall borrower satisfaction; and, perhaps more importantly, these tactics can significantly reduce the number  of highly dissatisfied borrowers who may poison a lender's reputation via negative posts to social media and by "poor-mouthing" the lender to family and friends.
These commandments are based upon the seven most impactful aspects of the loan process and following them can make or break a borrower's likelihood to refer business your way. Most of the commandments can be addressed proactively by loan originators; a few require management response for damage mitigation. Here's a closer look at each of the commandments and how you can get out ahead of them.
Note: The satisfaction data backing up each Commandment covers the period January 1, 2019 through December 31, 2019 and represents the responses of more than 130,000 borrowers.
COMMANDMENT 1: Give the borrower an upfront checklist of the information they will need to provide.
As the saying goes, first impressions are lasting. Providing borrowers with an initial checklist of the documents they will need to provide is your first chance to set proper expectations. Helping them feel comfortable, reassured, and safe is paramount to giving them a delightful experience. When you give the borrower a checklist of the information they will need to provide and clarify that this list may evolve as the information provided is assessed, the NPS the borrower gives the lender, which measures their likelihood of recommending you, is a very high 79. Borrowers who do not receive an upfront checklist quickly get confused and frustrated, and NPS plummets to -46. While this only happens three percent of the time nationally, it means the difference between a borrower who will promote you to friends and family and one who will badmouth you.
More and more, lenders are employing automated checklists to safeguard against this misstep, although this doesn't always completely eradicate the problem. It comes down to borrower perception, so if a borrower missed an automated email that they either didn't see or that went to their junk folder, it's still just as damaging as not receiving a checklist at all. Therefore, STRATMOR recommends having standard procedures include a follow-up call from either the loan originator or processor to make sure that the customer received and viewed their initial checklist and understands what to provide.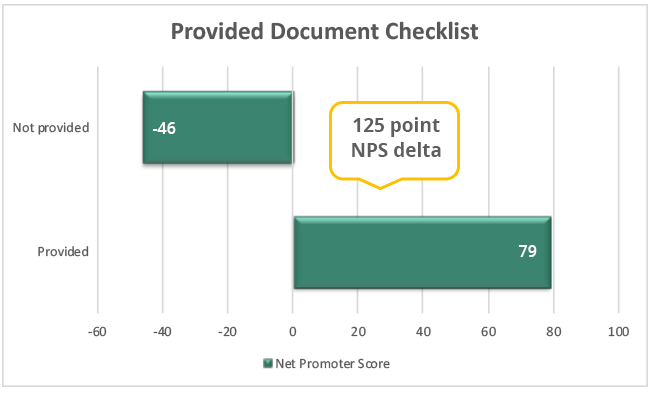 Source: MortgageSAT Borrower Satisfaction Program annual data, 2019. © STRATMOR Group, 2019.
When it goes wrong:
"The overall process would have gone more smoothly if an application checklist had been provided. At times, I felt bombarded by the numerous emails that [my loan originator] sent in regard to missing items."  
Borrower, Texas
Custom Satisfaction Score: 6.7/10
COMMANDMENT 2: Contact the borrower before the closing to review final numbers.
Borrowers are delighted when they are confident they have the correct amount of funds needed at closing well in advance of the closing. Calling the borrower to discuss closing numbers shows consideration for the borrower's time. Setting the right expectations and providing enough time to fulfill these expectations also show you appreciate their time. When you give the borrower adequate notice of the closing and the funds required, you are rewarded with an NPS of 83, which nearly guarantees the borrower will promote you. When you don't, NPS falls to -17, which means there are more borrowers badmouthing you than promoting you.
STRATMOR recommends that the loan originators takes ownership of this step, even if the primary responsibility falls to a processor or loan originator assistant. That means calling the customer to confirm that they've seen — and understand — the numbers.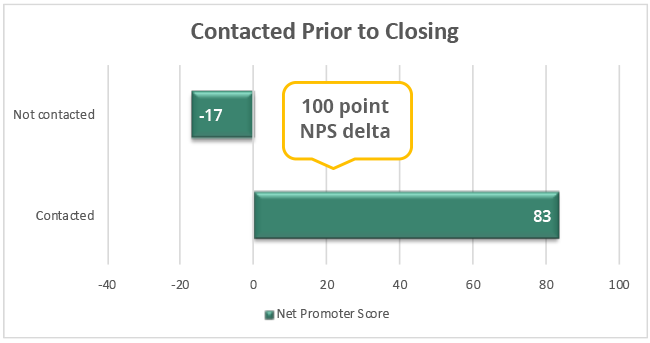 Source: MortgageSAT Borrower Satisfaction Program annual data, 2019. © STRATMOR Group, 2019.
When it goes wrong:
"Having sold and purchased 2 homes in the last 2 years I have a certain expectation of a mortgage company and communication is something that your company needs to improve rather than assuming that a customer knows and understands all documents being sent to them to sign. Call the customer and go over it with them!"
Borrower, Missouri
Custom Satisfaction Score: 3.7/10
COMMANDMENT 3: Avoid asking the borrower to provide a document already provided.
Assembling the documents and other information required by the lender — tax returns, bank statements, etc. — can be stressful and burdensome. This is an area where not asking the borrower again for a document can create a delightful experience. When you save the borrower from having to say, "I already gave you that. Why can't you keep track of things?" you're saving them from annoyance and frustration. When you get this right, NPS soars to 88, but when it's missed, NPS drops to 39. Being able to monitor and identify problems with a system like MortgageSAT has been one of the keys to MortgageSAT clients' rise to best-in-class NPS nationally.
For loans that are known in advance to require more time, such as new construction or jumbo loans, the key is to communicate upfront that there will be document updates requested. If borrowers are aware well in advance, they will not consider this "update" request an annoyance.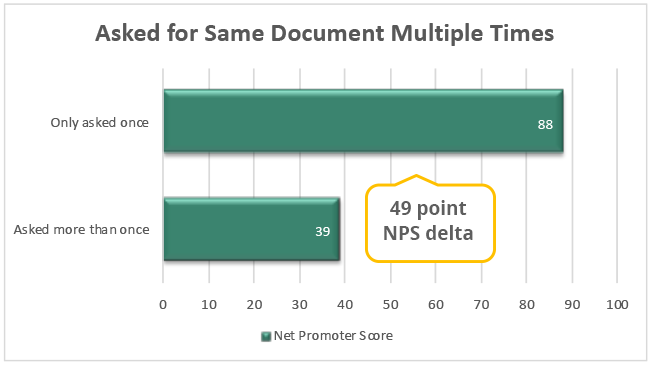 Source: MortgageSAT Borrower Satisfaction Program annual data, 2019. © STRATMOR Group, 2019.
When it goes wrong:
"Communication was very poor. Asked for the same documents several times from multiple people. Not at all impressed. One of the worse experiences working with a mortgage company. Wouldn't recommend and will not use again."
Borrower, Washington
Custom Satisfaction Score: 0.7/10
COMMANDMENT 4: Be proactive about keeping borrowers informed about status.
Borrowers want their lender to take the lead in keeping them informed about the status of their loan. Whether this is accomplished by email, a text message or a call from the loan originator or processor makes relatively little difference and results in average NPS of 77. But, if the borrower must pick up the phone and call to receive updates, which often requires leaving a message and waiting for a call-back, NPS drops to 2.
On every loan, the loan originator should make it their goal to have zero calls from the borrower requesting a status update. Having automated systems to proactively inform the borrower of status changes and next steps can help, although the inclusion of a personal call, even occasionally, results in the highest satisfaction ratings.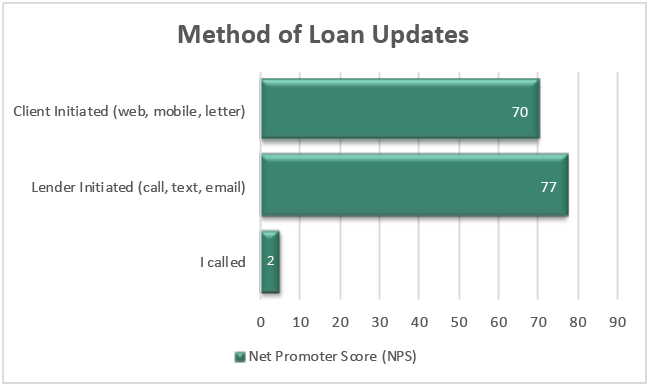 Source: MortgageSAT Borrower Satisfaction Program annual data, 2019. © STRATMOR Group, 2019.
When it goes wrong:
"Each time an important, time sensitive piece of information was needed I had to contact [the lender] only to be told it was being worked on and I would be contacted the next day or so. After that time had passed and no one contacted me I had to call back and obtain the information myself. This was EXTREMELY unprofessional and not a proper way to run a business where many actions are time sensitive. I have actively told all of my friends to avoid [the lender] and will continue to do so."
Borrower, Alabama
Custom Satisfaction Score: 0/10
COMMANDMENT 5: Close loans in the expected time frame.
Borrowers expect their loans to close within the time frame indicated by the lender. It's often the first promise made by a loan originator once a purchase agreement has been signed and handed over. In certain hot markets, meeting a contract deadline can protect the borrower from having other buyers swoop in and make a higher offer. In nearly all cases, getting a timely clear-to-close will save the borrower a lot of stress. Closing a loan in the time frame expected results in highly-satisfied borrowers who are very likely to recommend their lender, with NPS at 82. Missing the closing date drops NPS to 21.
While some delays in the closing date may be unavoidable and are often not the fault of the lender or the LO, what is important is managing borrower expectations. In STRATMOR's experience, borrowers who experience last-minute changes submit much lower scores than those who were prepared ahead of time by a proactive loan originator.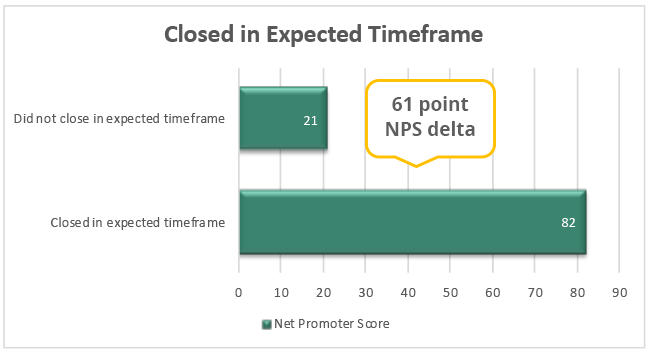 Source: MortgageSAT Borrower Satisfaction Program annual data, 2019. © STRATMOR Group, 2019.
When it goes wrong:
"Took way too long to close. Dealt with multiple people who were not on the same page. Many issues and problems during the process that had nothing to do with us as the borrowers."
Borrower, CA
Custom Satisfaction Score: 1.1/10
COMMANDMENT 6: When problems arise, make every possible effort to resolve them.
Roughly one in every six loans will experience a problem in the course of origination. Problems with the appraisal, title, verifications or a change in circumstances can all present unanticipated problems that may cause delays, changes in the interest rate and/or the down payment, etc. Many of these problems can be resolved to the relative satisfaction of the borrower, and the sooner the better. MortgageSAT research shows that NPS is still 39 when a problem is resolved, versus -68 when it is not.
Even when there may be no way to resolve a problem, STRATMOR's experience has shown that a post-closing call to the borrower from a highly-placed lender executive — a call that shows concern about the borrower's unhappiness — can turn borrowers from "highly likely to badmouth" to "highly likely to refer their friends and family."
One best-practice behavior that has helped our clients in this area is to set proper expectations with the borrower early in the process, letting them know that the loan process is complex and that experiencing a few bumps along the way is normal and can be expected.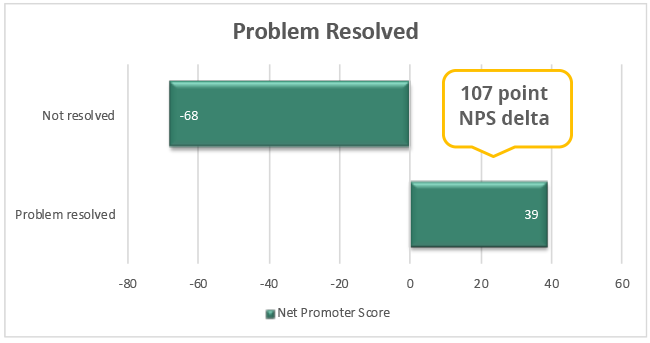 Source: MortgageSAT Borrower Satisfaction Program annual data, 2019. © STRATMOR Group, 2019.
When it goes wrong:
"There was a somewhat complicated issue that needed to be resolved but instead of calling me to discuss it the employee just kept e-mailing me. We obtained mortgages in the past from our bank and they took the time for us. I would not recommend, nor would I use [lender] again."
Borrower, North Carolina
Custom Satisfaction Score: 3.3/10
COMMANDMENT 7: Start the closing on time.
When the big day comes for the closing, borrowers are already crossing their fingers that everything will go smoothly, so making sure that the closing starts on time can have a big impact on a delightful finish to the loan process. The borrowers make every effort to show up for the closing at the appointed time — possibly taking time off from work, hiring a sitter, etc. — so it's important not to make them wait around for a lawyer or closing person to show. When the closing starts on time, borrowers reward you with a healthy NPS of 70, versus 18 for closings that do not start on time. While some late starts are unavoidable, many loan originators make a point to attend closings, so any unsettled feelings can be smoothed over in person.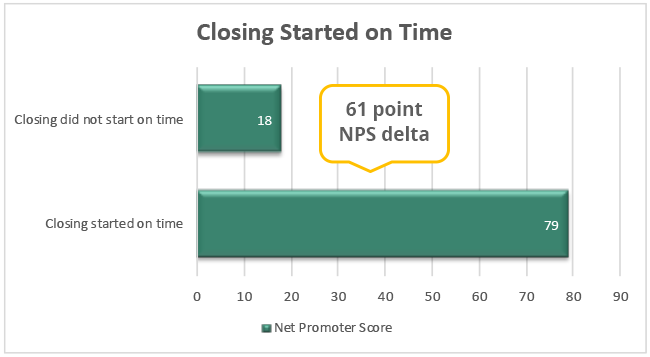 Source: MortgageSAT Borrower Satisfaction Program annual data, 2019. © STRATMOR Group, 2019.
When it goes wrong:
"The closing officer was unprepared, she showed up late, and then forgot to take our payment. Because of this we had to mail out the documents and check ourselves! This was very inconvenient for myself and my wife who had to take off work to do this."
Borrower, Hawaii
Custom Satisfaction Score: 5.6/10
Across the Board
Annually, J.D. Power conducts their Primary Mortgage Origination Satisfaction Studysm and provides a Customer Satisfaction Index Ranking (based on a 1,000-point scale). In the J.D. Powers study, MortgageSAT lender clients continue to receive top scores. What are the top performers doing differently? They're creating a culture of satisfaction. The pyramid below shows the target model of these high performers.
When you're ready to create a culture of satisfaction at your company, MortgageSAT can help. Contact us to discuss your next steps. Also, if you would like to attend STRATMOR's new Customer Experience Workshop, complete our Contact Us form and note that you would like to receive information on this workshop. We'll get in touch with you with the details.
Conclusion
"The Seven Commandments for Optimizing the Customer Experience" contains common sense rules for treating the borrower right and should not come as a surprise to experienced lenders. What is surprising, however, is how great an impact each one can have on the likelihood that borrowers will recommend you to their friends and family (as measured by NPS).
In a world where information about borrowers' experiences with their lenders is readily accessible to other potential borrowers — and is increasingly important in their choice of a lender — it behooves lenders and loan originators alike to be intensely focused on keeping these commandments. Doing so could easily mean an extra two or three 'windfall' loans each month referred by delighted customers. Seminari
How Can We Help?
STRATMOR works with bank-owned, independent and credit union mortgage lenders, and their industry vendors, on strategies to solve complex challenges, streamline operations, improve profitability and accelerate growth. To discuss your mortgage business needs, please Contact Us.