Can Technology Fuel Servicing Retention?
By

Mike Seminari
December 2019
When I ask loan servicers, "What is the value to your company of a delighted customer?" they often respond, "What's a delighted customer?" Joking aside, if it's hard to find delighted customers in the servicing world, it's even harder to quantify their value in terms of real dollars. There may be a gut feeling that revenue benefits will eventually materialize as a result of good service — in the form of better recapture when they refinance or buy a new home — but it's not easy to pin financial projections to those feelings. The result has been a hesitancy to innovate and a lag in technology investment in the servicing space.
CAN TECHNOLOGY FUEL SERVICING RETENTION?
According to STRATMOR Principal Seth Sprague, "Some of the most used servicing systems are more than 30 years old and there seems to be a good deal of hesitancy to innovate." Interestingly, innovation has been charging forward in other areas of lending. Most lenders have already upgraded — or are considering upgrading — their origination system and online application tools. So, why does servicing get left in the dust when it comes to IT investment? Perhaps the difficulty in tying real revenue dollars to a happy servicing experience is to blame.
For lenders with a servicing portfolio, a swing of even a few percentage points on the satisfaction scales for Likelihood to Use Again and Likelihood to Recommend can translate to real losses — the loss of the loan from the servicing portfolio when a customer chooses to refinance, or buy a new home, and then chooses NOT to do that loan with the existing servicer. The servicing asset goes away, and there is no offsetting new loan to replace it. Finding out what tips those scales in your favor and managing to those metrics can translate to better retention rates and big revenue increases.
STRATMOR's MortgageSAT Borrower Satisfaction Program, which measures the loan process and servicing experience of more than 130,000 borrowers annually, supports the need for lenders to learn more about their servicing customers and their technology preferences.
For example, the chart below shows the likelihood that borrowers will use you again and recommend you based on how they receive contact about payments. Note that when antiquated methods like postal mail are used, the borrower's Likelihood to Recommend the lender is just 69 on a 100-point scale and Likelihood to Use Again is 70. By contrast, the most technology forward option on the list, contact by email, receives Likelihood to Recommend of 83 and Likelihood to Use Again of 85. Interestingly, this is even higher than the same scores for borrowers who received a personal phone call (79 and 78).
Chart 1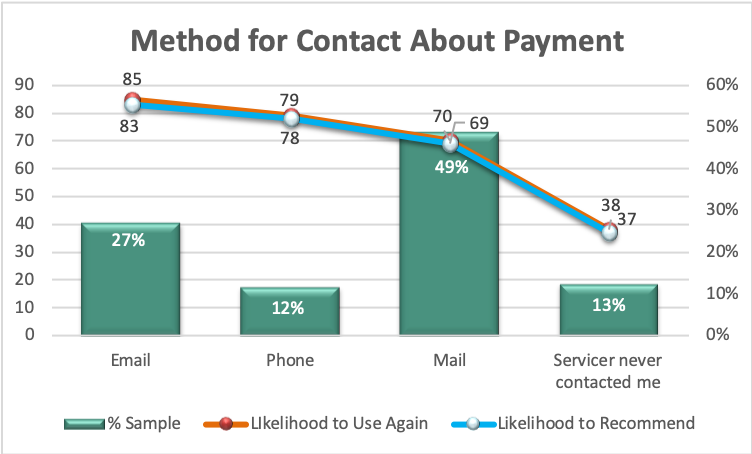 © MortgageSAT Borrower Satisfaction Program, 2019.
When asked about their ideal preference for "payment received" notices, nearly two-thirds (64 percent) said they preferred emails. Incidentally, the most tech-forward options on the list, viewing a statement on the lender website and getting a text, scored the lowest of the group, being chosen by just 4 percent and 14 percent, respectively. Perhaps the former has to do with the customer feeling hassled by having to log in to a website. Perhaps the latter has to do with perceived security risks with receiving financial information via text. Regardless of the cause, this is valuable information for a lender to have when investigating ways to maximize the borrower experience.
Chart 2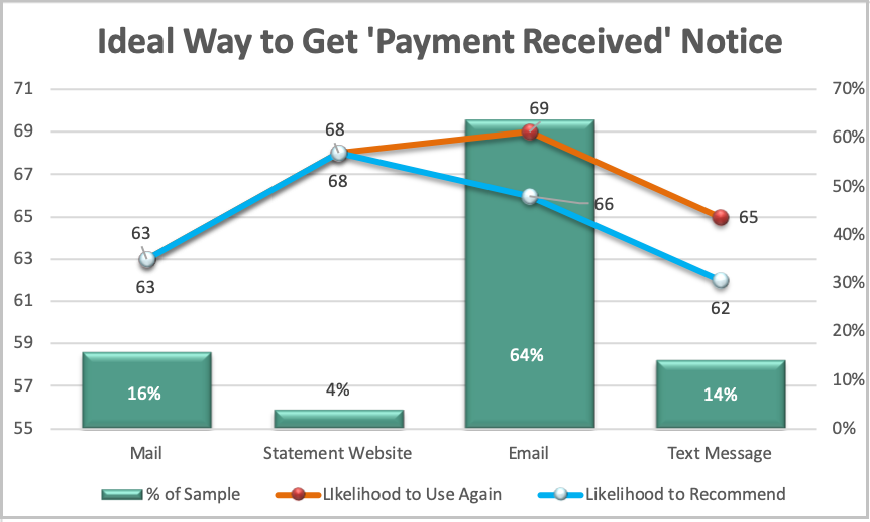 © MortgageSAT Borrower Satisfaction Program, 2019.
Surprisingly, 57 percent of borrowers nationally are still receiving paper mail statements. This is even though paperless statements are widely known to save lenders thousands, if not tens of thousands, of dollars annually. According to STRATMOR data, as seen in the graph below, paper statements are also costing lenders repeat and referral customers. Lenders who can track these types of metrics in their loan portfolios can print out a list of customers who receive paper statements and offer to walk them through the paperless set up process. In fact, tools like STRATMOR's MortgageSAT Servicing Satisfaction Program can identify borrowers' reasons for holding off from the switch to paperless. Lenders are often surprised to find hundreds of borrowers who say they would switch if they just knew how!
Chart 3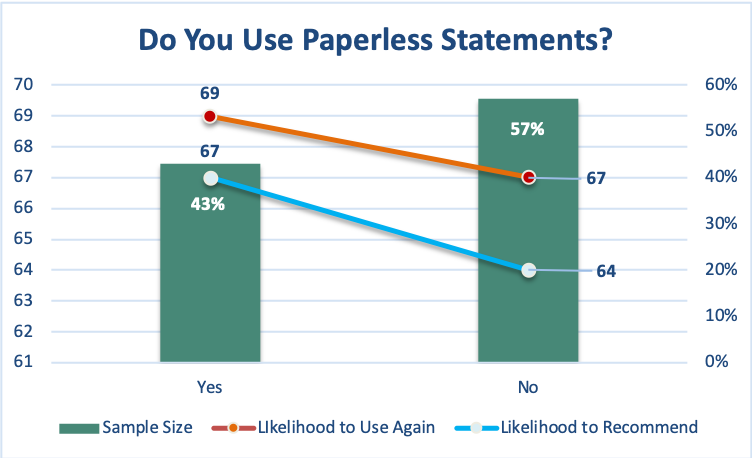 © MortgageSAT Borrower Satisfaction Program, 2019.
In summary, technology can fuel servicing retention inasmuch as it helps you improve the customer experience. This means it must help you to identity areas that are in the greatest need of improvement and give you the means to put the data into action.
What's a Lender to Do?
Here are three ways you can use technology to fuel servicing retention:
Be Proactive. The reason loan servicers rarely interact with a delighted customer is because they tend to wait for the customer to reach out to them with problems. This "don't poke the sleeping bear" mentality is fear-based and does nothing to promote goodwill with existing customers. Top performing servicers proactively reach out to their servicing portfolio one or two times per year to check for accuracy on their escrow analysis and to update preferences on things like billing statements and payment received notices. Other surveys may be sent for newly onboarded customers and customers who have recently contacted the lender.
Ask the Right Questions. This requires going deeper than you might think with your line of questioning. Our data shows that regardless of the number of questions you ask, servicing surveys typically garner between a three to five percent response rate, so whether you have 40,000 or 400,000 in your portfolio, that's a lot of feedback either way. The right questions will uncover clerical errors on statements and escrow payments, reveal preferences for communication about important information, and even identify cross-sell opportunities, refinancing candidates, and efficiencies like adoption of paperless statements.
Act on the Data. If you want higher retention, you must use the data you gather to create the change. Programs like MortgageSAT will help you print call lists containing different actionable items, such as:
Customers with Incorrect Payment Amount
Customers with Incorrect Escrow Account Info
Customers with Incorrect Interest Rate
Customers with Incorrect Loan Balance
Customers who Are Not Sure How to Sign Up for Paperless Statements
Customers who Called to Check Their Interest Rate (refinance opportunity)
How can you learn more about creating a better customer experience and about how the customer experience impacts your company?
Find out more about STRATMOR Group's CX services and how transparency into the loan process can help your company. Contact Mike Seminari at mike.seminari@stratmorgroup.com.
How Can We Help?
STRATMOR works with bank-owned, independent and credit union mortgage lenders, and their industry vendors, on strategies to solve complex challenges, streamline operations, improve profitability and accelerate growth. To discuss your mortgage business needs, please Contact Us.