Sustaining Positive Performance Metrics as the Economy Reopens
By

Mike Seminari
June 2020
As many businesses scrambled to stay afloat and many employees struggled with job security in the past three months, the mortgage industry has been on a wild run, producing both record volumes and impressive customer satisfaction metrics.
Even so, it is not all good news. While rates may remain low for the duration of 2020, the booming refinance volumes will inevitably slow to a simmer and then dry up, leaving purchases to once again drive the mortgage market. If the economic bounce-back ends up taking more than a few months — which is highly likely — lenders may find themselves in a bit of a pinch. As business returns to usual, they may find that formerly qualified loan applicants are now unemployed, have depleted their down payment savings, or have struggled to make credit-affecting payments during the downturn. None of this bodes well for lenders, borrowers or the housing market in general.
Lenders can get ahead of the curve by going back to the basics. Borrowers overwhelmingly choose their lender based on a referral or existing relationship — 87 percent of the time according to MortgageSAT year-to-date data, even in the current refinance-rich environment. Creating a delightful loan experience is the surest way to garner a client referral, and lenders can create that delightful experience by following the tenets of exceptional borrower satisfaction that seem to remain constant no matter how the economic or political winds are blowing.
How Lenders Maintain Strong Sales and Customer Satisfaction as the Economy Reopens
Many lenders have been thrilled to see their teams achieve higher borrower satisfaction metrics in the past 60-90 days, but few are asking themselves, "What have we been doing better to earn these higher scores?" Now is the time to ask, "How can we keep the momentum of this positive customer sentiment going?" Without self-examination and proactive improvements in the process and additional customer satisfaction training, the spike in customer sentiment could well be short lived. Recognizing and building upon customer experience success creates an environment that fosters repeat and referral business, which comes in very handy in leaner months. Without pursuing this strategy, lenders could be in for a rough fall and winter this year.
Going back to the basics means revisiting the tenets of customer experience that simply do not change over time. These are highly sensitive aspects of the loan process that are quite binary in their effect. Get them right and you're almost guaranteed to receive customer accolades, if not word-of-mouth referrals. Get them wrong, however, and not only do you forfeit a referral opportunity — the customer is highly likely to poormouth you to their friends.
The following three rules have stood the test of time. Incidentally, all relate to the importance of clear communication with a personal touch:
Call Borrowers with Loan Updates. When lenders (loan officer, processor, LOA) call their borrowers to provide loan updates, they are rewarded with a Net Promoter Score (NPS) of 88. Interestingly, according to year-to-date MortgageSAT data, this only happens on 15 percent of loans. In contrast, when a borrower must pick up the phone to request updates to their loan, NPS drops significantly to 11. The lion's share of updates occur via email and garner a respectable NPS of 80. This is still better than making the borrower call, but lags behind the best practice of proactive calling.
Chart 1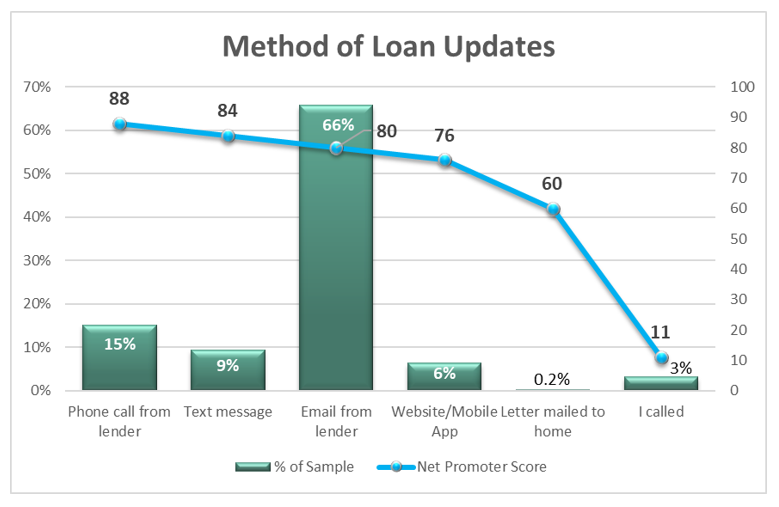 Source: MortgageSAT Borrower Satisfaction Program, 2020.
Avoid Asking for Same Document Multiple Times. When a borrower is asked for the same document multiple times, they're often left with a disconcerting feeling that either the lender is "changing the rules" on them or that the lender is disorganized when it comes to keeping track of sensitive documents. Neither one is good. By the numbers, multiple requests for the same document causes NPS to drop from 89 to 47. Year to date, this has happened on one in every four loans.
Chart 2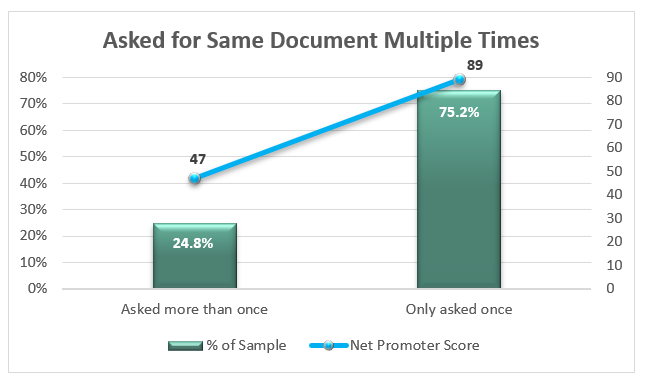 Source: MortgageSAT Borrower Satisfaction Program, 2020.
Call Prior to Closing. The last thing an anxious borrower wants to hear as they approach their closing day is silence. They're trying to coordinate their schedule, they may be unsure of what fees might show up on the HUD, and they likely will need to make a special trip to the bank to secure a cashier's check. When the lender fails to call the borrower to review final figures prior to closing, customer sentiment turns sharply downward, with NPS falling from 86 to -4. This lender miscue has happened on nearly one in fourteen loans (6.8 percent) since the beginning of the year.
Chart 3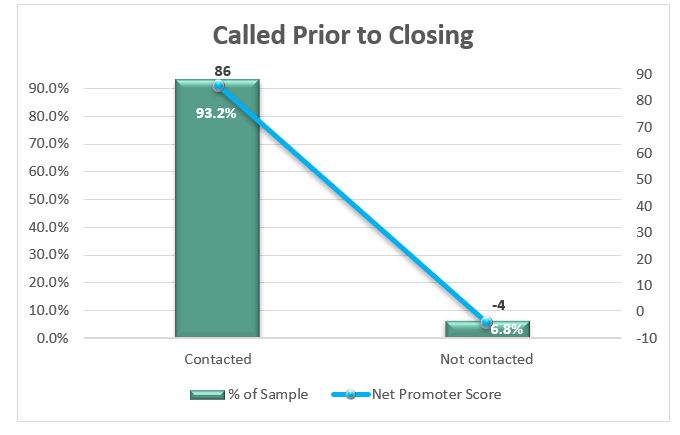 Source: MortgageSAT Borrower Satisfaction Program, 2020.
What's a Lender to Do?
Each of the above metrics showed slight improvements from Q1 to Q2, which suggests that loan officers and processors have stepped up their communications game during the pandemic era. Once the crisis subsides, make sure you keep the momentum going with these tips:
Measure and Track. Given the high stakes presented by potentially massive NPS swings, it makes sense for lenders to measure and track performance on these kinds of metrics and make efforts to improve them. Utilizing a survey process and analytics software like STRATMOR's MortgageSAT Program is a great first step in identifying incidences where critical rules have been breached and coaching employees at the regional, branch and even LO/Processor level.
Create Awareness. The best time to create awareness about building upon your customer experience is when you have good news to share. And that time is right now for many lenders. Celebrate your improvements in customer satisfaction — and various process metrics, if you have them — from Q4 to Q1 to present and vow to maintain or even exceed those numbers in the coming months.
Update New Hire Training. Does your new employee training manual suggest, or better yet mandate, making phone calls to provide loan updates? Help new hires establish good habits that will ultimately lead to more referral and repeat business. Make it part of your official training curriculum and make sure management holds all staff accountable.
How can you learn more about creating a better customer experience and about how the customer experience impacts your company?
Find out more about STRATMOR Group's CX services and how transparency into the loan process can help your company. Contact Mike Seminari at mike.seminari@stratmorgroup.com.
How Can We Help?
STRATMOR works with bank-owned, independent and credit union mortgage lenders, and their industry vendors, on strategies to solve complex challenges, streamline operations, improve profitability and accelerate growth. To discuss your mortgage business needs, please Contact Us.