STRATMOR Insights
Monthly Email Report Exploring The Latest Mortgage Industry Trends And Issues
At STRATMOR Group, we have our finger on the pulse of the mortgage industry each and every day through our consulting engagements, peer networking programs and proprietary benchmarking research. We have created a monthly email report called STRATMOR Insights that shares our perspectives and research findings to help lenders discover innovative ways to accelerate growth, improve operations and reduce risk.
SIGN UP NOW to start receiving the monthly STRATMOR Insights email report.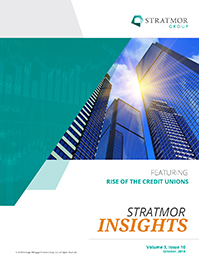 Volume 3, Issue 10 October 2018
 Featuring: Rise of the Credit Unions
Are you one of the bank or independent lenders who doesn't pay much attention to credit unions? Do you think they are only competition for community banks? You might want to take a second look and read, "The Rise of the Credit Unions."
An estimated 54 million households belong to a CU, and they have a fiercely loyal customer base who take advantage of their low-cost banking solutions and high-touch services, giving CUs a large customer base to which they can offer mortgages. In this article, STRATMOR senior partners Garth Graham and Michael Grad, and principals Andrew Weiss and Tom Finnegan provide insight and data into the advantages, disadvantages and growth potential of today's credit unions.
In a second Insights article, "The Borrower Experience," MortgageSAT Director Mike Seminari addresses the importance of providing borrowers with an initial checklist in combatting the most common borrower complaint — poor communication.
Click Here to Download
View older reports or excerpts
Click a tab below to scroll through and download older reports or excerpts.
Previous STRATMOR Insights Reports
STRATMOR Insights Excerpts