STRATMOR Insights
Monthly Email Report Exploring The Latest Mortgage Industry Trends And Issues
At STRATMOR Group, we have our finger on the pulse of the mortgage industry each and every day through our consulting engagements, peer networking programs and proprietary benchmarking research. We have created a monthly email report called STRATMOR Insights that shares our perspectives and research findings to help lenders discover innovative ways to accelerate growth, improve operations and reduce risk.
SIGN UP NOW to start receiving the monthly STRATMOR Insights email report.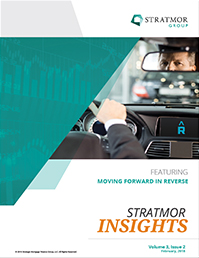 Volume 3, Issue 2 February 2018
Featuring: Moving Forward In Reverse
This month our In-Focus article looks at the reverse mortgage line of business, primarily with an eye towards the potential opportunity reverse mortgages present for lenders currently focused on forward mortgages.
Mortgage Metrics Matter uses data from our Technology Insight Survey program to analyze lender use of CRM systems that are native to their LOS versus third-party systems.
Finally, our Speaking Borrower Satisfaction section has been renamed The Borrower Experience. In this section Dr. Matt Lind uses MortgageSAT data to take a deeper look at the importance of closing when expected.
Click Here to Download
View older reports or excerpts
Click a tab below to scroll through and download older reports or excerpts.
Previous STRATMOR Insights Reports
STRATMOR Insights Excerpts