STRATMOR Insights
Monthly Email Report Exploring The Latest Mortgage Industry Trends And Issues
At STRATMOR Group, we have our finger on the pulse of the mortgage industry each and every day through our consulting engagements, peer networking programs and proprietary benchmarking research. We have created a monthly email report called STRATMOR Insights that shares our perspectives and research findings to help lenders discover innovative ways to accelerate growth, improve operations and reduce risk.
SIGN UP NOW to start receiving the monthly STRATMOR Insights email report.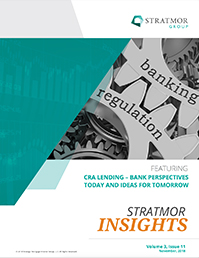 Volume 3, Issue 11 November 2018
Featuring: CRA Lending – Bank Perspectives Today and Ideas For Tomorrow
In this month's lead story, STRATMOR Principal Tom Finnegan analyzes the data from a recent STRATMOR survey in, "CRA Lending — Bank Perspectives Today and Ideas for Tomorrow." Tom offers six insights that help crystalize the Banks' perspectives on what they are doing today to meet CRA requirements, and what they need from CRA reform to be effective in the future. There were a few surprises in this analysis, including that the majority of surveyed banks believe CRA lending is profitable.
Also this month, in "Little Things Done Right," the focus is on another of the Seven Commandments of Borrower Satisfaction: Contact the Borrower Before Closing. This step bears careful consideration in the overall picture of borrower communications, especially as the Net Promoter Score (NPS) tumbles dramatically when borrowers don't hear from you before closing.
Click Here to Download
View older reports or excerpts
Click a tab below to scroll through and download older reports or excerpts.
Previous STRATMOR Insights Reports
STRATMOR Insights Excerpts