STRATMOR Insights
Monthly Email Report Exploring The Latest Mortgage Industry Trends And Issues
At STRATMOR Group, we have our finger on the pulse of the mortgage industry each and every day through our consulting engagements, peer networking programs and proprietary benchmarking research. We have created a monthly email report called STRATMOR Insights that shares our perspectives and research findings to help lenders discover innovative ways to accelerate growth, improve operations and reduce risk.
SIGN UP NOW to start receiving the monthly STRATMOR Insights email report.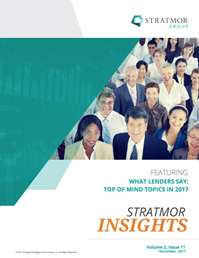 Volume 2, Issue 11 November 2017
Featuring: What Lenders Say: Top of Mind Topics in 2017
This month in In-Focus, STRATMOR shares what they heard and provides perspective on lender "top of mind" topics from the Annual MBA Conference and the PGR: MBA and STRATMOR Fall Peer Group Meetings.
Mortgage Metrics Matter shares insights from the newly-released 2017 Technology Insight Survey, including a notation on an interesting shift in lender priorities.
Finally, in Speaking Borrower Satisfaction, the Topic of the Month considers how borrower satisfaction is impacted when borrowers purchasing a newly-constructed home are not advised of the possibility they'll need to provide documentation more than once.
Click Here to Download
View older reports or excerpts
Click a tab below to scroll through and download older reports or excerpts.
Previous STRATMOR Insights Reports
STRATMOR Insights Excerpts