STRATMOR Insights
Monthly Email Report Exploring The Latest Mortgage Industry Trends And Issues
At STRATMOR Group, we have our finger on the pulse of the mortgage industry each and every day through our consulting engagements, peer networking programs and proprietary benchmarking research. We have created a monthly email report called STRATMOR Insights that shares our perspectives and research findings to help lenders discover innovative ways to accelerate growth, improve operations and reduce risk.
SIGN UP NOW to start receiving the monthly STRATMOR Insights email report.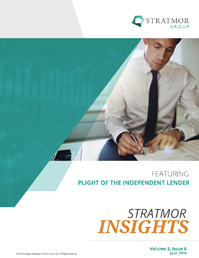 Volume 3, Issue 6 June 2018
Featuring: Plight of the Independent Lender
This month, we're digging into a topic that has far-reaching implications in our industry: the plight of the Independent lender.
Senior Partners Jeff Babcock and Garth Graham set the stage for this discussion by summarizing the recent history and projected trajectory of mortgage origination volume and its purchase/refinance mix as the context for the challenges negatively impacting Independent lenders. Then, they identify possible strategies by which Independents might mitigage these challenges, including recommendations for cost reduction strategies and options of selling to or joint-venturing-with another lender.
In the Borrower Experience section, MortgageSAT Director Mike Seminari addresses the hype around lender/loan officer testimonials and their effect on referral business. Only about two percent of borrowers cite positive online reviews as their primary reason for choosing a lender. In a nutshell: borrowers use online reviews to confirm a referral, not choose a lender.
Click Here to Download
View older reports or excerpts
Click a tab below to scroll through and download older reports or excerpts.
Previous STRATMOR Insights Reports
STRATMOR Insights Excerpts