STRATMOR Insights
Monthly Email Report Exploring The Latest Mortgage Industry Trends And Issues
At STRATMOR Group, we have our finger on the pulse of the mortgage industry each and every day through our consulting engagements, peer networking programs and proprietary benchmarking research. We have created a monthly email report called STRATMOR Insights that shares our perspectives and research findings to help lenders discover innovative ways to accelerate growth, improve operations and reduce risk.
SIGN UP NOW to start receiving the monthly STRATMOR Insights email report.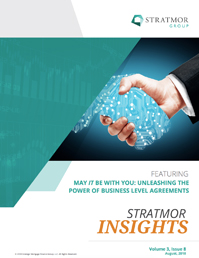 Volume 3, Issue 8 August 2018
Featuring: May IT Be With You: Unleashing the Power of Business Level Agreements
If a digital initiative is part of your 2019 strategy, you'll want to read our lead article this month: "May IT Be with You: Unleashing the Power of Business Level Agreements."
In most mortgage companies, IT is guided primarily by internal and external Service Level Agreements (SLAs) leaving out the business measures needed to give IT a voice in, and responsibility for, achieving enterprise business goals. In our lead article, we examine how adding Business Level Agreements — and IT leadership— to your strategy and planning process will more effectively guide IT's performance and then why it's important to reward accordingly based on achieving these goals.
In our second article, "Aligning Back Office Compensation with Achieving a Superior Borrower Experience," Dr. Matt Lind discusses the impact of the paradigm shift from price to the borrower experience as the primary basis for competition.
Click Here to Download
View older reports or excerpts
Click a tab below to scroll through and download older reports or excerpts.
Previous STRATMOR Insights Reports
STRATMOR Insights Excerpts