STRATMOR Insights
Monthly Email Report Exploring The Latest Mortgage Industry Trends And Issues
At STRATMOR Group, we have our finger on the pulse of the mortgage industry each and every day through our consulting engagements, peer networking programs and proprietary benchmarking research. We have created a monthly email report called STRATMOR Insights that shares our perspectives and research findings to help lenders discover innovative ways to accelerate growth, improve operations and reduce risk.
SIGN UP NOW to start receiving the monthly STRATMOR Insights email report.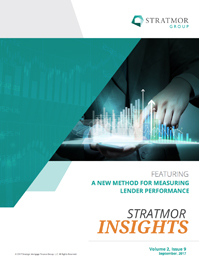 Volume 2, Issue 9 September 2017
Featuring: A New Method for Measuring Lender Performance
This month in In-Focus, STRATMOR shares our perception that mortgage lenders have utilized virutally the same metrics to assess financial and operational performance for the past 30 years. STRATMOR has been exporing some new measurement techniques, one of which we describe in this article.
Rounding out the issue, Mortgage Metrics Matter presents data derived from a recent Technology Insight Survey to address how effectively lenders' LOS systems provide complaince functionality and what functionality lenders feel is "most missing" from their LOS systems.
Finally, in Speaking Borrower Satisfaction, the Topic of the Month considers how a borrower's race-national origin, marital status and the amount of their loan affect satisfaction.
Click Here to Download
View older reports or excerpts
Click a tab below to scroll through and download older reports or excerpts.
Previous STRATMOR Insights Reports
STRATMOR Insights Excerpts