Do Small Gains In Borrower Satisfaction Add Up To Big-Picture Impact?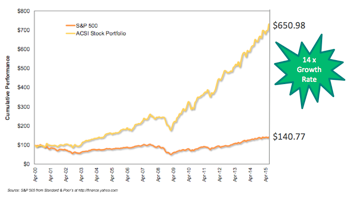 According to a 16-year study based on data from the American Consumer Satisfaction Index (ACSI), the answer is a resounding 'yes'. As evident in the chart to the left – with the orange line representing the S&P 500 ('control') and the yellow line representing companies showing year-over-year growth in satisfaction ratings – companies showing small-but-steady improvements in satisfaction grew at fourteen times the rate of the market over a sixteen-year period.
Why is this important?
Although we've been discussing the "mad dash for testimonials" for the past two months, it's important to keep perspective about your truest driver of revenue growth, which is the creation of highly satisfied customers. While it may be tempting to throw all of your time, resources and energy into the testimonial basket, wise lenders will first make sure they are addressing and fixing potentially damaging issues within the loan process and with loan personnel.
The Diagnosis
STRATMOR Group has been able to observe the effects of small-but-steady improvements through MortgageSAT, its borrower satisfaction management tool. Because the product identifies specific teaching points (e.g. one LO needs to increase their product knowledge, another needs to explain the loan process better, and still another needs to improve response time), lenders are able to make quick fixes and see results immediately. The ultimate test of impact can be measured with the NPS question, "How likely are you to recommend us?"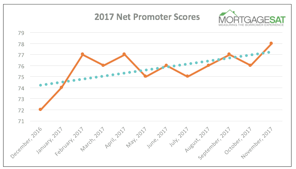 In looking at MortgageSAT clients over the course of the past year, 90 percent showed gains in their NPS scores, with one client climbing 15 points from 57 to 72.
Average NPS score increase for MortgageSAT clients in 2017 was five points.
That's 5 more "raving fans" in every one-hundred who will heavily promote the company to their friends and family.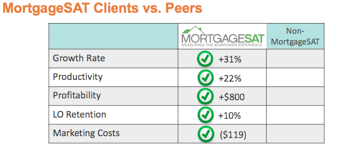 Based on data from our MBA and STRATMOR Peer Group Roundtables, which represents a majority of the top 200 lenders in the nation, we are able to compare lenders who use MortgageSAT versus those who do not.
Across the board, companies using MortgageSAT to make small-but-steady improvements in processes and personnel consistently outperform their peers, with higher growth, productivity and profitability, better LO retention and lower marketing costs.
The Prescription
In order to address issues at the employee and process level:
1. Ask enough questions. Three to five questions won't cut it. Borrowers tend to fly through short surveys without taking adequate time to reflect. The result is that you rarely get feedback you can use, much less organize in a meaningful way.
2. Ask the right questions. Questions like, "How satisfied were you overall with the process?" and "How likely are you to recommend us?" are nice for generating warm, fuzzy feelings, but these types of questions don't provide any actionable feedback for improving your processes.
3. Act on the data! Finding out where your weaknesses lie is only half the battle. Be prepared to reivew borrower feedback weekly (or more often) and create accountability with management and with LOs. You might also consider holding internal contests (best score, most improved) or tying results to comp plans.
Learn More about MortgageSAT and how it can impact you.
Ready to learn more about STRATMOR's turnkey survey solution called MortgageSAT, and how rich, drill-down data can help your company? Contact MortgageSAT Director Mike Seminari at mike.seminari@stratmorgroup.com to learn more.
Get MortgageSAT Tips delivered to you.