Do Loan Officers Really Need To Attend Closings?
I'm sure you've heard the saying, "Defense is sometimes the best offense." If you're a loan officer, this means you'll likely be blamed for everything bad that happens at closing if you're not there. For example, when the loan doesn't close at the expected rate and fee, we see that the borrower's satisfaction on a 100-point scale drops 20 points. How much of this damage could be avoided if the loan officer were present?
According to MortgageSAT's National Benchmark (see table below), the largest in the industry with more than 100,000 responses annually:
When rates and fees are as expected, but the LO does not attend closing, Net Promoter Score drops 11 points from 90 to 79. That a loss to the lender of 11 potential referrals out of every 100 borrowers.
When rates and fees are unexpected, and the LO is not at the closing to explain the difference, NPS plummets 35 points from 57 to 22. Not only is this 35 fewer people out of 100  that will recommend you, but it also creates many more upset customers who will badmouth you. And we all know that dissenting voices are often the loudest.
 
Why is this important?
Closing table problems are bound to surface, but the damage incurred is often less about the problems themselves and more about how they are handled. Borrower perception is king, meaning that even if you have the correct rate, but it's different from their perception, they're going to be dissatisfied. And their perception may be very sensitive to small differences within the range of tolerance on very small fees. Borrowers are probably not going to get up from the settlement table and ask why the title fee of the escrow amounts were of by $50, but it will affect their excitement about recommending you.
The Diagnosis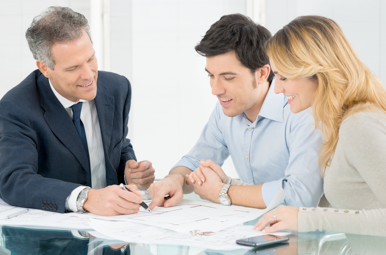 It absolutely matters whether or not loan officers attend their closings. Being present to explain rates and fees to the borrower is just one example of where a loan officer can mitigate a potentially negative borrower experience. Add in delayed starts to closings, unresolved problems, and confusion regarding last minute changes and you begin to understand the importance of face-to-face interaction between loan officers and borrowers at the closing table.
Another big plus for loan officers who attend closings is the goldmine of referral possibilities, starting with the borrowers. "People spend hundreds and hundreds of dollars in advertising, putting their face on park benches and billboards to try to associate a face with a name," says STRATMOR senior partner Garth Graham. "And when you're at closing, the last thing they see and the thing they're going to remember when they bought that home (hopefully a good experience): your smiling face and that business card you handed to them."
Consider, too, that at any given closing, the loan officer will have access to up to seven or eight other potential referral sources. Says Graham:
"There is a listing and selling agent who are happily going to be there and split that commission; there's a seller and buyer attorney (depending on which state, you may have one of each), who are also people who are active in the real estate business and the closing process and are going to be very impressed that you're just sitting there; there's a seller and a buyer and there's a very good chance that seller's buying another home, whose loan officer may not show up at their closing, and theirs is back to back, occurring later that afternoon, maybe in that same spot. All these people sitting there assessing your professional approach. They conclude that you care enough to attend the settlement, you've handed them your business card, and you'll provide their families and customers with equally professional service in the future. Juxtapose this scenario against one in which the loan officer fails to show up to participate in the closing conference. All nine or so who attend that closing, perhaps just a few hours after yours, have a stark example of how committed you are as a loan officer versus the LO who opted not to show up."
The Prescription
Whether it's for the defensive (problem mitigation) or offensive (referrals) reasons, it's important to encourage your loan officers to attend every closing, both purchase and refinance. In cases where this is not physically possible due to location (such as in Consumer Direct), or not possible due to the limited time of a high-producer, we recommend that measures are taken to provide the "next closest thing" to in-person attendance. This may mean the loan officer schedules a window on their calendar during which time they will be remotely available for closing questions and not taking other calls. It may involve going over the Closing Disclosure with the customer in fine detail by phone before they even set foot in the closing office. Whatever form this contact takes, the point is that the loan officer makes him/herself accessible to the borrower. Non-attendance requires stepping up of communication and availability, not neglecting it.
Learn More about MortgageSAT and how it can impact you.
Ready to learn more about STRATMOR's turnkey survey solution called MortgageSAT, and how rich, drill-down data can help your company? Contact MortgageSAT Director Mike Seminari at mike.seminari@stratmorgroup.com to learn more.