How Can Originators Ensure a Profitable 2021 Despite a Possible Refinance Cliff?
After wrapping up a banner year in 2020, the mortgage industry is showing few signs of slowing down. It appears that the downward pressure on rates that created the booming refinance market may be the gift that keeps on giving in 2021 — but not indefinitely. The MBA's latest forecasts show refinance volumes dropping off substantially in Q3 and Q4, which may look like a cliff for many lenders and originators who have feasted primarily on refinance loans for the past year. Our question this month: How can originators ensure a profitable 2021 despite a possible refinance cliff?
Ensure Originator Profitability in 2021
When it rains, it pours. And as any seasoned farmer would tell you, while rain may be great news for crops, that same rain can also cause your machinery to rust if left untended. The mortgage industry faces the same dichotomy as we settle into 2021. On the one hand, mortgage volumes — refinances specifically — remain incredibly high and are expected to be sustained through at least the first half of the year. On the other hand, borrower sentiment, as measured by satisfaction ratings and likelihood to recommend, has declined over the past several quarters due to problems with strained fulfillment capacity and a diminished lender focus on customer delight. In other words, lenders and loan officers have not been tending to the loan process and rust is forming.
Chart 1
Source: © MortgageSAT Borrower Satisfaction Program, 2021. MortgageSAT® is a service of STRATMOR Group and CFI Group.
When refinances taper off (maybe in the second half of the year?), expect a price war and tightened margins to ensue. Many lenders who were able to pad their "war chests" from huge 2020 profits will have increased flexibility for subsidizing pricing, further exacerbating the price wars. In that environment, it's the lenders and originators with the established client relationships, known for delighting their customers, who will emerge as the winners. Relationships provide immunity from price shopping and price matching, which can save lenders hundreds of thousands of dollars in subsidies.
The Diagnosis
The rusty build-up on the loan process tends to come down to communication (or lack thereof).  In fact, nearly every one of STRATMOR's Seven Commandments for Optimizing the Customer Experience is rooted in communication problems, and the result is not just a breakdown of the loan experience in question, but the sabotage of future business that might come from repeat and referral business from that customer. Take, for instance, failure to call a borrower prior to closing to go over final figures. Forgetting or failing to make time for this task costs 92 points on the NPS scale, flipping a would-be Promoter (someone who will refer business) into a Detractor (someone who will actively turn people away from your company).
Chart 2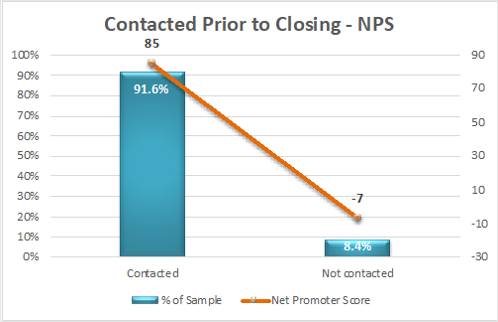 Source: © MortgageSAT Borrower Satisfaction Program, 2021. MortgageSAT® is a service of STRATMOR Group and CFI Group.
Another misstep that tends to occur when business is plentiful is a failure to set proper expectations around the closing timeframe. This happened on a whopping 21 percent of loans in Q4 2020, up from 12 percent in Q1 2020. The damage? 57 points on the NPS scale. That means for every 100 loans that had that issue, 57 would-be Promoters jumped ship and became Detractors. Yikes.
Chart 3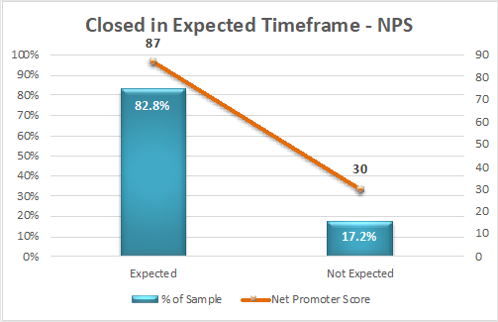 Source: © MortgageSAT Borrower Satisfaction Program, 2021. MortgageSAT® is a service of STRATMOR Group and CFI Group.
With bursting pipelines, it's easy to let seemingly innocuous details slide. After all, a few underwhelmed customers here and there are barely noticeable, and they're constantly being replaced by eager new customers, especially in a refinance-rich environment. The danger in this line of thinking, however, is that it becomes increasingly short-term with each month of 2021 that passes. Referrals may not seem important today but mark my words; they will be your lifeline at some point within the next twelve months. When that time comes, you will be glad to have had the foresight to put practices into place that will keep your borrowers happy, resulting in a pipeline that is healthy and full.
The Prescription
Here are three simple ways you can shake off the rust and set yourself up for higher profitability in 2021 and beyond:
Set expectations upfront around transparency and communication. In your initial conversation with your borrower, ask how much and how often they want to be informed about loan status. This shows them you care about their unique set of needs and creates a foundation of trust. Then set recurring reminders on your calendar and follow through!
Identify and repair the rusty spots in your loan process. This requires high visibility, so the first step is to make sure your post-close survey process is capturing deep insights about the entire loan process. Many loan originators make the mistake of thinking that a high personal star-rating, or even a customer testimonial, will guarantee future referrals. The truth is that seemingly minor missteps can severely damage the customer's likelihood to recommend you. Whether a misstep is the originator's "fault" or not, the originator is the one who suffers from lost referrals. The only sure way to produce Promoters is to make sure the loan process is delightful from A to Z. Customers who make it through to closing without any critical missteps have an NPS of 96.
Treat borrowers like referral partners. When you meet with a referral partner for the first time and they give you a referral, you naturally consider it their first referral. Have the same mindset with your borrowers. In casual conversation, refer to the loan as "our first loan together," which creates an unspoken understanding that there will be more loans in their future and that you plan to foster a long-term relationship with them. Words matter.
Learn more about MortgageSAT® and how it can impact your company.
Find out more about the MortgageSAT Borrower Satisfaction Program, a service of STRATMOR Group and CFI Group, and how transparency into the loan process can help your company. Contact MortgageSAT Director Mike Seminari at mike.seminari@stratmorgroup.com.
To see how improving your NPS score translates into real revenue dollars, schedule a demo today on the MortgageSAT webpage.
To find more MSAT Monthly Tips, click here.