How Can Originators Navigate Last-Minute Loan Volatility?
It's March … again. This week marks one year since I filled out my first-ever 100 percent accurate NCAA Basketball Tournament bracket — I had COVID-19 winning every game. This year I might be returning to having a low number of correct picks, but at least it'll be significantly more fun to watch. Speaking of which, the last couple minutes of those games are invariably thrilling. That's because so much can happen. A single bad pass or a clutch shot can spell the difference between victory and defeat. The last days — or even hours — of a mortgage loan process can create that same anxious energy for borrowers. Our question this month: How can originators navigate last-minute loan process volatility and bring home the victory at the buzzer?
How Can Originators Navigate Last-Minute Loan Process Volatility?
In the borrower journey, there are many places where the road can diverge from a "happy path" to an "unhappy path." It might be a confusing online application, the lack of a required documents list, or poor hand-off from the originator to a processor. However, the part of the process most concentrated with off-ramps to unhappiness is at the very end — the loan closing. In the past year, we've seen problems skyrocket around the closing process.
Just like the end of a nail-biter NCAA tournament game, so much can happen in the last hours or days leading up to a loan closing. Suppose the closing itself (the actual appointment) doesn't start on time or there's a clerical error on the paperwork – or worse, an unexpected or misunderstood fee. While these miscues may not be enough to completely derail the closing of the loan, they could be enough to flip the borrower from a raving fan to someone who will badmouth you. Regardless of who is at fault, the blame for any miscues at a closing will often be passed along to the lender or originator, particularly when they are not physically — or virtually — represented.
The Diagnosis
Consider the extent to which Net Promoter Score (NPS) suffers when one of these three missteps occurs:
Closing Does Not Start on Time
When a closing fails to start on time, an already anxious borrower may start to feel panic as they imagine worst-case scenarios. It's like the opposing team taking a time-out with ten seconds left on the clock. Nervousness drains delight and NPS falls 59 points.
Chart 1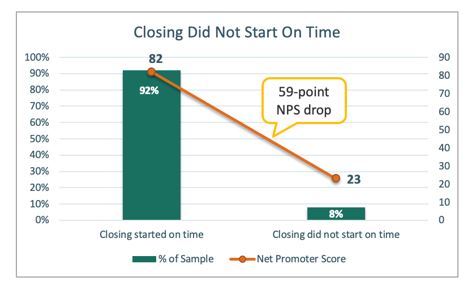 Source: © MortgageSAT Borrower Satisfaction Program, 2021. MortgageSAT® is a service of STRATMOR Group and CFI Group.
Closing Documents Are Not Accurate
When a borrower sees an error on their closing documents, oftentimes a clerical error like a misspelled name or street address, it erodes their confidence that the remainder of the closing package is accurate and NPS falls 73 points.
Chart 2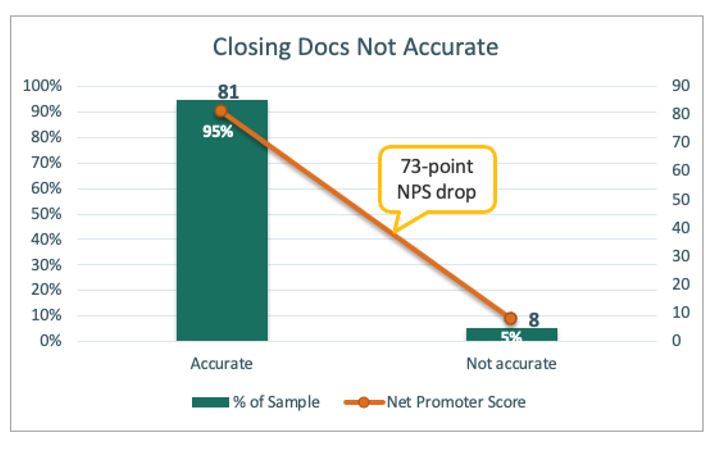 Source: © MortgageSAT Borrower Satisfaction Program, 2021. MortgageSAT® is a service of STRATMOR Group and CFI Group.
There Is an Unexpected Rate or Fee
When a borrower perceives unexpected rates or fees, they may wonder whether someone pulled a fast one on them. Even a hint of suspicion of hidden costs or a changed rate quickly forfeits the chances of a referral. NPS falls 65 points.
Chart 3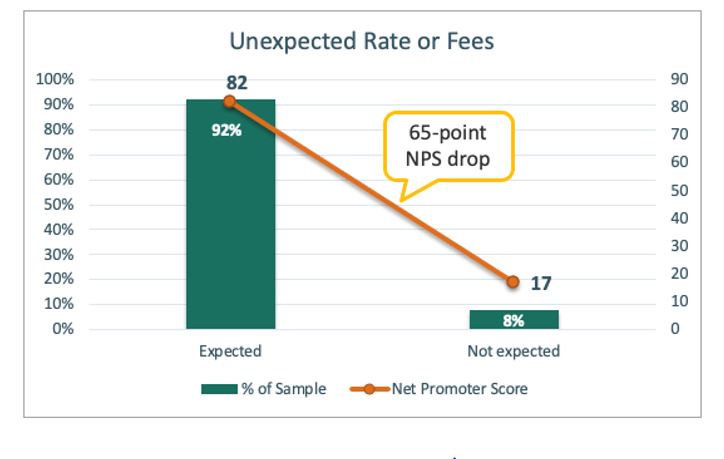 Source: © MortgageSAT Borrower Satisfaction Program, 2021. MortgageSAT® is a service of STRATMOR Group and CFI Group.
The Prescription
Here are three ways originators can minimize last-minute miscues and bring home the victory:
Schedule a Time to Review Closing Documents: With more and more lenders embracing hybrid-style closings (borrower signs some documents on their own and some in front of a notary), borrowers have some extra time to review their paperwork. If you want to delight your clients, schedule some time prior to their notary appointment to go over any questions they have about the documents. Setting aside even fifteen minutes can make a huge difference to the borrower and win you referrals and repeat business.
Attend Closing Virtually: As we come out of pandemic restrictions, you may be enticed to attend your closing in person again. But did you know that "virtual attendance" actually earns higher NPS marks than in-person attendance? Hop on a video chat (i.e. FaceTime) or even suggest the borrower puts you on speakerphone while they sign documents. It will save you time and create the greatest customer delight. A win-win!
Give Your Borrower Your "Bat Phone": If you're too busy to attend closings in person or even virtually, the next best way to ensure customer delight at the closing is to give them unrestricted personal access to you on their closing day IF they need it. I've heard some originators call it their "Bat Phone." In other words, tell the borrower, "I'll be on standby … if you call, I will answer."
Learn more about MortgageSAT® and how it can impact your company.
Find out more about the MortgageSAT Borrower Satisfaction Program, a service of STRATMOR Group and CFI Group, and how transparency into the loan process can help your company. Contact MortgageSAT Director Mike Seminari at mike.seminari@stratmorgroup.com.
To see how improving your NPS score translates into real revenue dollars, schedule a demo today on the MortgageSAT webpage.
To find more MSAT Monthly Tips, click here.