How is the Customer Experience Faring in the COVID Era?
The past 90 days have brought us historically low mortgage rates, historically high unemployment rates and a roller-coaster stock market. As such, lenders have been struggling to keep up with bursting pipelines, scrambling to mitigate last-minute loan fallout from borrower employment issues, and trying to do all of this with a working-from-home workforce. Lenders are wondering what all of this means for their customers, which brings us to our question this month: How has the turbulence of the COVID-19 era affected the mortgage experience for customers?
Borrower Satisfaction in the Time of COVID
When mortgage rates dipped to all-time lows in March and stayed low through April, loans rolled in so fast that one lender likened the experience to fish jumping into the boat. Good fortune quickly turned for many lenders who suddenly had so much refinance business that it threatened to sink their boats. To stem the flow of new applications, many lenders responded by actually raising their rates.
This confused consumers. Many assumed the deep Fed rate cuts meant guaranteed lower mortgage rates, and many called their lenders to see if they could re-lock loans in progress. Adding to this stress was the mandatory lock-down of businesses, which reduced income and caused joblessness for tens of millions of borrowers.
The turbulence of the past three months has had most lenders fearing the worst in terms of customer sentiment. At STRATMOR, we've heard more than a few stories of loans falling out within days of closing due to employment checks. Imagine being that borrower who hears that rates have reached a fifty-year low but calls in and finds out rates just went back up — and that your loan will take an extra two to three weeks to close. Plus, now your pay stubs need to be updated, even as you've just been laid off? This unfortunate scenario has played out many times in the past three months for lenders and borrowers alike.
Changes in income have become a major concern for many homeowners. In late April, STRATMOR conducted a study of just how severely borrowers have been affected by the pandemic. Of the 1,000 respondents, 38 percent said they have experienced either reduced income or joblessness.
Chart 1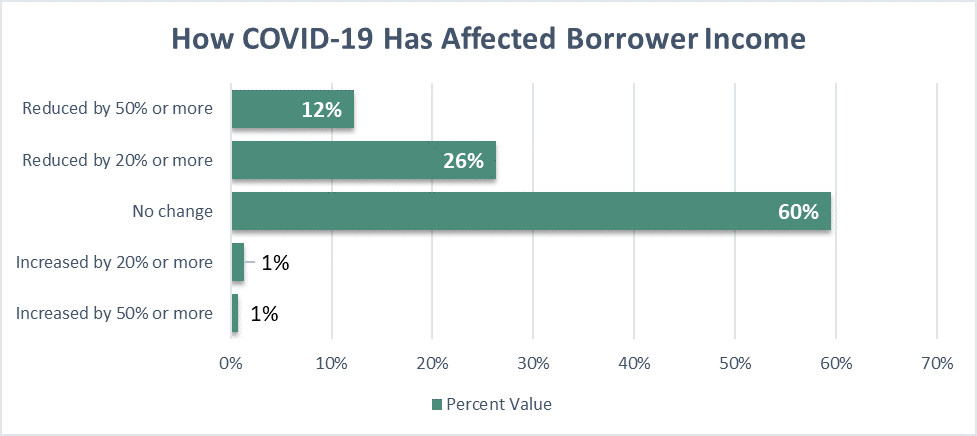 Source: © Copyright STRATMOR Group, COVID-19 Homeowner Experience Report, 2020.
Understanding the borrower experience through external events like COVID-19, or through mortgage-industry-specific events like compliance regulation changes (TRID) and broader economic downturns, gives lenders a feel for how in-tune with the customer their company cultures really are. Lenders with a strong, unified vision around customer service excellence are typically the ones who adapt and adjust to new environments more quickly and effectively. The way a company operates in crisis mode is indicative of leadership consideration given to preparedness and process efficiency. Ultimately, both the good and bad elements are reflected — and magnified — in customer sentiment during times of instability.
The Diagnosis
Despite the confusing economic drivers and the tragic loan fallout scenarios, customer satisfaction has actually increased since the onset of the COVID-19 pandemic. According to data from STRATMOR's MortgageSAT Program, which surveys more than 130,000 borrowers annually, lenders saw the Net Promoter Scores (NPS) of refinance borrowers increase each month year-to-date (from 75 to 87) as volumes exploded.
Chart 2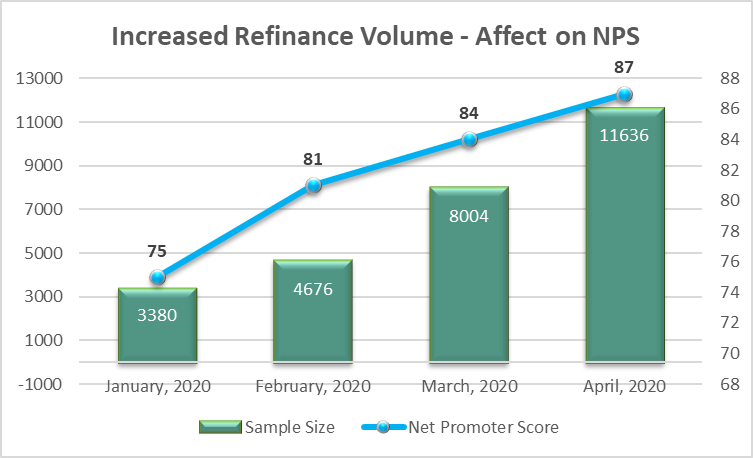 Source: MortgageSAT Borrower Satisfaction Program, 2020.
To say this was a surprise would be an understatement, given the historical inverse relationship between the two metrics.
One person who was not surprised, however, is Claes Fornell, Founder and Chairman of the American Customer Satisfaction Index (ACSI). "Historically, ACSI data has often shown improved customer satisfaction during difficult economic times," says Fornell. "Consumers that maintain the ability to spend during these periods often find attractive prices, ample supply from sellers, and less competition from other consumers."
Here are the three "perfect storm" factors STRATMOR has identified as contributors to the increase of satisfaction scores in the past several months:
Lower Rates. When the 30-year mortgage rate fell to 3.29 percent in early March, it was the lowest it had been in past fifty years. Low rates open the door for mortgage refinancing, which indubitably saves borrowers money, and who doesn't like to save money? In fact, people are often more patient with a few bumps and bruises along the loan process is there is a sufficient carrot at the end of the stick. However, borrower goodwill is only extended so long as the anticipated closing timeline stays intact. With most refinance closings set up for the end of the month, a few days of delay could mean the borrower has to cough up another mortgage payment before the deal is done, which never sits well. Therefore, while the low rates contributed to recent consumer delight, the question of lenders meeting expected turn times amidst surging volume still loomed.
Chart 3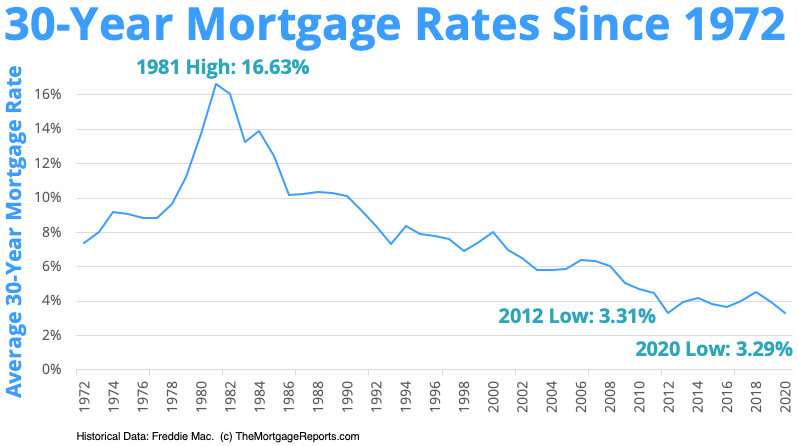 Work-From-Home Productivity. As widespread lockdowns began in March and extended through April, lenders had no choice but to pivot their fulfillment process to a work-from-home model. While naysayers predicted a drop in productivity, a quickly adapting work-from-home fulfillment workforce silently and swiftly put their fears to rest, in many cases doubling and tripling productivity. What's more, borrower satisfaction actually increased despite processors and underwriters having to manage multiples of their previous workloads. In a sense, the work-from-home shift became a proving ground as fulfilment teams were widely in favor of the model and success became a self-fulfilling prophecy. Higher productivity also tends to breed efficiency, which has in turn meant more white-glove service on each individual file.
Chart 4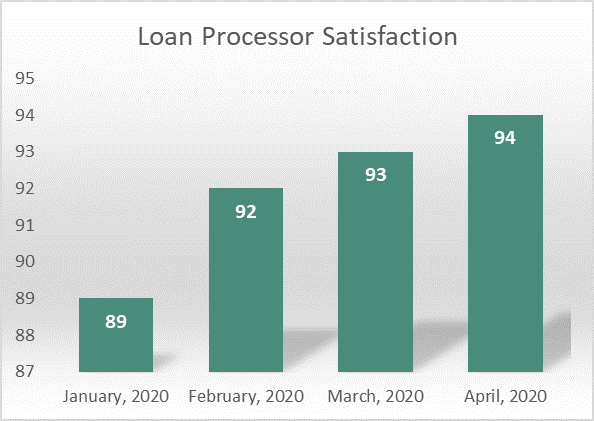 Source: MortgageSAT Borrower Satisfaction Program, 2020.
Crisis Consideration. National crises, whether they're natural disasters, threats of war, stock market crashes, or pandemics, draw us together and help us focus our priorities. The sense that "we're all in this together" lends itself to valuing people and exhibiting compassion, which are favorable practices to have in the mix when a loan is taking too long or a document is requested for the second time. Additionally, borrowers tend to have more patience during a national crisis, making it easier for originators and processors to under-promise and over-deliver on loan timeline expectations.
Given the number of assumedly negative factors contributing to the current state — consumer confusion, job loss, economic instability, work-from-home cultural shifts — it's exciting that the mortgage industry has responded with some of the highest satisfaction metrics in recent history. It goes to show that the mortgage industry can turn it on when it wants to!
The Prescription
In the past several months, many lenders have been nudged from a pre-COVID reticence to change into some new, highly effective business practices. Here are three COVID-era changes that lenders are adopting that we think will last:
Virtual Closing Attendance. According to MortgageSAT data, originators who attended closings in 2019 received NPS ratings 18 points higher than those who did not (87 vs. 69). During the pandemic, with in-person attendance not allowed, some 13 percent of originators have begun attending their closings by video chat or phone call. The NPS numbers for originators attending in this fashion are very promising (93) and prove that virtual presence at closing can be just as valuable as physical presence.
Work From Home. The numbers don't lie. Productivity and customer sentiment have both trended upward following the work-from-home shift. While some employers are discussing a hybrid model — one or two days in the office per week for team meetings and comradery — most lenders are recognizing the benefits the new model offers, which include the prospect of ditching expensive office space leases.
Remote Closings/RON. Some early adopters are now closing upwards of 60 percent of the loans this way, while others are in early stages of discussions, but the early numbers are showing that borrowers are very pleased to skip the in-person closing. Individual state restrictions are informing the speed with which lender adoption is moving forward, but it is nonetheless moving forward.
Learn more about MortgageSAT and how it can impact your company.
Find out more about STRATMOR's survey solution called MortgageSAT, and how transparency into the loan process can help your company. Contact MortgageSAT Director Mike Seminari at mike.seminari@stratmorgroup.com.
To see how improving your NPS score translates into real revenue dollars, schedule a demo today on the MortgageSAT webpage.
To find more MSAT Monthly Tips, click here.