Is Perfection in the Loan Process Too Much to Ask?
At STRATMOR, we often talk about the substantial impact of small miscues in the loan process, specifically how they can make or break a borrower's willingness to refer friends and family. For instance, simply failing to call a borrower prior to closing to discuss numbers drops the Net Promoter Score by 95 points. And that's just one of many missteps that can occur. So, if the loan process is full of "mistakes waiting to happen," lenders are left to wonder if they can reasonably be expected to provide an experience with no hitches at all. Our question this month: Is perfection in the loan process too much to ask?
Perfection in the Loan Process?
One analogy that has always helped me understand the impact of small missteps in the mortgage process is that of a visit to nice restaurant. Your waiter may be terrific, but what if your food is cold or overcooked, or there's a stray hair in your salad? What if your bill shows an errant charge? Any one of these things can quickly and summarily sour your whole dining experience. It's much the same in the loan process — it doesn't matter how much you like your loan originator. If the loan timeline gets pushed too far or you're asked for the same document multiple times, or you get charged fees you weren't expecting, the process quickly loses its luster. Any enthusiasm you may have had for sharing a positive experience with friends and family drops like a lead weight.
Miscues in the loan process equate to big shifts in Net Promoter Score (NPS), which is a measurement of borrowers' likelihood to refer business. With nearly one in five loans being sourced by "Referral from a family member or friend" as seen below, this represents a large portion of overall loan revenue and deserves close attention.
Chart 1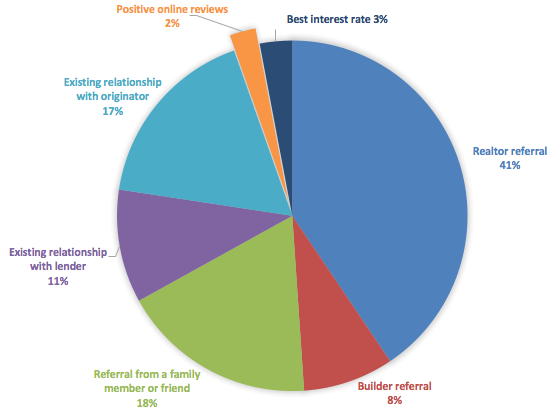 © MortgageSAT Borrower Satisfaction Program, 2019.
The Diagnosis
In a recent MortgageSAT study of more than 37,000 respondents, roughly 41 percent had a "perfect" experience. In other words, they experienced no missteps in the most critical areas, which include but are not limited to what STRATMOR refers to as the "Seven Commandments of Borrower Satisfaction:"
 Provide the borrower with an upfront checklist of the information they will need to provide.
Contact the borrower well before the closing.
 Avoid asking the borrower to provide a document already provided.
Be proactive about keeping borrowers informed about status.
Close loans in the expected time frame.
When problems arise, make every possible effort to resolve them.
Start the closing on time.
As indicated in the table below, borrowers with a "perfect" experience had an NPS that was 20 points higher than borrowers whose experience involved one or more failures with respect to a critical activity. For example, they were asked for additional docs or they were not contacted prior to closing. Nearly 60 percent of loans failed in one or more critical activities.
Chart 2

© MortgageSAT Borrower Satisfaction Program, 2019.
The Prescription
Here are three things you can do today to make "perfection" part of your company culture:
Share the Seven Commandments List with Your Staff.  Creating awareness is the first step to changing company culture. Encourage managers and LOs to print and display the above list in their workspace.
Set the Bar High. Perfection is not unattainable! Nearly 41percent are already perfect. Get that number from two in five to three in five and you could see referral business jump by 50 percent.
Monitor and Improve. Use a satisfaction monitoring tool like MortgageSAT that gives you deep insights about critical parts of the process. Once you collect the data, empower leadership to take action on it by finding coachable moments to share with staff. Tie KPIs and incentive plans to performance in these areas. Reward perfection with shout-outs, bonuses, trophies, etc.
Learn more about MortgageSAT and how it can impact your company.
Find out more about STRATMOR's survey solution called MortgageSAT, and how transparency into the loan process can help your company. Contact MortgageSAT Director Mike Seminari at mike.seminari@stratmorgroup.com.
To see how improving your NPS score translates into real revenue dollars, schedule a demo today on the MortgageSAT webpage.
To find more MSAT Monthly Tips, click here.