Will Investing In An End-To-End Digital Loan Process Improve Borrower Satisfaction?
First, let us define what "end-to-end digital loan process" entails. It typically begins with providing access to a digital 1003 (web or mobile application) that can be completed anywhere convenient for the borrower. Following, the borrower then provides requested information by sharing source data directly from online asset accounts, or through auto-capture of supporting loan documents.  Borrowers also receive automated loan updates in the method they prefer (text, email, web, etc.), and finally, in some cases complete e-sign forms and closing docs.
In today's environment, there are more than a few places where the digital experience intersects with borrower satisfaction. For instance, STRATMOR's MortgageSAT program that measures the loan experience of more than 100,000 borrowers annually found that borrowers completing online applications were marginally more satisfied – NPS of 73 versus 72 for those doing phone applications. The most satisfied borrowers, however, were those who completed applications face to face.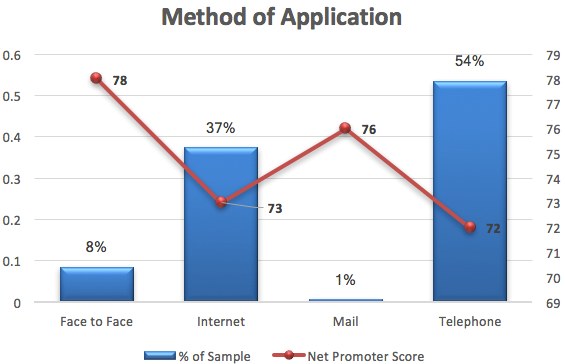 Another example involves one of the most egregious (and costly) errors a lender can make; asking a borrower for the same document multiple times. Since borrowers often perceive requests for updated paystubs and bank statements as multiple requests for the same document, automating those processes (i.e. getting the borrower's permission to automatically access and refresh data as needed) can effectively eliminate this problem.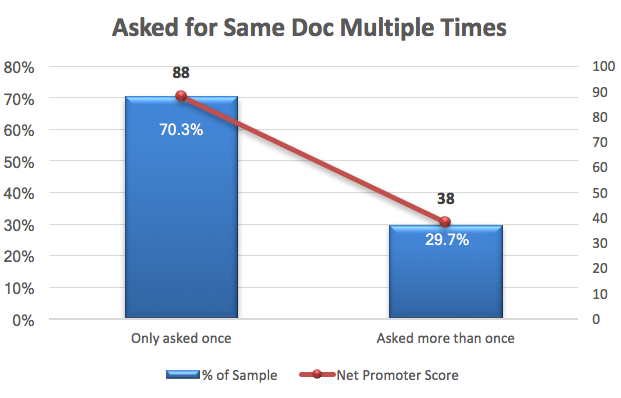 As seen in the graph above, the potential benefit for solving this issue alone results in a 50-point gain in Net Promoter Scores (NPS), a combination of 29 more Promoters (borrowers who are highly likely to recommend you) and 21 less Detractors (borrowers who will likely badmouth you) per every 100 borrowers experiencing that problem.
A word of caution: Providing an end-to-end digital experience doesn't mean you should remove the personal touch altogether. As seen below, there remains great benefit to encouraging loan officers to attend their closings. Even electronic signature forms can't protect against last-minute questions and unmet expectations that can be best addressed by a present loan officer.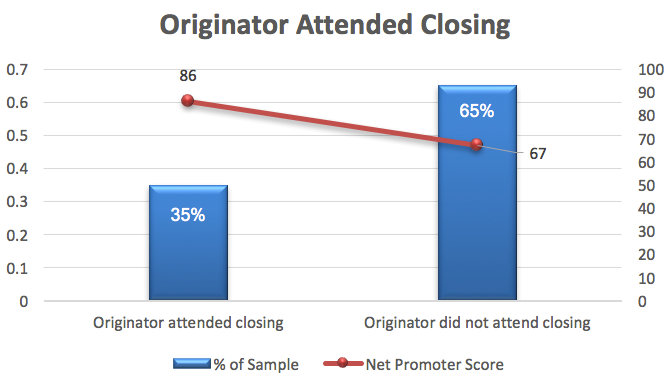 Further proof of the continued importance of the personal touch is evident when it comes to loan updates, where borrowers are most likely to recommend (NPS of 88) when they receive personal phone calls for loan updates. Interestingly, borrowers who proactively got their updates via Mobile App scored higher (75) than those who passively received updates via email (72).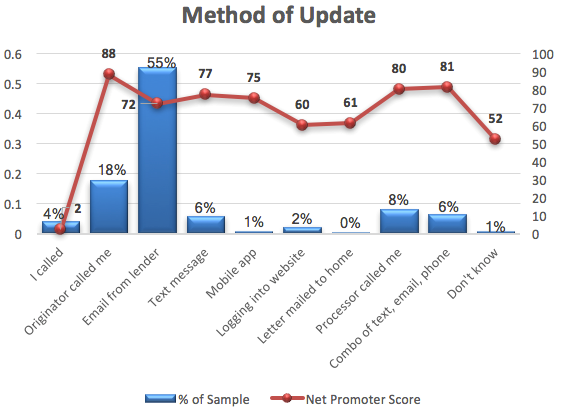 Why is this important?
When considering the many aspects of the loan process that digital can touch, the prognosis includes major system and process overhauls that require substantial time and financial resources. It may be inevitable that the whole industry will eventually adopt an end-to-end digital loan process, but whether you, as a lender, are on the leading edge or the last one to the party could have a big financial impact.
The Diagnosis
The benefits of going digital can be measured empirically, specifically by considering changes in NPS, and there seems to be a clear arrow pointing to revenue opportunity. We're already seeing evidence of lenders perceiving this financial value, with some even offering financial incentives to encourage borrowers to adopt their digital initiatives. One lender, recently mentioned in Rob Chrisman's blog, is offering borrowers a .125 bps pricing improvement just for completing a digital 1003 through their digital mortgage app. The tide is turning toward digital experience, and the sooner lenders join the party, the sooner they will recoup sunk costs and start reaping extended financial benefits.
The Prescription
There is a lot of money in the balance when it comes to creating borrowers who will refer business and come back for their next loan. Getting more borrowers into the Promoter category (those who rate 9-10 on a 10-point scale for how likely they are to recommend) can quickly turn into real loans and real revenue.
Here are three practical steps you can take to start (or continue) down the digital path:
Gather Data. Use a survey tool like MortgageSAT that will give you deep insights about your borrowers' loan experience and preferences. Specifically, monitor how your borrowers prefer to take their applications, how they like to receive status updates, and how important it is for them to have the LO at closing. Compare these numbers with a National Benchmark to see where you are excelling and where you have the most room for improvement.

Create an ROI Case. Use the data to build a financial case. In STRATMOR's experience, at least one in every five borrowers who say they are highly likely to recommend you (9 or 10 on the 10-point scale) actually do. In the example above, which showed potential for 29 new Promoters for each 100 borrowers experiencing that problem, at least one in five (or six borrowers per one hundred) will translate to actual referred loan revenue. Simply do the math and you're on your way to making a strong financial case for change.
Create a Game Plan. As previously mentioned, moving towards an end-to-end digital loan experience requires substantial time and financial resources. List the places in the loan process where you have potential to automate, then prioritize them based on the data you gathered with your survey tool. Create a roadmap that includes budget, IT resources, and an adoption plan.
Learn More about MortgageSAT and how it can impact you.
Ready to learn more about STRATMOR's turnkey survey solution called MortgageSAT, and how rich, drill-down data can help your company? Contact MortgageSAT Director Mike Seminari at mike.seminari@stratmorgroup.com to learn more.