Do Testimonials Actually Drive Referrals?
Search for "loan officer reviews" online and you'll get a list of roughly 30 million results. Add the word 'mortgage' and you still get more than 14 million. Entries range from advice on how to choose a loan officer to ads for mortgage lenders and testimonials posted about individual loan officers. In fact, when I performed this search myself, my first-page results included a link to a Yelp page for a loan officer named Tim Clark, who was (get this) just a seven-hour drive away from me. I'm a quick learner, so I added my zip code and finally found a review site (Glassdoor), which unfortunately only had company reviews about how much loan officers liked working there. Strike one.
Taking another tact, I decided to look for reviews on a top tier mortgage company that we've all seen in numerous Internet ads and commercials. I've obscured results for professional courtesy, but I can tell you they are a "Top 10" mortgage lender and a household name: I typed in "[Company Name] mortgage reviews."
These were the first-page results: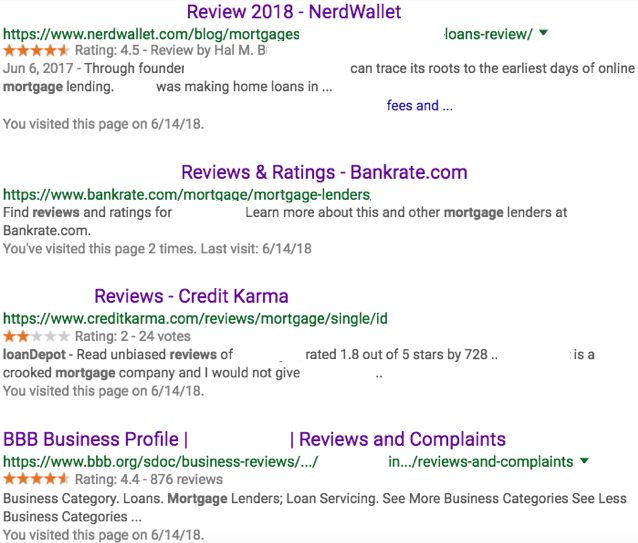 I now had my reviews, but as you can see, the most recent entry was June 6, 2017, over a year ago. And the ratings were all over the map, ranging from 4.5 at NerdWallet, to 2.3 at BankRate, to 1.8 at CreditKarma, to 4.37 at the Better Business Bureau. To make things more confusing, almost all of the comments were negative, which is not even a knock on this company, per se. Most of these sites are saturated with comments from less-than-satisfied borrowers. They warned me who to stay away from—just about everyone, which is unfortunate. Strike two.
In one more effort, I searched a well-established bank in my area, which is also one of the biggest banks in the country. I typed "[Company Name] mortgage reviews" and the search returned these top results (adding my zip code had no effect):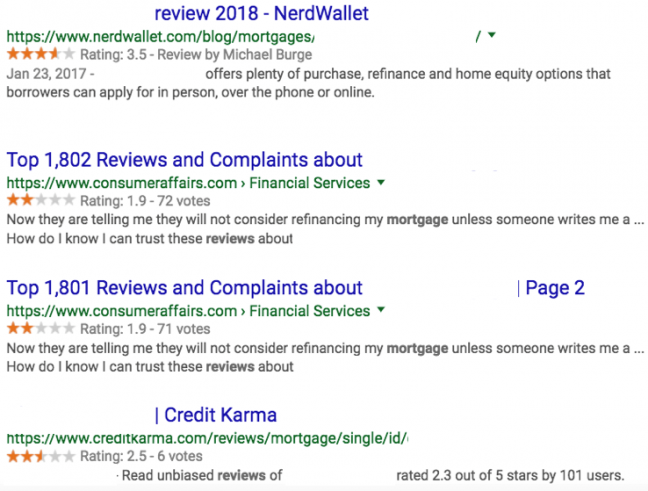 Once again, results showed six-month old reviews and company ratings all over the map, with no specific loan officer reviews. Strike three. How was it that I was intentionally searching for mortgage reviews, and all I was getting was a giant heap of unhelpful results?
Why is this important?
Testimonial sharing companies have worked hard to change the conversation in the borrower survey space to make the testimonial the sole focus. The solutions these companies offer are not cheap, so it's worth scrutinizing if they deliver on their promise that increasing your online visibility via testimonials will bring you new business.
The Diagnosis
If the borrower experience is anything like the search scenario above, then it's no wonder that very few borrowers are finding their lenders organically.  According to data from STRATMOR's MortgageSAT program, that measures the lending experience of over 100,000 borrowers annually, only two percent say that they chose their lender primarily based on reading online reviews. Where do the other 98 out of 100 borrowers go to find their lender? Roughly 95 of them choose their lender based on a referral (real estate agent, friend, family member or builder) or an existing relationship with the loan officer or lender. The other three borrowers choose based on the best rate available.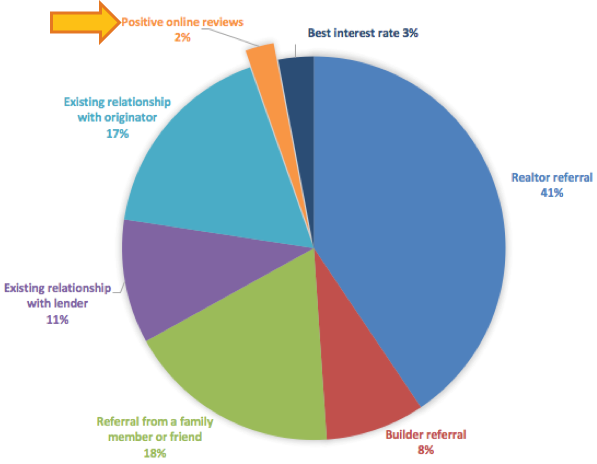 Does this mean that reviews are worthless? Far from it. 32 percent of borrowers read reviews, but they're finding the reviews by typing in the name of a loan officer to whom they've already been referred. The online review, therefore, is being used as a confirmation tool, not a referral engine.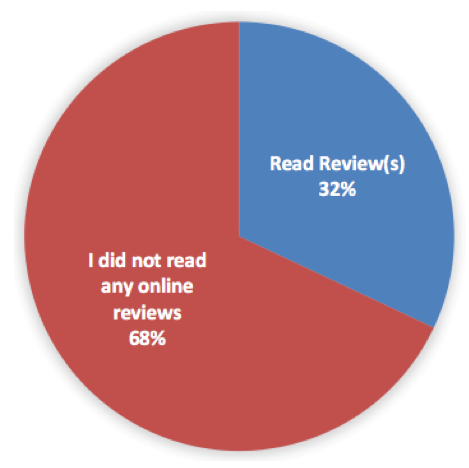 The Prescription
If you want a referral engine, there is only one tried and true solution: You must delight your borrowers. Delighting your borrowers is less about baking them cookies or buying them a house-warming plant and more about providing them a worry-free, problem-free experience. For example, simply failing to provide the borrower a checklist of needed items at the beginning of the loan process drops the chances of them recommending you by 55 percent. What's worse, that same mistake also increases the chance they will bad-mouth you by 51 percent. Remove the barriers along the path and you will find yourself with delighted borrowers who sing your praises to everyone they know.
Here are three practical steps you can take to delight your borrowers:
Follow the Seven Commandments. There are seven aspects of the loan process that can make or break your chance for a referral. If even one of these commandments is violated, you end up with a customer more likely to badmouth you to friends and family than to promote you. Clients starting out in the MortgageSAT program will often see a high loan officer score accompanied by a low "Likelihood to Recommend" score on the same loan. This is because the loan officer did their best to usher a borrower through a less-than-pleasing loan process. Unfortunately, no matter how quickly the loan officer swoops in to assist, or how many apologies are offered, breaking the commandments brings a swift death to the chance of a referral.

Monitor Your Progress. Use a survey management program like MortgageSAT that measures and tracks the borrower's perception of the whole loan process, not just the loan officer performance. The LO performance on its own is just a small part of the story when it comes to delighting the borrower and getting referrals. Identifying and removing referral stumbling blocks is the surest path to generating new business.
Get Alerts When You Miss One. Survey tools have long carried a reputation for pointing out problems rather than celebrating the good. While testimonial sharing has put a new, happier face on the survey business, the data shows that if we want to truly delight borrowers and earn repeat and referral business, it's of utmost importance to sift and refine our processes. Systems like MortgageSAT not only provide transparency into your processes, but can also send automated email alerts at first sign of any of the Commandments being broken. It may require a bit of pride swallowing, but then again, isn't that worth getting one to three more referrals each month?
Learn More about MortgageSAT and how it can impact you.
Ready to learn more about STRATMOR's turnkey survey solution called MortgageSAT, and how rich, drill-down data can help your company? Contact MortgageSAT Director Mike Seminari at mike.seminari@stratmorgroup.com to learn more.