How Can We Get Borrowers To Embrace Paperless Statements?
According to National Benchmark data from STRATMOR's MortgageSAT program, just 19 percent of borrowers say they are enrolled in paperless statements, with 77 percent saying they receive statements by standard mail.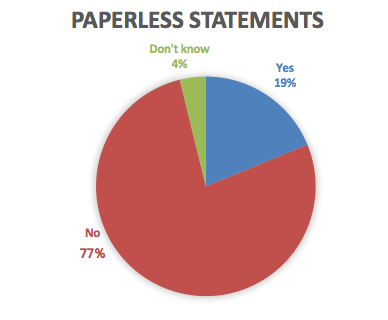 Why is this important?
While Satisfaction levels remain fairly consistent whether or not paperless statements are used, it is in both the lenders' and borrowers' best interest to encourage paperless servicing statements.  Lenders' potential cost savings on postage alone can easily be in the tens of thousands, if not hundreds of thousands of dollars. As for borrowers, one of the main benefits is avoiding mail fraud, one of the most common forms of identity theft. And let's not forget the benefit to the environment when everyone reduces the amount of paper we use.
The Diagnosis
When asked why they have not gone paperless, the majority of borrowers (54 percent) say that paper statements help them remember to pay their bill. What's interesting is that a combined 38 percent of respondents cited issues that could easily be overcome by providing proper education for the borrowers. Included in this group are those who would switch if it were easy, those who were unsure how to sign up, those who were unclear about the depth of information provided online, and those who didn't understand the security precautions that are taken with online financial data.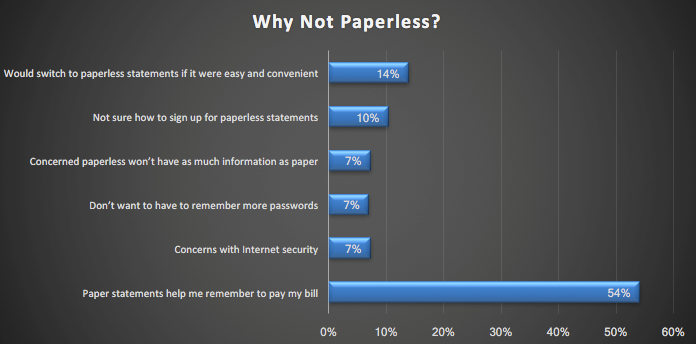 The Prescription
To help more borrowers to embrace a digital servicing experience, here are four practical steps you can take:
Make It Easy And Convenient. If you've ever read "Tipping Point" by Malcolm Gladwell, you know that simply presenting clear and concise instructions for a simple task can make a world of difference in the response you'll get. In that vein, send a snail-mail postcard detailing "Three Steps to Enroll Online." Or better yet, print custom envelopes for your statements that list the same three steps. List it again on the statement itself.  Add a call out box asking them to "Help us going green!"  List a phone number they can call for someone to walk them through the online process.
Redesign Your Paper Statement. Many borrowers are concerned that they will have less information available online. On the paper statement, consider pointing out (via colored text and arrows) that "this same information is available online." Consider adding a section at the top of the statement espousing the "Benefits of Going Paperless."
Address Security Concerns. Identity theft via mail is a major problem in the U.S., and many borrowers mistakenly think that viewing their information online is less secure. Educate them in a few bullet points — either on their paper statement or in a mailer — about your data security, encryption and any other related security measures your company takes.
Offer Incentives. Many lenders encourage automatic mortgage debits (ACH) — which typically eliminates paper billing — by spiffing the interest rate by one-eighth or one-quarter percent. Financial incentives like this are quite costly in terms of interest revenue, but also quite effective in moving clients to a paperless experience.
Learn More about MortgageSAT and how it can impact you.
Ready to learn more about STRATMOR's turnkey survey solution called MortgageSAT, and how rich, drill-down data can help your company? Contact MortgageSAT Director Mike Seminari at mike.seminari@stratmorgroup.com to learn more.