Which Social Media Sites Have The Greatest Potential For Impacting Revenue?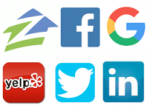 One thing we know for certain is that social media and review sites are not all created equally. Some sites attract more traffic and others have greater impact. Some require users to log in and others don't, and some ask only a few questions versus others that are quite lengthy. The key to driving the most organic growth is to strike a balance between visible and impactful.
We can break down social media sites into two distinct groups; those that collect reviews and those that create social communities through social sharing.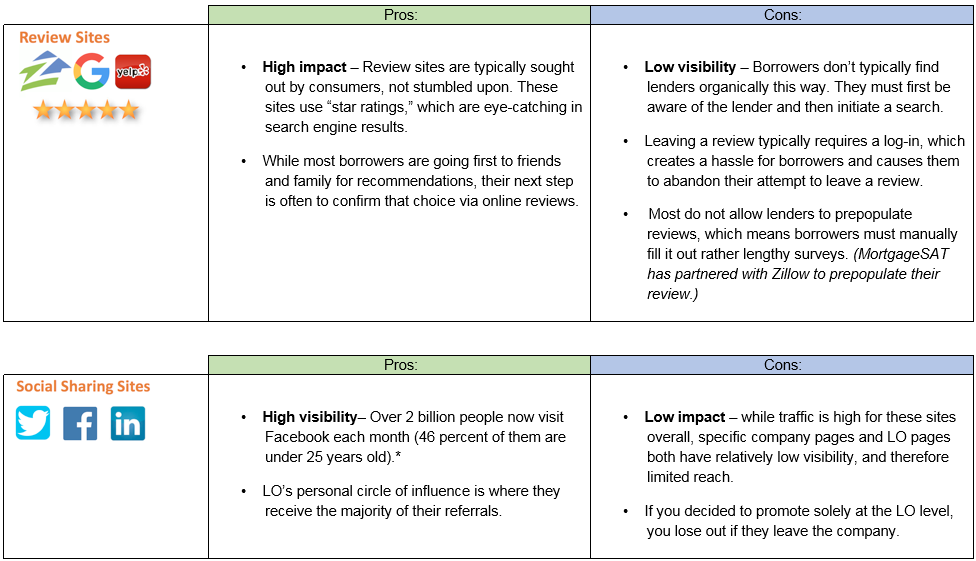 Why is this important?
While it is important to encourage your customers to post a review or share on their favorite social site, taking the 'more is better' approach may send valuable reviews to sites with little to no impact. Instead, being specific in asking your customers to share on the highest impact sites helps ensure that positive customer sentiment has the best chance of translating to an actual referral.
The Diagnosis
The following rankings are based on data (both anecdotal and empirical) that STRATMOR has gleaned from internal research as well as consulting engagements with 30+ lenders:

 1. Zillow — Most Impactful
Organic Search.  Search results for LO/Lender typically come in even higher than Facebook or LinkedIn and usually appear on the first page of search results.
Visibility.  High. Zillow.com currently receives more than 50 percent of all real estate search traffic. The buying paradigm has shifted. Housing search is now the first step, before financing/pre-approval.
Reach.  Unlimited. Far beyond just the LO's personal circle.
Other.

'Find a Lender' feature is very popular and easily accessible.
Reviews stay with the lender in the event the LO leaves.
There is no charge to have a Zillow company page (LO pages are also free).

Downside.  Requires borrower log-in in order to post a review…review is rather long.

2. Facebook — Runner Up
Organic Search.  Results for specific LO searches and company searches are usually very high in the search results.
Visibility.  Low. Despite high traffic globally, no one is searching them. Lender specific sites and LO sites typically generate very little traffic themselves.
Reach.  Limited. Posting to LO page offers high-impact only within a small circle of influence.
Other.

Borrowers use it more as a confirmation tool (for a referral that's already been made) than a way to organically search for a lender.
Borrowers looking for financing tend to post along the lines of, "Co you know anyone who can help me with a loan?" This is how the majority of referrals are made.
Allows for auto-posting of reviews and/or links to review microsites.

Downside

.  Because it's not considered a review site, borrowers don't naturally gravitate to Facebook for information leading to a lender choice.

3. Google — Third Place
Organic Search.  Search results show up high on the page, but only at the company level, not for individual LOs.
Visibility.  Low. Searches for LOs turn up on Zillow, Facebook, Yelp, LinkedIn pages. Searches for companies with multiple branches/states result in location specific reviews (typically very few), as opposed to aggregated company reviews.
Reach.  Unlimited; so long as the borrower is intending to search based on location.
Other.

The Google review is quick and easy for the borrower to fill out, but they must be logged in.
Company pages and reviews tend to be hard to find unless you know the exact location you're looking for.

Downside

.  It's impossible to search for single LOs. Organic searches turn up several locations, making it hard for the borrower to choose, since service can vary widely across a given location.
The Prescription
Seek a balance between visibility and impact. In STRATMOR's opinion, Zillow is currently achieving the best balance. With the lion's share of real-estate search going their way, and traffic consisting almost completely of home-shoppers (and therefore, mortgage shoppers), Lenders and individual loan officers alike would be wise to have a Zillow strategy. The only clear downside, having to fill out a lengthy review, is minimized for MortgageSAT clients — MortgageSAT prepopulates the Zillow survey for the borrower. One of our clients has seen more than 2,000 new Zillow reviews in 2017 since implementing Zillow Testimonial Automation. Facebook and Google trail as distant second and third, though they should not be dismissed entirely.  Maintaining a visible presence on multiple sites increases the likelihood of being discovered organically. Yelp, LinkedIn and Twitter did not make the top three, but deserve honorable mention for visibility, despite having low impact in most markets.
Learn More about MortgageSAT and how it can impact you.
Ready to learn more about STRATMOR's turnkey survey solution called MortgageSAT, and how rich, drill-down data can help your company? Contact MortgageSAT Director Mike Seminari at mike.seminari@stratmorgroup.com to learn more.