How Important Is An Initial Checklist?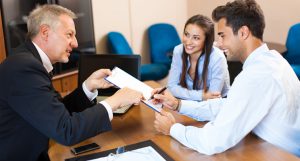 The number one complaint that borrowers have about the loan process is poor communication. Starting on the right foot with communication means providing your borrowers with a clear (and preferably complete) list of items they will need to provide, otherwise known as an initial checklist. It seems like a no-brainer that every borrower should receive one of these, yet borrowers continue to check the "No" box when asked if they got one. text, email and phone calls.
The Diagnosis
When you provide the borrower with a checklist of the information they will need to provide, the borrower's Net Promoter Score (NPS), which measures their likelihood of recommending you, is a very high 90. On the other hand, borrowers who do not receive an upfront checklist quickly get confused and frustrated, with NPS plummeting to -26. Despite the relatively low occurrence rate, it means the difference between a borrower who will promote you to friends and family and to one who will badmouth you.
Why this is important for your company:
First impressions are lasting, and providing an initial checklist of needed documents is your first chance to set proper expectations with the borrower. Helping them feel comfortable, reassured, and safe is paramount to giving them a delightful experience and establishes a foundation for creating repeat and referral business.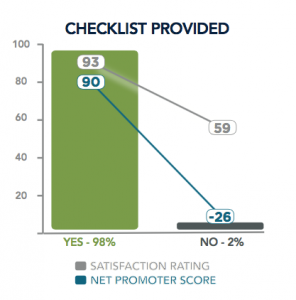 The Prescription
Here are three things you can do to make sure your communication starts off on the right foot:
Automate it. With just two percent of borrowers saying they never got a checklist, it's a relatively small problem for most lenders. However, one could argue that it should not be a problem at all. Given the many SaaS applications now available, which guide borrowers from initial interest through the loan application phase, providing a clear and accurate list of needed items has never been easier. And, the more information you collect during the initial application (and the more consistent that information is), the more accurate your initial checklist will be.
Call to Confirm. Believe it or not, even some of our clients with digital application tools and automated checklists still sometimes have borrowers say they never received a checklist. Perception counts more than reality in the world of borrower satisfaction, so the best way to cover your bases is to encourage the LO or Processor to call and confirm the checklist was received. An even better question to ask is, "Do you feel like you understand everything you'll need to provide us based on the initial list of needed items we sent you?"
Measure Results. At the end of the loan process, make sure your post-close survey is asking the question, "Did you receive an initial checklist of needed items?" Programs like MortgageSAT can make sure this question is asked on every closed loan so that you can ultimately identify and eradicate the sources of the "No" responses.
Ready to Learn More about MortgageSAT and how it can impact you?
Contact MortgageSAT Director Mike Seminari at mike.seminari@stratmorgroup.com.