What Can COVID-19 Teach Us About Safeguarding the Customer Experience?
With the COVID-19 pandemic bearing down on us and huge stock market drops ushering in a bear market, it's a strange time to also be experiencing the lowest mortgage rates in the past fifty years and unprecedented refinance volume. To say we're seeing a lot of business-related impact would be a gross understatement, with corporate travel bans, congested fulfillment departments and remote work options all coming to the forefront. In the midst of this workplace upheaval, how can lenders make sure the customer experience continues to thrive?
COVID-19 and the customer experience
According to Dr. James Robb, professor of pathology at the University of California San Diego and one of the first molecular virologists in the world to work on coronaviruses back in the 1970s, COVID-19 could be widespread in the US by late March to April. In fact, news reports in recent days put projections for Coronavirus impact in the United States just seven to ten days behind Italy, where new cases have exploded and caused a complete shutdown of everything but grocery stores and pharmacies.
This timeline happens to coincide with rate lock expirations of hundreds of thousands of loan applications across the country, which means lenders' newly implemented work-from-home policies and digital closings will need to be seamless to avoid major customer backlash.
With rates recently dipping under three percent, loan originators are up to their ears in applications, with no relief in sight. Plus, fulfillment is getting pummeled and will have tremendous difficulty keeping up with this added influx of volume in the coming weeks. Newly implemented work-from-home strategies could exacerbate processing difficulties as processors work to pick up the slack in borrower communication and document collection. Lenders who fail to prepare their originators to keep up communication with the borrower risk serious damage to their reputation before the end of 2020.
The Diagnosis
Preparedness for the pandemic has taken many different forms, ranging from panic-buying items like water and toilet paper to somewhat unconventional fashion choices — I saw a man the other day wearing a clear trash can on his head like a helmet! That's not exactly a look that will instill calm and confidence if you're an originator attending a closing, so here are a few more practical ways we can parlay our COVID-19 preparedness into an optimal borrower experience:
Have a plan and work it. The lenders that come out of 2020 with reputations intact will be the ones who are able to anticipate the things that could go wrong and create and adhere to a plan. This means, more than anything else, encourage originators and processors to ramp up communication throughout the loan process. If you anticipate fulfillment back-ups, make sure your originators are not promising unmeetable timelines. Coach them to take more ownership of the whole process, with proactive phone calls to update their borrowers. And if you anticipate originators being wary of attending closings, coach them to "digitally attend" closings with FaceTime or by speakerphone.
Get creative. News outlets have been abuzz in the past few days with the term "social distancing." Be creative and make the best of the situation with the tools you have at your disposal. Creative solutions could include implementing daily or weekly video conferencing check-ins between work-from-home originators and fulfillment staff. Or it could mean originators filming video updates to send to their borrowers in lieu of emails that are less personal.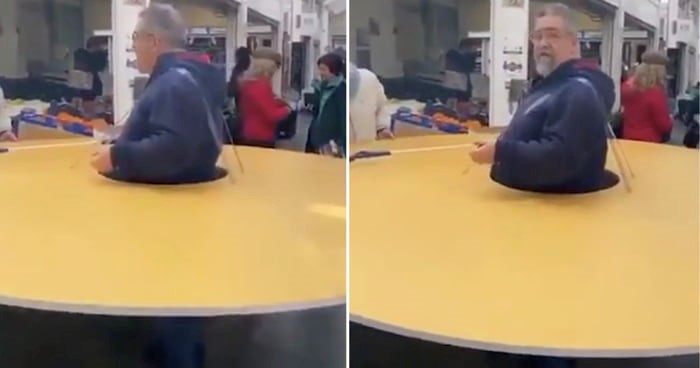 While wearing a giant disc around your waist like this Italian man might be a bit extreme,
many people are coming up with creative ways to practice social distancing.
For loan officers that decide to physically attend closings, practicing social distancing means no personal contact and remaining six feet apart where possible. Consider asking the closing agent to use video capabilities to link the loan officer in and allow all parties to attend via video conferencing.
Become a resource of helpful, actionable information. Misinformation needs a counterpoint. One of the most common misconceptions among borrowers is that the interest rate drop by the Fed means that the interest rate on their mortgage should be the Fed rate — or less. With the Fed dropping the rate to zero, more borrowers are bound to be confused about rate options for refinances. Help them out — prepare a script for all originators to use that explains, at a high level, that the Fed rate does not equal mortgage rates. This issue of Mortgage News Daily by Matthew Graham explains the difference for mortgage industry types and could give your Marketing Communications and training people details they can use to work up scripts for your staff.
The Prescription
Here are four concrete ideas you can implement right away:
Program Updates. For Originators. When we think of updates that come from a CRM or LOS, it's usually with customer on the receiving end. Consider pushing updates to LOs with a note encouraging a personal call to their borrower.
Create Scripts for Common Borrower Questions. Ask your originators and fulfillment staff what questions they're getting every day and put together Q and A scripts with answers all staff can use. This will ensure your team is sharing a consistent message that focuses on a response that addresses the borrower's perspective.
FaceTime. Send a recorded video from the office of the president encouraging all originators to attend closings via FaceTime. The video could serve as a real-life example of how easy the format is to use and how impactful it can be to see someone's face.
Invest in Zoom or GoToMeeting. If you don't already have a video conferencing tool available to your originators, now is the time to look into one. Set-up is easy and these programs are intuitive. In the coming months, as more offices shut down and remote conferencing becomes a must-have, you'll be glad you're ready to go.
Learn more about MortgageSAT and how it can impact your company.
Find out more about STRATMOR's survey solution called MortgageSAT, and how transparency into the loan process can help your company. Contact MortgageSAT Director Mike Seminari at mike.seminari@stratmorgroup.com.
To see how improving your NPS score translates into real revenue dollars, schedule a demo today on the MortgageSAT webpage.
To find more MSAT Monthly Tips, click here.