What Can Lenders Do to Retain More of Their Servicing Portfolio?
When a borrower completes the mortgage loan process, there is a strong chance that they will have positive feelings about it. Whether it's relief that the financial stress is behind them or the excitement of getting the keys to a new house, borrowers are generally happy post-closing. Most give their lenders and originators high marks on surveys and express a high likelihood to use the lender again. With all of that positive sentiment, you might expect them to quickly return to their originating lender when their next need arises. In reality, less than one in five borrowers do (see the chart from Black Knight's January 2021 Mortgage Monitor below). Our question this month: What can lenders do to retain more of their servicing portfolio over the long term?
Chart 1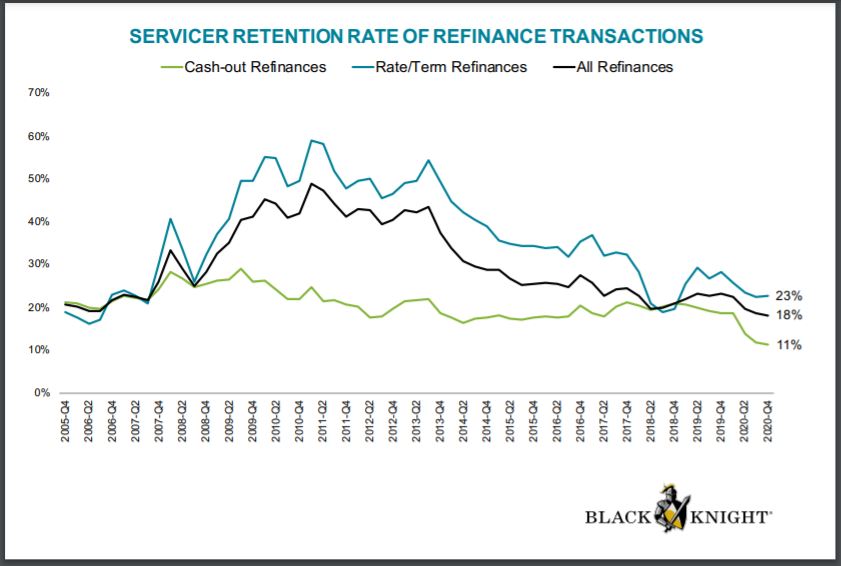 Retain More of Your Servicing Portfolio
Servicing retention rates across the mortgage industry were just 18 percent last year  — only 11 percent for cash-out refinances. As recently as 2011, that number was closer to 50 percent. While some of this drop can be accounted for by aggressive sales strategies of fast-growing Independent Mortgage Bankers (IMBs) like Rocket, New Rez, and Freedom Mortgage, low retention rates are not a new phenomenon by any stretch.
Looking back over the past decade (see chart below), lenders appear to have an easier time retaining loans within the first two years, then struggle more and more the older the loan is. Retention rates drop from 24 percent in the first two years to just 15 percent by year five. This sizable drop-off indicates that once two to three years have passed, the lender and loan officer are largely out-of-sight, out-of-mind.
Servicers would be wise to create on-going communication with borrowers to nurture the relationship forged during the initial origination process. For those lenders who purchase Mortgage Servicing Rights (MSR), it's equally important to create dialogue with the borrower during the on-boarding phase and continually throughout the new relationship.
Chart 2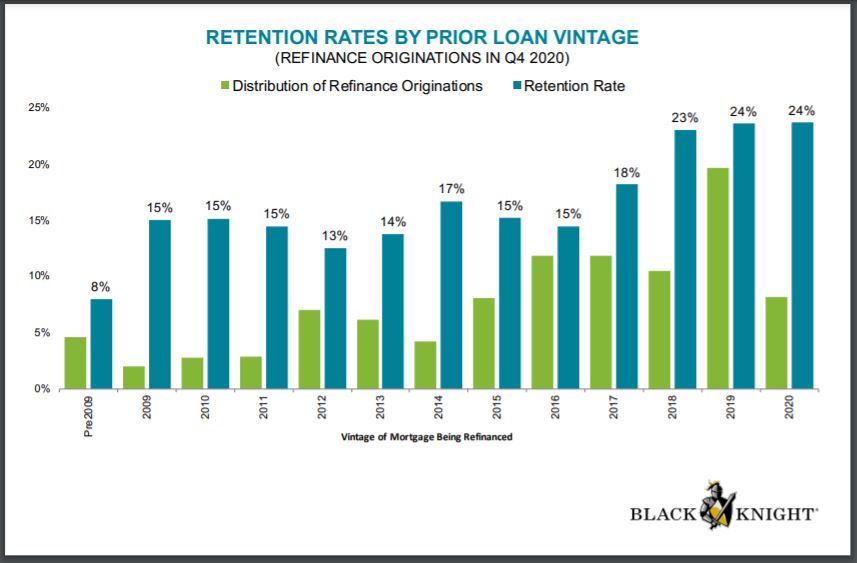 You never know when you'll need to leverage these relationships. For instance, think about the 2.3 million borrowers who are still in forbearance and may be coming out of it soon. The lag in payments under forbearance wasn't just the principle, but the escrows, too. These people, many of whom are still struggling to get by, will soon be told that their payments need to increase to cover the difference. At the same time, most of these same borrowers' equity just got a big boost over the past 12 months, making them ripe for refinance. These are complex, delicate conversations best initiated by a trusted advisor, not a faceless institution. The key is creating a "felt" connection by the borrower with your servicing team.
The Diagnosis
So, how do you create a meaningful connection as a Servicer when 95 percent of the job — at least in the customer's eyes — is collecting their payments? If you're not already communicating with the borrowers in your servicing portfolio on a regular basis, now is the time to start.
The best and easiest way to create two-way dialogue with your servicing customers is to ask for their feedback. Traditionally, servicing-focused surveys have been limited to gathering feedback on call center interaction. In other words, when borrowers call to complain or to ask questions, you give them a quick post-call survey to see how well you did.
By contrast, a best practice approach involves additional touch points requesting continuous feedback throughout the year. For instance, a customer's annual escrow review might trigger a handful of questions to confirm accuracy. Another survey might go out a few months later to confirm billing and payment accuracy and determine how and when the borrower prefers to receive statements. Another separate set of questions might be appropriate for new customers who have just completed on-boarding. And another survey might ask about the borrower's interaction with your web tools.
If you're worried about giving your borrowers survey fatigue, let me remind you that the response rates you could expect on any of these surveys is less than five percent. But the goal here is not data collection. Rather, the main reason for multiple touch points is to stay top of mind with your portfolio borrowers. Perceptions and impression counts are what matter — and it can often happen in the blink of an eye. A borrower does not need to click through a survey invite to see that you're reaching out to them and perceive that you care. They don't need to complete a survey to know that you're interested in their personal experience. The very act of reaching out shows an earnest desire to know them and to improve your service. That can go a long way when they get ready to inquire about refinance options.
The Prescription
Here are three ways you can create more connection with your servicing borrowers and increase your retention:
Call Them, But Not Just to Sell Them: As refinance business cools in the next few quarters and fish stop jumping into the boat, servicers (who also do originations) will still have plenty of opportunity to mine refinances from their portfolios. But instead of just handing these "leads" to a sales team to power through, consider approaching it as servicing check-in. "We want to make sure we're doing everything possible to delight you as a customer, so that when you have a need, you'll call us first."
Assign Each Borrower A Primary Account Rep: Before you say this isn't feasible with tens of thousands or hundreds of thousands of portfolio borrowers, let me say this: It's less about the presence of a dedicated person and more about creating a personalized experience for the customer. Whether the primary rep is directly available or not, at least surveys and other communication will appear to come from this person. It humanizes the customer's experience and replaces anonymity with a name.
Use Multiple Touch Points Throughout the Year: Use a survey program like MortgageSAT to reach out to your clients two to four times per year. The main goal is to stay top of mind and create goodwill. The added bonus will be learning how you can better serve those who give you survey feedback. Maybe someone wants to set up paperless statements. Another person wants clarification about a fee on their statement. These people may never call your support line, so it means a lot to them when you proactively reach out!
Learn more about MortgageSAT® and how it can impact your company.
Find out more about the MortgageSAT Borrower Satisfaction Program, a service of STRATMOR Group and CFI Group, and how transparency into the loan process can help your company. Contact MortgageSAT Director Mike Seminari at mike.seminari@stratmorgroup.com.
To see how improving your NPS score translates into real revenue dollars, schedule a demo today on the MortgageSAT webpage.
To find more MSAT Monthly Tips, click here.