STRATMOR Insights
Monthly Email Report Exploring The Latest Mortgage Industry Trends And Issues
At STRATMOR Group, we have our finger on the pulse of the mortgage industry each and every day through our consulting engagements, peer networking programs and proprietary benchmarking research. We have created a monthly email report called STRATMOR Insights that shares our perspectives and research findings to help lenders discover innovative ways to accelerate growth, improve operations and reduce risk.
SIGN UP NOW to start receiving the monthly STRATMOR Insights email report.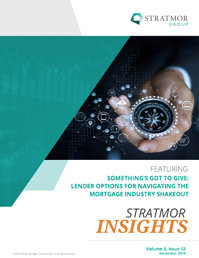 Volume 3, Issue 12 December 2018
Featuring: Something's Got to Give: Lender Options for Navigating the Mortgage Industry Shakeout
There's no doubt about it: consolidation in the industry is increasing. In this issue of the Insights report, STRATMOR Senior Partner Jim Cameron reports on the big jump in M&A activity from 2016 to 2018, predicting there will be even more M&As in 2019. Cameron points out the industry indicators signaling a down cycle and offers tactics and strategies for lenders to pursue as he outlines the pros and cons of eight possible options for lenders in this challenging market.
Also this month, in "The Borrower Experience: Is This Simple Mistake Costing You $200,000 a Year?"  MortgageSAT Director Mike Seminari shows the steep cost of asking borrowers for the same document multiple times.
Click Here to Download
View older reports or excerpts
Click a tab below to scroll through and download older reports or excerpts.
Previous STRATMOR Insights Reports
STRATMOR Insights Excerpts